Online Dissertation Writers' Retreat January 14-15, 2021
Online Dissertation Writers' Retreat
January 14-15, 2021
Sponsored by the Graduate School and
the College of Arts and Science Dean's Office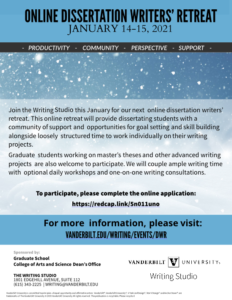 The Writing Studio will host an online dissertation writers' retreat to provide dissertating students with a community of support and opportunities for goal setting and skill building alongside loosely structured time to work individually on their writing projects. Graduate students working on master's theses and other advanced writing projects are also welcome to participate. We will couple ample writing time with optional daily workshops and one-on-one writing consultations.
Registration is required by Friday, December 4. To register, please complete the form here: https://redcap.link/pibh46eb. Applicants will be notified of their acceptance by December 11 and asked to confirm their participation by December 18.
Retreat Schedule: Thursday, January 14 and Friday, January 15
9:00 Morning Check-In
9:20 -12:10 Writing Time
12:10-12:20 Afternoon Check-In
Optional Afternoon Retreat Programming
1:00- 2:00 Daily Workshop
2:00-4:00 One-On-One Writing Consultations
2:00-2:10  Check-in for Afternoon Writing Session
2:10-3:50 Afternoon Writing Session
3:50-4:00 End of Day Check-In
Workshop Schedule
Thursday: Establishing and Maintaining a Writing Practice
Friday: Revision Tools for Reorganizing Large Projects
Daily Check-In Meetings
Daily check-in meetings provide retreat participants with the opportunity to connect with fellow graduate student writers in small groups. Participants will discuss aspects of the writing process, consider various writing strategies, and articulate their goals for each session.
For additional information about the retreat, please contact simone.mccarter@vanderbilt.edu.