Dinner and a Draft with Jay Clayton
November 10th, 2015
6:30-8:00 pm, Warren College Faculty Director Apartment (Warren 503)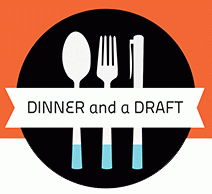 Get a great dinner. Get a new perspective on writing. Get to know a professor in a fun, informal setting. Those are three reasons you should attend "Dinner and a Draft," coming up on Tuesday, November 10th, from 6:30-8:00, at the Warren College Faculty Director Apartment (Warren 503)!
Our guest of honor will be Jay Clayton, the William R Kenan, Jr. Professor of English and director of the Curb Center. On November 10th, Professor Clayton will be sharing his own struggles with and insights into the writing process with us and is eager to be part of a conversation with you about yours.
So come join the Writing Studio and our host Doug Fisher for "Dinner and a Draft." Sit down with us for a meal, talk about the challenges and rewards of getting words on the page, and take advantage of this chance to get to know Professor Clayton and pick his brain about writing. It's going to be a fantastic evening.
Space is limited, so reserve a spot soon here.
Hosted by the Writing Studio in partnership with Warren and Moore colleges.