VISE Spring Seminar – Kamran Idrees, MD, MSCI, MMHC, FACS
VISE Spring Seminar
to be led by
Kamran Idrees, MD, MSCI, MMHC, FACS
Associate Professor of Surgery
Chief, Division of Surgical Oncology and Endocrine Surgery
Director, Pancreas and Gastrointestinal Surgical Oncology
Director, Peritoneal Surface Malignancy Program

Chair, Clinical Cancer Committee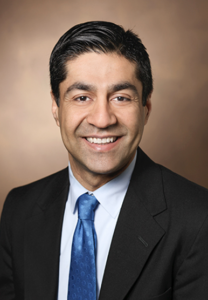 Date: Thursday, January 20, 2022
Time: 12:15 p.m. Room Opens, 12:20 p.m. start
Location: Zoom
Title:
"Provocative Clinical Problems in Cancer Surgery"
This talk will highlight clinical problems that we face as Surgical Oncologists in managing our patients with various cancers. The goal of this talk is to partner with Biomedical Engineering to solve these clinical issues. We hope to foster some great collaborations to improve patient care as well as develop proposals for future funding.
Bio:
Dr. Kamran Idrees is the Chief of the Division of Surgical Oncology and Endocrine Surgery. He is also Director of the Pancreas and GI Surgical Oncology and Director of the Peritoneal Surface Malignancy Program at Vanderbilt-Ingram Cancer Center. After completing his general surgery training at University of Alabama at Birmingham, he finished a clinical fellowship in Surgical Oncology at the University of Pittsburgh Medical Center, where he was trained in regional perfusion treatments including Heated Intra-Peritoneal Chemotherapy (HIPEC) and Isolated limb infusion (ILI). He also carried out a research fellowship in colorectal cancer at Memorial Sloan-Kettering Cancer Center in addition to a Hepato-Pancreatico-Biliary Surgery clinical fellowship at Washington University in St. Louis. He is certified by the American Board of Surgery.
Dr. Idrees is member and have held leadership roles in various national and international societies including Society of Surgical Oncology, Americas Hepato-Pancreatico-Biliary Association, International Hepato-Pancreatico-Biliary Association and Association of Academic Surgeons. He is on the editorial board of Annals of Surgical Oncology.