VISE Spring Seminar – Eric Tkaczyk, MD, PhD
VISE Spring Seminar
to be led by
Eric Tkaczyk, M.D., Ph.D.,
Director, Cutaneous Imaging Clinic (VCIC)
Assistant Professor of Dermatology and Biomedical Engineering
Attending Dermatologist, VA Medical Center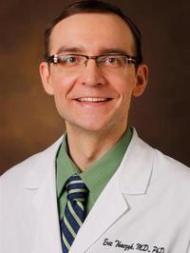 Date: Thursday, March 29, 2018
Location: Stevenson Center 5326
Time: 12:25 p.m. start, 12:15 p.m. lunch
Title:
Bringing New Technology to Dermatology Patients: Initial Experiences of the Vanderbilt Cutaneous Imaging Clinic
The Vanderbilt Cutaneous Imaging Clinic (VCIC) was founded in 2016 as a platform for direct clinical translation of engineering for clinical impact in dermatology, oncology, and related specialties. The mission is seamless integration of technology-based patient care and translational research. This talk will highlight accompanying practical challenges and opportunities from the perspective of a practicing dermatologist with training in biophotonics.
A major focus is the development and clinical investigation of noninvasive methods to assess graft-versus-host disease (GVHD) in bone marrow / hematopoietic stem cell transplantation (HCT) patients. Occurring in most patients following allogeneic HCT, chronic GVHD (cGVHD) is the leading cause of long-term mortality and morbidity after this life-saving procedure. Skin is the most commonly affected organ in cGVHD, with cutaneous disease occurring in up to 75% of patients at the time of diagnosis. Current cGVHD staging relies on physician estimation of involved skin body surface area, which suffers poor intra- and interrater reproducibility and is therefore insensitive to disease changes.
Skin manifestations of cGVHD are broadly divided into two categories – ERYTHEMA and SCLEROSIS. We will describe our work using convolutional neural networks to measure ERYTHEMA from cross-polarized 3D photos calibrated in distance, color, and lighting. Additionally, we will describe initial clinical studies to assess SCLEROSIS with a unique handheld device that noninvasively measures soft tissue biomechanical properties (a modified "Myoton"). These interdisciplinary projects have benefited from the support of teams lead by strong collaborators including prof. Madan Jagasia at VUMC (chair of bone marrow transplant), prof. Benoit Dawant at Vanderbilt University (image processing expert), and prof. Arved Vain from the University of Tartu (inventor of the Myoton and visiting professor at VUMC).
Dr. Tkaczyk is a physician-scientist with research interests in biophotonics for diagnosis and treatment of skin diseases. He is a graduate of the MD/PhD at the University of Michigan, with PhD in electrical engineering from the Center for Ultrafast Optical Science. His post-doctoral training in medical device design at the University of Tartu was supported by Fulbright and Whitaker awards. This work culminated with a prize awarded by the US Ambassador to Estonia and the Estonian Speaker of Parliament at the 2011 Estonian-American Innovation Award ceremony. In 2016, he completed dermatology residency training at Vanderbilt University Medical Center, where he is Assistant Professor of Dermatology and Biomedical Engineering. He is also an attending dermatologist at the VA Medical Center. As founding Director of the Vanderbilt Cutaneous Imaging Clinic, he lectures internationally on dermatologic imaging technologies, which is his research focus.