A Changed Life
Back when Fran Schwaiger Presley, BS'79, was a small-town Alabama girl, a full scholarship to the Vanderbilt University School of Engineering did more than crack a door to opportunity—it threw open the gates of resoluteness.
"Everyone has a story," Presley says easily. But most stories don't begin with a highly unsupportive parent, a time of sleeping in the car, and a traumatic freshman year that led Presley to drop out and then beg her way back. Even if they do, they don't usually end with the kind of success that has allowed Presley to bring it full circle, bequeathing a multimillion dollar scholarship to the school that gave her a start.
"I love the fact that people think I'm that amazing," says Presley, a longtime project engineer with FedEx Express nearing retirement. "I just did what I felt like I had to do."
Packing In the Middle of the Night
Presley's construction-worker father never made more than $100 a week. Her mother suffered heart problems and a stroke that left her paralyzed and insecure. Fran's older sister was mentally unstable and eventually committed suicide. Presley knew that there had to be more.
"I loved school, and I knew I could do a lot," she says. A guidance counselor agreed. The counselor introduced the teen to the idea of the Vanderbilt University School of Engineering. News of a scholarship thrilled Fran's father, who had already offered everything he could: $200 a year toward the then-$5,000 tuition. Fran's mother, however, presented her daughter with a choice: She could go away to college or she could be part of the family.
"At the time, I was devastated," Presley admits. "She thought I was being highfalutin, that I was denying my humble beginnings. But I was going. I had to pack in the middle of the night. Looking back, I have no idea where I found that strength, courage and persistence at 17, but it was there."
The challenges were far from over. Unable to afford the $50 dorm fee, Presley was placed in a communal lounge with five other students and no privacy.
She discovered a love for engineering almost immediately—she had originally planned on computer science—and that major led her to a work/study position in the dean's office. Pressure continued from home, however, and she cried daily. Fran's 8-year-old sister thought she abandoned her by going away to college. Her mother told her not to call or come home for the holidays because she didn't want to be reminded of Presley's existence. It was too much. By the end of her first year, Presley headed back to Alabama to try to work things out.
Though Presley's mother preferred her daughter work at a local bank, she allowed Presley to continue courses at a nearby school. Then, at some point during the first semester of her sophomore year, Presley says, revelation struck. "If there is such a thing as a higher power telling you something, that's what happened," she says. "And it told me, 'This is your life. You've got to live it.'"
The Defining Point
At VUSE, Presley had found allies in Assistant Dean Roger Webb and Registrar Eleanor T. (Totty) Hughes, both of whom knew she had major family issues; they had wished her well as she headed home, but secretly hoped she would return.
"I always felt like if I could go to Vanderbilt and do what I did there, I could handle anything."
~ Fran Presley
When Presley called Webb that day, he was ready. She confessed she had made a mistake. Webb, in turn, admitted that the school had held her enrollment open. But there was a catch: She'd missed a semester, so the scholarship money would now only cover three and a half years total.
"I said, 'I'll be there tomorrow.' I never looked back. It was a defining point in my life," she says.
Lacking money for a hotel, Presley camped in her car in Centennial Park until the dorms opened. Thanks to heavy class loads and summer school, she graduated on time summa cum laude with a degree in engineering science. Her dad came to Commencement; her mother did not. Hughes stood in for her at the ceremonies. Presley says she and her mother made peace before her mother's death in 1996, but even so, Presley was in her 30s before thoughts of her didn't bring tears.
Giving Back
Presley worked for several companies before landing at FedEx more than 27 years ago. When she arrived for her interview, she asked to speak to another female engineer at the company and was told there wasn't one. It wasn't the first time; a previous job positioned her as the only woman working with 100 tradesmen.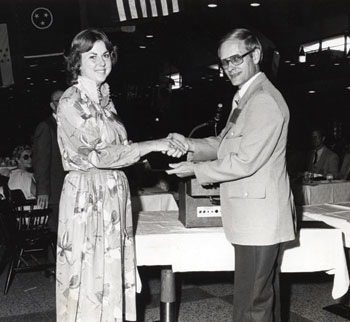 "But I always felt like if I could go to Vanderbilt and do what I did there, I could handle anything," says Presley, whose job in Seattle entails staffing, logistics planning and more.
It's that attitude that has endeared her to the current administration of the School of Engineering. Two years ago, Presley contacted the school about giving back. David Bass, associate dean for development and alumni relations, was thrilled to hear of Presley's intent. Her easy manner—and her penchant for Harley-Davidsons—told him from the start it would be a nontraditional interaction. Bass helped her work out the details of a scholarship for needy students, preferably a young woman from Presley's high school.
Dean Kenneth F. Galloway points out that today, 30 percent of the students in the School of Engineering are female—a far cry from when Presley attended in the 1970s. "That's much higher than the national average," Galloway says. "We're very committed to that, and this helps us offer assistance to those female students who want to be a part of what we do."
Presley, in the meantime, remembers when $5,000 for a year of school seemed an incomprehensible amount.
"But now I realize I can send several people," she says. "I don't even know what to say, other than things do come full circle. Vanderbilt took a chance on me. Who was I? It's time for others to have a chance, too."