REGISTER (Jun. 28): "The Congressional Experience: An Institution Transformed" – A Conversation with U.S. Congressman David Price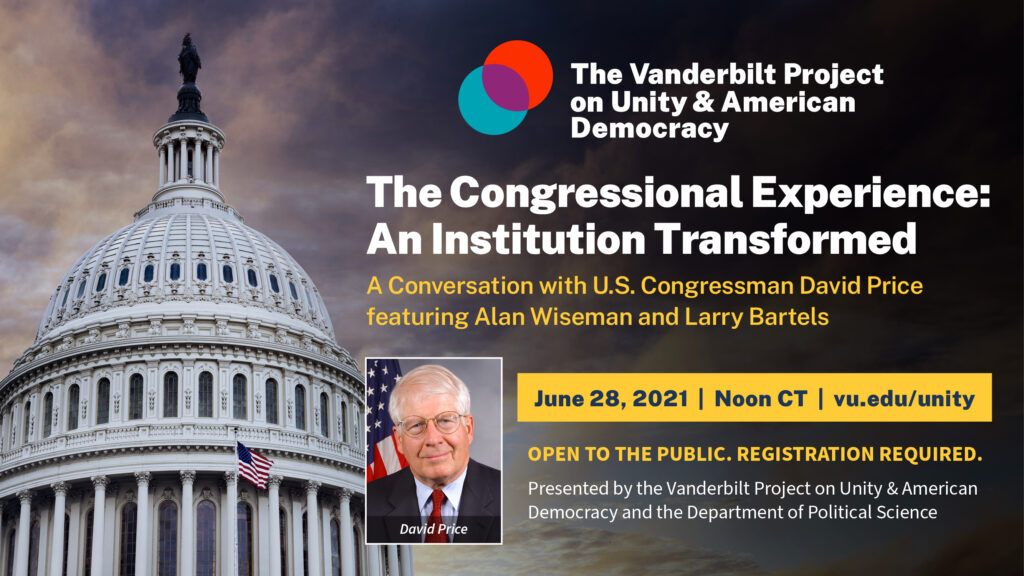 Join U.S. Congressman David Price (D-NC) and Vanderbilt experts on American politics for a candid conversation charting the transformation of Congress during the last 35 years at a free virtual event hosted later this month by the Vanderbilt Project on Unity & American Democracy. Vanderbilt Professors Alan Wiseman and Larry Bartels  will share their expertise with Congressman Price in a lively discussion laced with anecdotes and analysis from his book "The Congressional Experience: An Institution Transformed." Besides addressing how Congress has changed during the last seven presidential administrations, the trio are expected to discuss what potential paths to reducing polarization and reinvigorating the institution.
Monday, June 28, 2021, noon CT
The event is virtual and open to the public. 
Congressman David Price (D-North Carolina), elected to the U.S. House of Representatives in 1986, is uniquely qualified to guide Americans through the labyrinth of rules, roles, and representatives that is Congress. As a trained political scientist, he connects the practical politics on Capitol Hill with the theories of the discipline. He is equally focused on the ethics of public service at a time when politics seem to have reached a new low. Through it all, he conveys a clear sense of the challenges, disappointments, elations, and deep concerns implicit in serving as a member of Congress–especially at a time of national and international fragility.
Price is a long-standing member of the powerful House Appropriations Committee and serves as the Chairman of the Transportation, Housing and Urban Development Appropriations Subcommittee.  He also serves on the Subcommittee on Homeland Security and the Subcommittee on State, Foreign Operations, and Related Programs. He also serves on the House Budget Committee. He is a recognized leader on foreign policy, serving as Chairman of the House Democracy Partnership and an outspoken advocate for Middle East peace.  In North Carolina, Price's constituents know him as a strong supporter of education, accessible health care, affordable housing, clean air and water, scientific research, and improved transportation alternatives.
Price received his undergraduate degree at UNC-Chapel Hill and went on to Yale University to earn a Bachelor of Divinity as well as a Ph.D. in Political Science. Before he began serving in Congress in 1987, he was a professor of political science and public policy at Duke University.  He is the author of four books on Congress and the American political system.