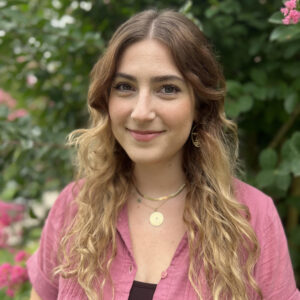 Sydney Holofcener, LMSW
Eating Disorder Counselor
Pronouns: she/her/hers

---
In life, everyone needs someone to sit with them, to listen and provide support while navigating life's heaviness—therapy can be that place. I am committed to offering a compassionate and affirming therapeutic space that honors you as you are—in your wholeness, in your pain, in your joy. Through warmth, creativity, and skill-building I aim to empower my clients by reconnecting them to their innate resilience and mind/body wisdom.
Sydney earned her Master's in Social Work from New York University, where she focused on the clinical treatment of mental health disorders in the context of trauma and identity. She has worked as a clinician leading group, family and individual therapy in inpatient, residential and outpatient mental health treatment settings. Previously, Sydney worked as a therapist at the Eating Recovery Center in Denver, Colorado, where she was trained in emotion-focused therapy, and healing trauma through the use of the mind/body connection. Most recently, she provided therapy to adolescents and their families at Vanderbilt Psychiatric Hospital. She utilizes evidence based treatment, with an eclectic approach, depending on the unique needs of her clients. Sydney draws from various treatment modalities in her practice, including CBT, ACT, DBT, attachment work, mindfulness and self-compassion practices as well as expressive art-based techniques.
She has a clinical interest in working with those who are experiencing eating disorders, body image concerns, and distress related to their identity, including those in the LGBTQIA+ community. Regardless of presenting struggles, Sydney utilizes a Health at Every Size (HAES) approach and works from a trauma-informed, feminist and anti-oppressive lens—acknowledging the impact of interpersonal, systemic, and intergenerational trauma that can affect one's mind and body wellness.
In her free time, she enjoys writing, reading, and sitting—either in a park, coffee shop, or around her kitchen table sharing a meal with friends.
---