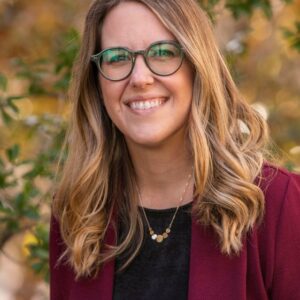 Natalie Thomas, MSN, PMHNP-BC
Psychiatric Nurse Practitioner
Pronouns: she/her/hers

---
In my practice I strive to be authentically present to provide a safe, person-centered, and collaborative space for students to explore their unique treatment needs. I welcome all without judgment and will support students utilizing evidence-based care, as they seek to strengthen their mental health and wellness.
As a provider, I am interested in the exploration of identity and change. I am committed to learning and growing as a practitioner. My goal is to create an environment that allows students to feel respected, supported, validated and heard as they are exploring their own identities, life challenges, and growth opportunities.
Natalie has previous experience as a Psychiatric Mental Health Nurse Practitioner within a substance use disorder treatment center. She gained valuable experience working with individuals from diverse socio-economic, racial and gender identifying spectrums. Natalie earned her Master of Science in Nursing (MSN) degree specializing in psychiatry and mental health from Vanderbilt University School of Nursing. Prior to becoming a Psychiatric Mental Health Nurse Practitioner, Natalie received her Master of Arts (MA) degree in Art Therapy and Counseling from George Washington University. She worked as an Art Therapist in an inpatient psychiatric setting, working with adolescents and adults seeking mental health stabilization. Art Therapy is a practice utilizing expressive art techniques as the cornerstone for a therapeutic space in which to explore identity, emotional expression and coping, as well as other mental health treatment objectives. She also received her Bachelor of Arts (BA) degree in Psychology from The University of Tennessee, Knoxville. Natalie enjoys drawing and painting, seeing live music, and going on hikes with her husband and two dogs, Matilda and June.
---