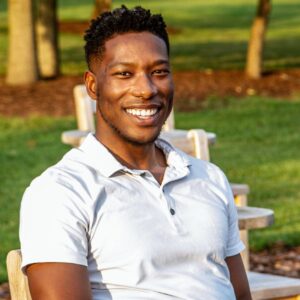 Marlon Bailey, LCSW, Ph.D.
Athletics Mental Health Provider
Pronouns: he/him/his

---
I approach counseling relationships by partnering with individuals to address the superficial and substantial parts of the obstacles to living and feeling well. This often includes managing the intricacies of identity, environment, hopes, and practical health indicators.
Dr. Bailey earned his B.A, MSSW, and Ph.D. at the University of Texas at Austin. He completed his pre-doctoral internship at Duke University. Dr. Bailey has counseling experience with numerous populations, including students, firefighters, paramedics, athletes, incarcerated individuals, cancer/medical patients, children, adolescents, and adults. He specializes in helping students navigate academic, emotional, and physical performance, mood and anxiety dysregulation, and relationship concerns. At Vanderbilt, Dr. Bailey works primarily with the student-athlete community.
Dr. Bailey runs, bikes, swims, or plays basketball when he wants to be active. He naps and watches anime, tv, or movies when he wants to rest. Dr. Bailey feels most full with his friends and family and frequently spends time in their company.
---