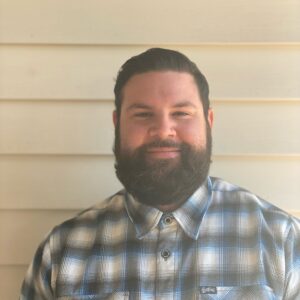 Brent Alcaraz, LMFT-A
Alcohol and Other Drugs Counselor
Pronouns: he/him/his

---
My goal as a counselor is to create a comfortable environment for students to share their challenging experiences and assist with promoting self-efficacy, building better relationships, and learn about themselves during the process. As a person in long-term recovery, I strive to help students break down the stigma of addiction and provide a space to acknowledge the presence of this disease and establish a greater understanding of a life in recovery or harm reduction. Through a collaborative therapeutic approach, I encourage students to have a voice in their therapy goals and develop an understanding of thoughts, emotions, and behaviors they may struggle with, especially in the areas of addiction and mental health.
Brent earned his Master of Science in Human Development and Family Studies, with a concentration in Marriage and Family Therapy, from the University of Alabama in May of 2021. During this time in graduate school, Brent completed his master's level practicum at Bradford Health Services Intensive Outpatient Program and working alongside university student athletes to assist with mental health and substance use issues. Brent has previous professional experience of working for Tuscaloosa County Drug Court Program and Cumberland Heights, a residential substance use treatment facility in Nashville, as the primary and family counselor roles for the Young Men's Program. Brent is well versed in implementing the therapeutic modalities of Cognitive Behavioral Therapy, Dialectical Behavioral Therapy, Solution-Focused Therapy, Motivational Interviewing, and 12-step Immersion.
Brent enjoys working with clients struggling with alcohol/substance use, along with anxiety, depression, relationships, spirituality, and self-identity. Brent has a professional passion of working around clients with alcohol/substance use disorders and help with discovering how to better manage their use and/or learn to abstain from use altogether. Brent serves as a liaison for Vanderbilt Recovery Support and Student Center of Wellbeing, along with other various organizations around campus and Nashville's recovery community. In his free time Brent enjoys spending time with his dog, Sam, his children, staying active, and enjoying the company of his friends.
---