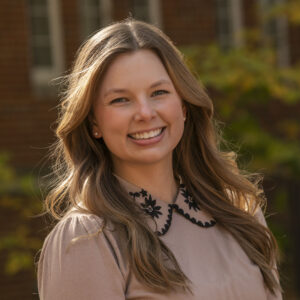 Ansley Geno, DNP, PMHNP-BC
Psychiatric Nurse Practitioner
Pronouns: she/her/hers

---
My goal as a psychiatric nurse practitioner is to provide holistic, compassionate, and culturally competent care to diverse populations. Specifically, I aim to work with students to improve their mental health by addressing multidimensional aspects of wellness through development of a trusting therapeutic relationship, thorough assessment, and evidence-based medication management.
Ansley's educational career includes a Bachelor's degree in Psychology from Union University and a Master's degree in Psychology from the University of Memphis. Ansley went on to obtain a second bachelor's degree in Nursing from Union University and, after graduating, worked as a nurse at Vanderbilt Psychiatric Hospital. During her time as a registered nurse, Ansley also completed a Doctor of Nursing Practice with a dual focus in Psychiatric Mental Health and Family Practice (PMHNP/FNP) from the University of Tennessee Health Science Center. Throughout Ansley's education, she has maintained membership in multiple honor societies, such as the National Psychology Honor Society (PSI CHI) and the International Honor Society of Nursing (SIGMA THETA TAU).
Ansley has experience working with several populations, including, but not limited to, those suffering from substance use disorders, mood disorders, and psychosis. She has also worked with people of all ages and of various backgrounds. Ansley's approach to patient care encompasses treatment of the whole person. Ansley believes that human wellness is multidimensional, unique to the individual, and requires a personalized treatment plan.
Ansley was born in Memphis, Tennessee and moved to the Nashville area in 2018 with her husband, Tyler. Ansley enjoys spending time with her husband and their pets. Ansley and Tyler have two dogs, Sadie and Memphis, and one cat, Brie. Ansley also enjoys hiking, gardening, and board games in her free time.
---