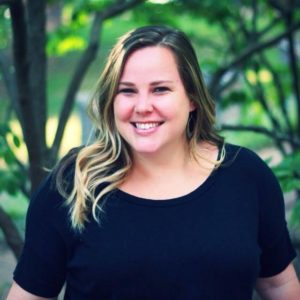 Sarah Jordan Welch-Moore, LCSW, DSW
Therapist
Pronouns: She/Her/Hers

---
My goal when working with clients is to help them navigate the challenges that come from their experiences of trauma. As a systematic practitioner with a feminist lens, I work with clients to recognize the ways their unique identities, experiences, and relationships impact the way they move through the world. I hope to support autonomy and growth through the therapeutic process. Through a trauma-informed lens, I work to support students in their work towards healing, and realizing their own resilience.
Dr. Welch-Moore is a Licensed Clinical Social Worker and holds a Master of Social Work from the University of Washington, and a Doctorate of Social Work in Clinical Practice and Leadership from the University of Tennessee. Previously, she served as a Prevention Educator and Victim Resource Specialist with Vanderbilt's Project Safe Center from 2015-2020, where she worked with students, staff, and faculty impacted by interpersonal violence. Before beginning her career at Vanderbilt, Sarah Jordan worked in a variety of settings including non-profit organizations, K-12 schools, hospitals, domestic violence shelters, and sexual assault agencies. She is committed to furthering communal knowledge about issues of violence and the layered identities of survivors including gender, race, class, body size, ability, and sexuality.
Sarah Jordan's focus is in supporting those who have experienced trauma, specifically examining the relationship with trauma and bodies. In 2020, she was awarded the Allyship in Action Award from the Office of LGBTQI Life. Dr. Welch-Moore serves as the Urgent Care and Trauma Therapist at the University Counseling Center, specifically supporting students impacted by sexual assault and other forms of interpersonal violence.
---