Time when climate was topsy-turvy in Western U.S. aids climate prediction efforts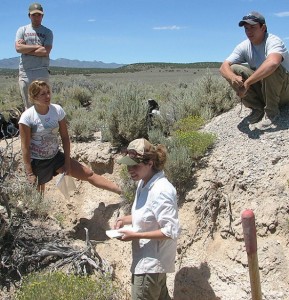 Climate scientists now put the odds that the American Southwest is headed into a 30-year "mega drought" at 50/50. Meanwhile, the forecast for the Pacific Northwest is continued warming with slightly drier summers and even wetter winters.
However, 21,000 years ago, at the peak of the last Ice Age, a period known as the Last Glacial Maximum, the Southwest was wetter than it is today – much wetter – and the Northwest was drier – much drier.
A team of scientists from Vanderbilt and Stanford universities have created the first comprehensive map of the topsy-turvy climate of the period and are using it to test and improve the global climate models that have been developed to predict how precipitation patterns will change in the future. Their efforts are described in a paper published online on Feb. 23 by the journal Nature Geoscience.
"Most of the previous research of the past climate in this region is based on detailed studies of specific sites," said primary author Jessica Oster, assistant professor of earth and environmental sciences at Vanderbilt University. "We combined these records to create a detailed map of past climate change in the American West. We then compared this map to computer climate models to understand what caused these changes."
"Our previous research used field studies to understand the history of climate change in the Western U.S.," said study coauthor Kate Maher, assistant professor of geological and environmental sciences at Stanford University. "It was amazing to see how our results, when combined with work of many other research groups and compared to the newest generation of climate models, revealed a consistent story about how rainfall patterns were altered in the past."
Read the full article published in Research News at Vanderbilt here.