May the 4th (2018) be with you!
Class of 2018
Final exams are wrapping up this week, which means Commencement prep is underway. Once again, we'll be saying our goodbyes to another awesome group of Student Centers seniors. So vital to everything that we do, their contributions have touched every part of our facilities, and they will be greatly missed. We look forward to celebrating them at our Senior Reception next week.
Cloudy, rainy, Friday view of Alumni Lawn getting prepped for #VU2018.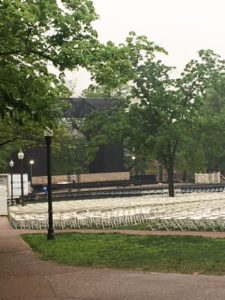 Rand 3rd Floor
Work continues on the new SCHQ, which is on-track for mid June completion.