Alex Ross-Men's Tennis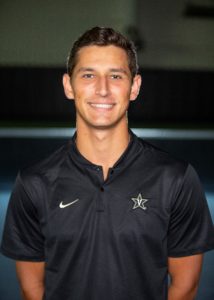 Alex Ross
Men's Tennis
Senior
Major: Economics
Why did you choose to attend Vanderbilt?
I chose Vanderbilt because I loved the great combination of athletics and academics. Also, the guys on the team and I really connected, which made it feel like home to me. It met all my needs and I knew that I had to come here.
What are your career goals?
I really want to pursue a career in financial services. Currently still looking for a position as an investment analyst and hopefully will be able to stay within this industry for a while.
What does it take to be academically successful at Vanderbilt?
A lot of planning and hard work. If you put in the work and stay organized, then you can be successful academically.
How do you manage your demanding schedule?
Making sure I plan out my calendar and include all my assignments. Sometimes I make an hour by hour schedule where I know where and what I'd be doing at all hours in the day. This helps me stay very organized and focused on the work at hand. Then dedication and putting in a lot of work helps me stay on track with all my work.
What is your ritual before taking a test?
Before taking a test, I usually try to review all the material the day before. Usually, the day before I already have a firm grasp on all the concepts and I just try to make sure I can answer all the questions with ease. Sometimes, I'll try and make sure I can recite things by memory and be able to know things in an instant. The night before, I try to get at least 8 hours of sleep because I know that sleep is very important to have a strong test performance. Then usually, I'll review a bit in the morning, get food and coffee, then try and focus in when it comes to testing time.
What is your favorite quote?
"Success is not the absence of failure; it's the persistence through failure." – Aisha Tyler