Simon Ejike-Men's Basketball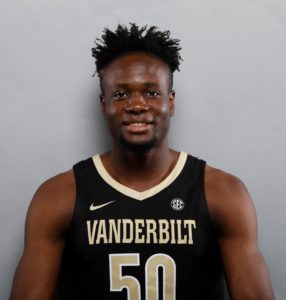 Simon Ejike
Men's Basketball
Sophomore
Major: Human & Organizational Development
Why did you choose to attend Vanderbilt?
I chose to attend Vanderbilt because it's a great school that is close to home (Virginia).
What are your career goals?
My career goal is to first graduate and hopefully play in the NBA someday.
What does it take to be academically successful at Vanderbilt?
It takes time management, hard work and sleepless nights doing school work to be successful here at Vanderbilt.
How do you manage your demanding schedule?
I try to get ahead with school work during the weekend so I don't stress much during the week.
What is your ritual before taking a test?
I start to study for test a week or 2 weeks before the test.
What is your favorite quote?
"Believe in yourself and be prepared to work hard." – Stella McCartney