Vikram Chari-Men's Tennis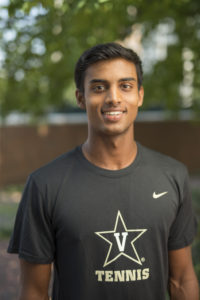 Vikram Chari
Men's Tennis
Senior
Major: Economics
Why did you choose to attend Vanderbilt?
I chose to attend Vanderbilt since I knew I would get a top-notch education while getting to compete in the SEC. I've also loved living in Nashville.
What are your career goals?
My career goal is to eventually work in the finance or corporate development office of a major tech company.
What does it take to be academically successful at Vanderbilt?
I think it takes a significant amount of discipline to keep a consistent work ethic. Additionally, I've found that taking the time to meet with professors outside of class has been tremendously helpful.
How do you manage your demanding schedule?
Each morning, I try and write down the tasks I need to get done for the day – it's essential to the time management needed as a student-athlete.
What is your ritual before taking a test?
I review my study materials the morning of the test in order to feel confident going in.
What is your favorite quote?
"Twenty years from now you will be more disappointed by the things that you didn't do than by the ones you did do." – Mark Twain