Ariana Perez-Bowling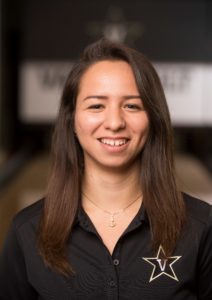 Ariana Perez
Bowling
Senior
Major: Chemical Engineering
Why did you choose to attend Vanderbilt?
I chose Vanderbilt because of the top-ranked academic and bowling programs.
What are your career goals?
I aspire to be an innovator in the engineering or tech fields who positively impacts people around the world and/or the environment.
What does it take to be academically successful at Vanderbilt?
Academic success at Vanderbilt requires rigorous discipline, an attention to detail, and an open approach to critical thinking.
How do you manage your demanding schedule?
I manage my schedule by efficiently utilizing the free time I have throughout the day to complete high-priority work. I also allot an ample amount of time for resting and doing things that I enjoy.
What is your ritual before taking a test?
I drink a hazelnut latte and play some competitive video games.
What is your favorite quote?
"Be yourself; everyone else is already taken." – Oscar Wilde