Project Dialogue: Global Dialogues, Spring 2023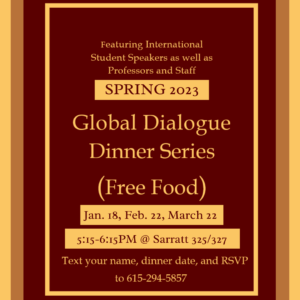 Global Dialogues will be led by international student speakers, as well as professors and staff.
This is a great opportunity for international students and American students to share conversation, build trust and friendships, and to become more aware of beliefs, worldviews, and issues that impact our international students and our world. It is a community building, empathy-building, and learning opportunity.
The speakers will share about their home and country of origin, worldview/beliefs, and about topics related to their country that are of global significance. Dinner will be provided for those who text, "RSVP, the event date, and your name" to 615-294-5857 at least one day before this dinner discussion event.
Dates: January 18, February 22, March 22
Time: 5:15 PM – 6:15 PM
Location: Sarratt 325/327
To RSVP: Text "your name, dinner date, RSVP" to 615-294-5857