Daniel Fehrenbach Ph.D. – June 2022 Postdoc Feature
Written by Daniel Fehrenbach, Ph.D.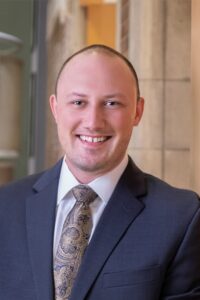 When we think about the most common ways people get sick, things like the most recent COVID-19 pandemic are quick to jump to the top of our list. We may also think about all the different types of cancer that have affected our friends and loved ones. But it turns out, for the past 100 years or so, heart disease has been the leading cause of mortality in the United States and across the world. Large epidemiological studies have shown that the number one risk factor for developing heart disease is elevated blood pressure, which we call hypertension. According to the latest guidelines from the American Heart Association and the American College of Cardiology, 46% of Americans are hypertensive which means that 1 out of every 2 people that end up reading this are probably hypertensive. With such a high prevalence and risk for contributing to not only cardiovascular but other chronic diseases, developing novel treatment strategies is critical. 
In my graduate studies at the Medical College of Wisconsin, my work focused on a specific type of hypertension where increased salt in our diet leads to increased blood pressure. We saw that alongside elevated blood pressure, there is an activation of immune cells which can cause damage to various organs in our bodies, specifically our kidneys. When I moved to Vanderbilt, I continued my work exploring immune activation in the context of hypertension under my mentor Dr. Meena Madhur in the department of Clinical Pharmacology. My current studies are exploring new strategies to shift the inflammatory balance to not only lower blood pressure but importantly protect our organs from the associated damage.
When I started my postdoc, I was lucky to be on the Immunological Mechanisms of Disease Training Program (T32) led by Drs. Jeff Rathmell and Amy Major. This group of enthusiastic grad students and postdocs provided amazing feedback as my projects developed and offered continued support in my career development. I eventually was awarded an American Heart Association Postdoctoral Fellowship to study the role of an enzyme called ROCK2 in immune activation and vascular dysfunction in hypertension. I have been able to present updates from these studies at the AHA Council on Hypertension and Experimental Biology meetings. I am excited for where these studies are going and thankful for all the support from my mentors and lab mates.
In addition to my work in the lab, I have enjoyed being a member of the Vanderbilt Postdoc Association executive board where we have been working to create new initiatives to support and enhance the postdoc experience here at Vanderbilt. I also work on the Trainee Advisory Committee for the American Physiological Society and represent trainees studying topics related to Water and Electrolyte Homeostasis. I truly enjoy being able to interact with scientists from so many backgrounds, areas of research, and locations around the country. I am constantly amazed by the dedication and passion of my colleagues which inspires me to always pick the pipette back up when an experiment fails.
Outside of work, I like to explore new places, hike with friends, and spend way too much time attempting new bread recipes. If anyone has any recommendations for restaurants or pubs in town, shoot them my way!