Markie Sneed, Ph.D., APRN, FNP-BC – May 2022 Postdoc Feature
Written by Markie Sneed, Ph.D., APRN, FNP-BC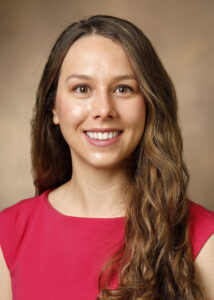 During high school, my father underwent an emergent triple Coronary Artery Bypass Graft (CABG) surgery at the age of 51, yet it wasn't until three years later during my sophomore year of college when my paternal grandfather passed away suddenly from an ischemic stroke, that my life's purpose shifted. I decided to dedicate my life to improving the health of others which resulted in me obtaining two health-science bachelor's degrees within a 5 ½ year time span: 1) a 4-year degree in nutrition science from the University of Tennessee, where I gained in-depth, evidence-based knowledge and clinical expertise about diet's role in disease management and prevention, and 2) an accelerated, second degree in nursing science from Samford University where I studied and applied evidence-based, medical knowledge to promote health and provide holistic care for patients with illness and disability.
My interest in cardiovascular disease prevention resulted in me becoming a cardiac nurse, where I had the opportunity to work in the cardiovascular intensive care unit, the cardiovascular step-down unit, and the in-patient cardiac rehabilitation unit. There, I experience both the acute recovery and post-recovery rehabilitation process of cardiac care for patients that had suffered a major and most often "preventable" cardiac event. During my three years in bedside nursing, I found it paradoxical that patients who had undergone a major coronary operation received intensive lifestyle coaching after having a major coronary event instead of receiving prevention treatments earlier in their care plan. While I felt my dual experience in nutrition and nursing provided me with a unique opportunity to educate patients and their families about health promotion and disease prevention strategies in a holistic manner, I knew I needed to advance my nursing career to truly confront disease prevention head-on. I decided to continue my education and training by becoming a family nurse practitioner with the capacity to diagnose, treat, and prevent chronic disease in adults and children.
It was during my first few years of practice as a nurse practitioner that I noticed a recurrent condition among many of my overweight and obese patients known as prediabetes, that to date, affects 1 in 3 (i.e., 88 million) adults in the United States. During my practice, I was all too aware of the fact that healthcare providers and patients often have limited knowledge and resources available to holistically prevent and manage diet-related conditions. I knew more must be done to address obesity, diabetes, and its co-conditions. It was 4 years into my career as a nurse practitioner that I decided to transition from clinical practice into research to study diabetes and obesity prevention.
In 2017, I went on to obtain my Ph.D. in Nursing from the University of Alabama, Birmingham (UAB) where I was awarded the Blazer Fellowship through the UAB Graduate School and the Graduate Teaching Fellowship through the UAB School of Nursing. During my 4 years at UAB, I was able to merge my nursing training with that of nutrition science by working with leading experts at UAB's NIH-funded Nutrition Obesity Research Center. For my dissertation, I used data from the National Health and Nutrition Examination Survey (NHANES) to explore the association between added sugar consumption and prediabetes risk in adults.
In 2021, I joined Vanderbilt University as a postdoctoral research fellow within the School of Nursing and was awarded an AHRQ T32 funded fellowship through the Vanderbilt Patient/pRactice Outcomes Research in Effectiveness and Systems Science (PROgRESS) Training Program (PI: Dr. Christianne Roumie). At Vanderbilt, I am part of an interdisciplinary mentoring team guided by the direction of my primary mentor Dr. William Heerman, MD, MPH, in the Department of Pediatrics at VUMC and my co-mentor Dr. Mariann Piano PhD, RN, FAAN, FAHA at Vanderbilt University School of Nursing. My research focuses on the development and implementation of family-based dietary lifestyle interventions for prediabetes management in overweight and obese adults that also addresses multi-generational solutions for type 2 diabetes prevention in their at-risk children."
My first year at Vanderbilt has been so enriching! Having a dual connection with the School of Nursing and VUMC has provided me with numerous opportunities to support my research and stay engaged within the greater VU and VUMC community. I have had various opportunities to support my training through participation in VUSN and VUMC-sponsored events, and research opportunities provided by VICTR (i.e., Community Engagement Studio and Specific Aims Studio) and the Vanderbilt Edge for Scholars. I am also a member of the Vanderbilt Postdoctoral Association (VPA) where I serve fellow postdocs in my role as Treasurer. Some of my most exciting discussions have come from networking with fellow VPA members and postdoctoral scholars around campus through VPA and the Office of Postdoctoral Affairs (OPA)-sponsored events. A program I have been working on with fellow VPA members, in an effort to continue the VPA tradition of postdoc connection, is the first-ever VPA Talk series "Speak Easy" (starting this month) where postdocs can discuss their research in a fun, and casual venue both on and (soon to be) off-campus. I look forward to hearing what other postdocs at VU are doing as we make "Speak Easy" a Vanderbilt postdoc tradition! During my time at Vanderbilt, I have come to realize that there are literally "thousands" of resources available to support post-docs in any stage of their training and/or career. I am extremely grateful for all the support Vanderbilt, including the BRET office and OPA, provide postdocs!
During my time away from work, I enjoy spending time with my 3-year-old daughter and husband. Together, we like visiting our family, going to local farmer's markets on weekends, and going camping in our refurbished 1978 Airstream.