Speak Easy – A Postdoc Talk Series to Tell Your Scientific "Story"
Are you a post-doctoral researcher interested in polishing your "lay" scientific communication skills by giving a short 10-minute presentation to your peers and others in the Vanderbilt community in a fun and casual setting? If so, we invite you to join our Talk Series Speak Easy. This event will include drinks with appetizers.
The next Speak Easy event will be held on Thursday, May 18 from 5:00 – 6:30 PM.
RSVP here.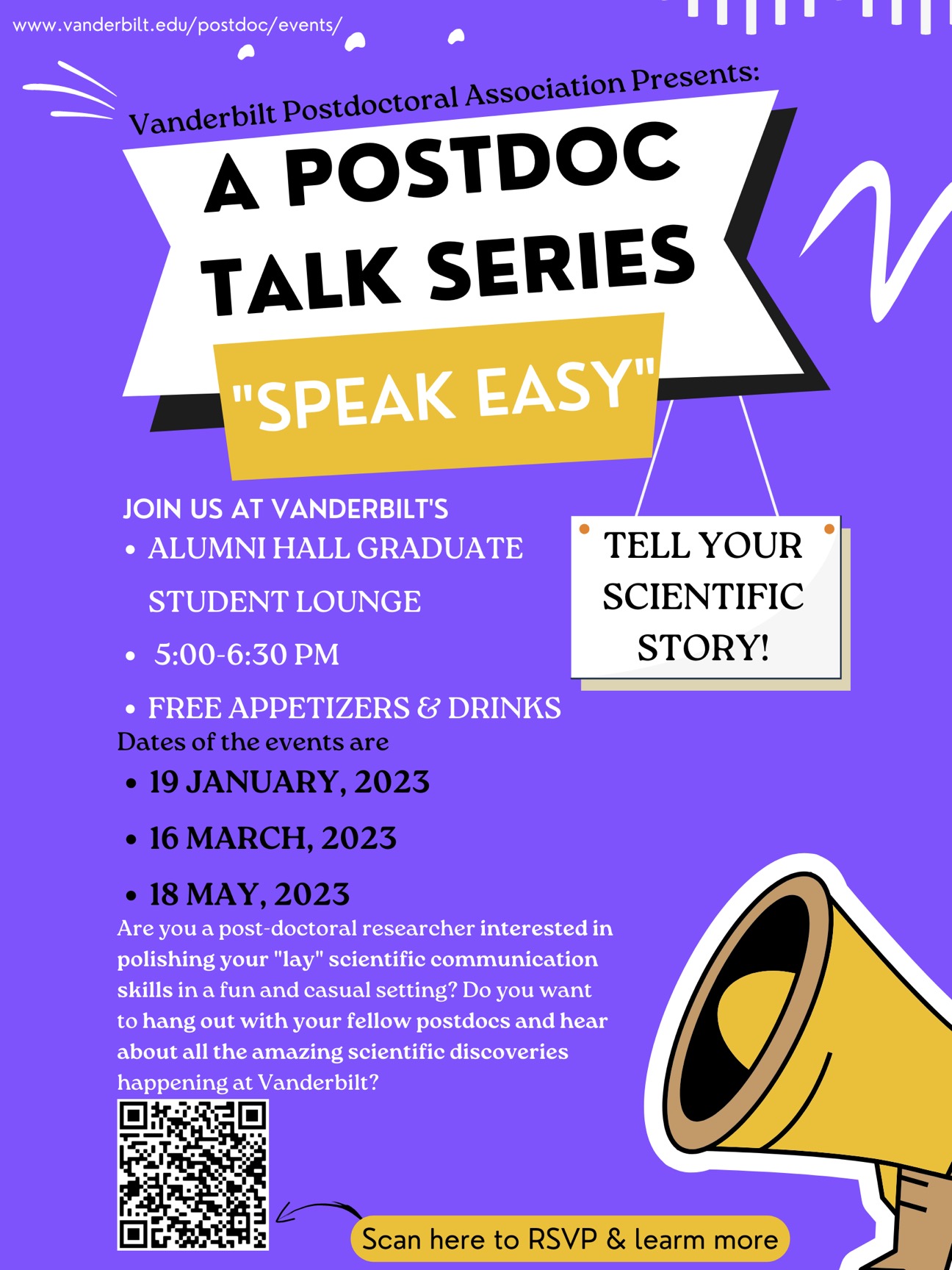 Throughout the year, post-doctoral scholars from Vanderbilt University and Vanderbilt University Medical Center will have the opportunity to present their innovative research ideas, proposals, or completed projects in a casual setting with other postdocs and members of the Vanderbilt community. The goal of this Speak Easy Talk Series is to not only provide an opportunity for post-doctoral scholars to discuss their science to a broader 'audience' including fellow post-doctoral peers but will also provide speakers the opportunity to highlight the amazing scientific discoveries happening all across our campus here at Vanderbilt.
That is what Speak Easy is all about – having Vanderbilt postdoctoral researchers disseminate their exciting research in a fun atmosphere in a way that anyone who listens can understand.
Hosted by the Vanderbilt Office of Postdoctoral Affairs (OPA) and the Vanderbilt Postdoctoral Association (VPA), the Speak Easy Talk Series seeks to offer a causal venue for "scientific presentations" that are accessible and digestible to the public through an evening happy hour event at Alumni Hall on Vanderbilt University's campus. Speak Easy presenters will discuss a variety of topics from biology, neuroscience, mathematics, data science, health-related science, and more.
Specific Details and Information About the Talk Series: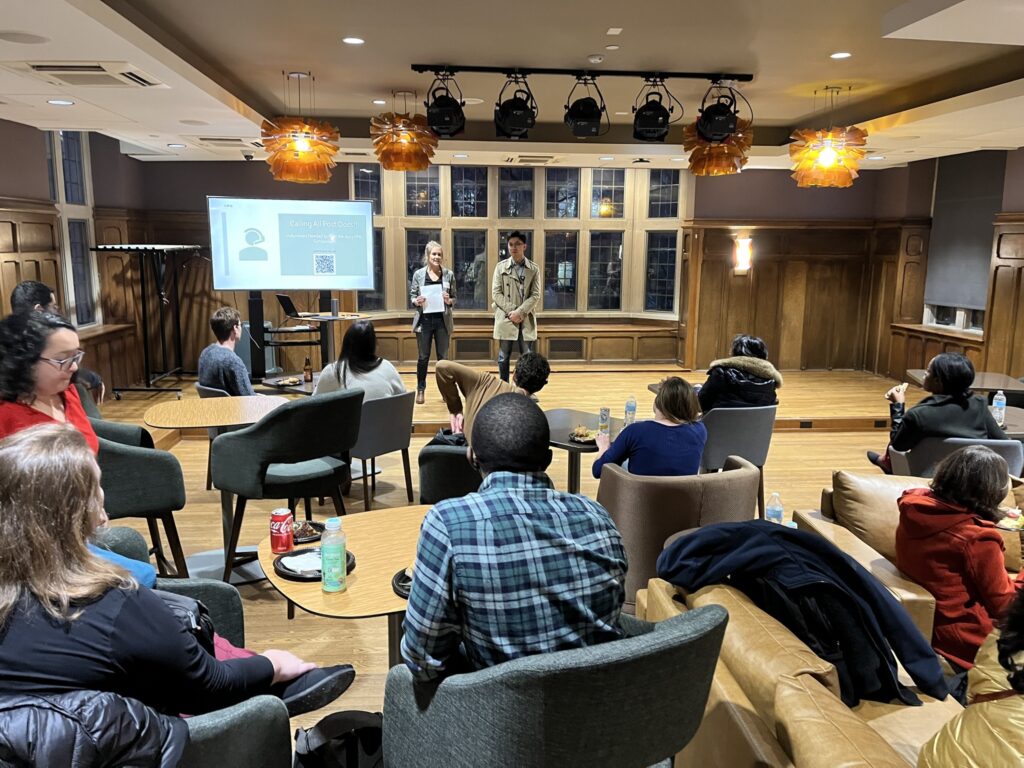 Audience: This talk is not like a research conference. For Speak Easy, you will communicate with an audience that are often not experts in your area of research. Be sure that you:
Engage them with a "hook" (anecdote, statistic, quote, etc.) that instantly grabs their attention. Avoid jokes or salty language. Ensure you maintain a professional yet casual persona. A great way to grab your audience's attention is to make your presentation personal in some way.
Make sure to define technical terms as early as possible and limit their use to a few main concepts essential to their understanding of your science. Avoid jargon.
Omit details of experimental processes that might be objectionable (e.g., invasive procedures on animal subjects). Make sure to explain your methods in a concise and conceptual way- most people will not understand the methods unless they are innovative and interesting (and in that case go for it!). Avoid getting bogged down in the details- if you have trouble describing things in simple terms, people listening to your talk are likely not going to understand and will lose interest.
Purpose: This is not a scientific presentation at a conference and your goal is not to position your research for publication or funding. Instead, Speak Easy is about telling your scientific story in a way that communicates its value (and Vanderbilt's) to the public. This is your opportunity to get creative and put on your actor's hat! Focus on major "take-home messages" (e.g., one to three) and present them in a way that is interesting, fun, and engaging.
Structure & Length: Your talk should be 10 to 12 minutes (with 3-5 minutes left for questions).  Your presentation SHOULD NOT exceed 15 minutes.  Make sure to practice before arriving to make sure you stay within the allotted time frame. Because this is an informal presentation, we will recommend that you allow audience members to ask questions at any time during the talk.
Organize your thoughts using these 4 steps:
Focus on a Situation (current negative or unexplained effects on people, populations, places, systems, etc.).
Explain the Problem that may cause, be linked to, or predict the current Situation.
Recommend a potential Solution that you have identified in your research question/hypothesis and method.
Provide a summary of your research that shows implications, i.e. how your findings can improve the situation and lives. You may find it helpful to sketch out or storyboard your talk before you start creating slides.
Style: Prioritize using pictures, videos, and concept images and limit science charts and graphs, unless they are clear and easy to follow. Do not use distressing photos or videos of animals as this may be disturbing to your audience. Try to use only a single image/idea per slide. Depending on the venue, slides may sometimes be displayed on a TV screen rather than projection screen, which means your slides should be readable even when scaled down. Make text a consistent and readable font and size throughout the slide show (minimum of 24 point for readability). Don't use bells, whistles, sound effects, irrelevant clip art, etc. Include acknowledgements and sources where applicable.
Examples: It may help to view some TED Talks to discover how leading scientists communicate with the general public. When viewing a TED Talk observe the presentations' structure, content and delivery. Find other great science talks below:
Presentations:
You can create your own PowerPoint or use a pre-made Vanderbilt University or VUMC PowerPoint. Whatever you choose, get creative and make the presentation visually appealing for your audience!
Plan to use more visuals instead of text to make the presentation engaging for your audience.
Practice with and without your slides. Because technical problems may arise, you should be prepared to give your presentation in the event that "technology fails".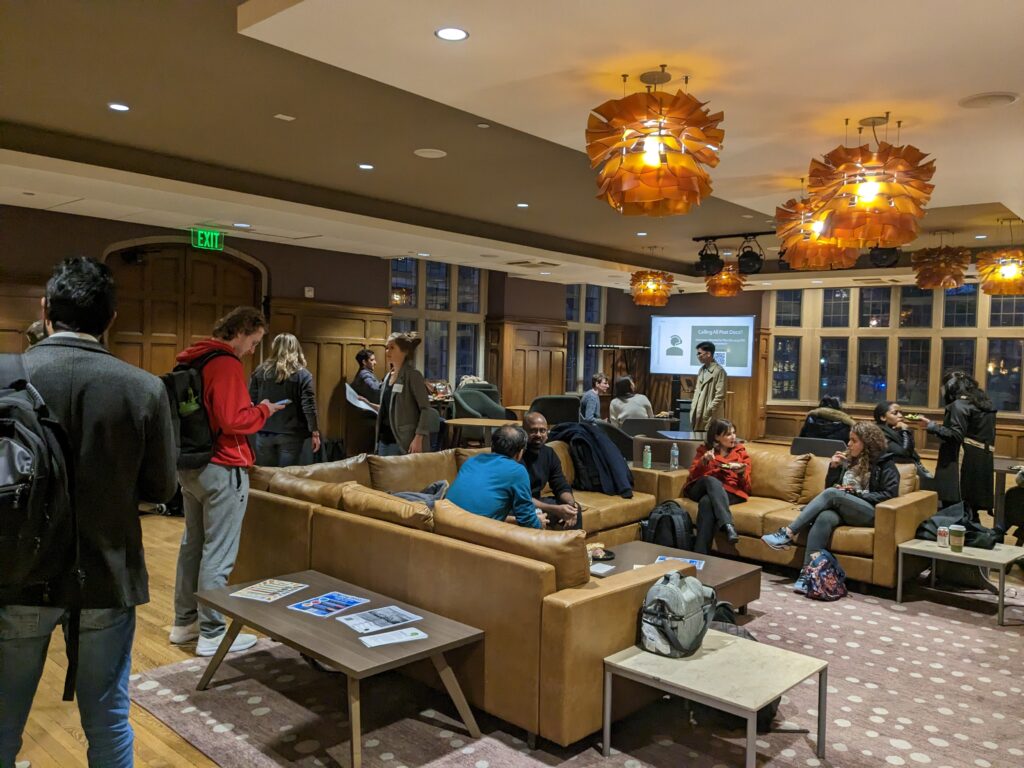 Delivery of Presentation
Arrive at least 15 minutes early, test the equipment, run through your presentation.
Bring your slides on a thumb drive (VPA will provide a computer for you on which to open your presentation as well as a wireless slide advancer). Email a copy of your presentation to yourself in case of technical difficulties, etc.
Conduct an audience check by looking for familiar faces, presence of children, etc.
Pace yourself. Speak up and speak clearly. No rushing, but stick to your time limit.
Avoid jargon and slang.
Make eye contact and smile. Keep your tone conversational.
Relax and have fun!
Here are some tips for answering questions during and after your talk:
Anticipate questions and prepare possible answers.
Pause before taking questions at the end of your talk. (Remember that audience members may ask questions during your talk, too.)
Direct your responses to the entire audience.
If no one asks a question, prompt them with, "Has anyone had experience with…?"
Keep answers brief—no unnecessary details. Offer to continue dialogue after the talk.
If someone disagrees, don't appear to be defensive.
If you don't understand the question, ask for clarification.
It's OK to say I don't know the answer to that question.
Lastly, HAVE FUN!  We hope that Speak Easy will become a Vanderbilt Postdoc tradition to bring postdocs from all around campus and the medical center together to share their ideas and highlight their research in a fun way!  We can't wait for you to share your amazing discoveries with the Vanderbilt Community!