Harry Barbee, Ph.D. – March 2022 Postdoc Feature
Written by: Harry Barbee, Ph.D.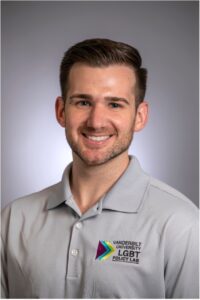 My postdoctoral appointment at Vanderbilt University has been transformative. I arrived at Vanderbilt in 2020 after preparing and being awarded a Diversity Supplement Award, the first-ever awarded on the basis of sexual and gender minority status at the National Institutes of Health. This award has allowed me to analyze novel data from the Vanderbilt University Social Networks, Aging, and Policy Study, a panel study of middle-age and older LGBTQ+ adults living in Alabama, Georgia, North Carolina, and Tennessee. The goal of this project, which is led by the fabulous Dr. Tara McKay, is to understand connections among LGBTQ+ people's life experiences, social networks, political environment, and health. As a queer person who has lived in the U.S. South my entire life, I am proud to work on projects that have potential to improve the lives of LGBTQ+ people—a community to which I proudly belong.
Over the past one-and-a-half years, I have pursued a research agenda that investigates why LGBTQ+ people—especially in mid- and later life—endure health disparities relative to the broader population. As an illustration, one of my projects analyzes LGBTQ+ adults' sexual behaviors during an early stage of the COVID-19 pandemic as well as strategies they used to avoid exposure to the virus. I had the opportunity to present this research at the 2021 Vanderbilt Postdoctoral Association Symposium where I was voted one of the top presenters by my fellow postdocs. Another group of projects that I lead examines how LGBTQ+ people's subjective perceptions and experiences of aging—what aging scholars call "subjective aging"—affect health behaviors and outcomes. In 2021, I was named a Butler-Williams Scholar by the National Institute on Aging to develop this research and receive training in grant writing. Moving forward, I plan to analyze how LGBTQ+ people's views of aging affect not only their mental and physical health but also their biological aging via DNA methylation.
Working in the LGBT Policy Lab at Vanderbilt University has been the greatest and most rewarding part of my postdoctoral appointment. The LGBT Policy Lab is a center comprising health policy researchers, sociologists, economists, political scientists, and faculty from the medical, education, and law schools. We conduct research on LGBTQ+ people and make the results known to policy experts and to the community. As a member of the LGBT Policy Lab, I have collaborated on projects that directly speak to ongoing policy debates in the United States. For example, I recently published an article in JAMA-Pediatrics that demonstrated how state laws denying transgender youth access to rights and services such as gender-affirming care could have devastating health consequences for this population. I collaborated on this project with the fantastic Dr. Gilbert Gonzales and all-star undergraduate student Cameron Deal. Collaborations like this are common in the LGBT Policy Lab. The faculty who run the Lab, including Dr. Kitt Carpenter, Dr. Tara McKay, Dr. Gilbert Gonzales, and Dr. Kirsty Clark, are not just brilliant scholars, they are also dedicated mentors who care deeply about the growth of their students and postdocs. We are truly a family in the LGBT Policy Lab.
I am confident that the experiences I have had at Vanderbilt are preparing me for a bright future as an independent researcher. Vanderbilt has given me so many resources that have enriched my personal and professional life: outstanding mentors, state of the art facilities, and countless opportunities to improve my research, writing, and teaching skills. I look forward to the next stage of my career—whatever that may be—and putting to good use all that I have gained here at Vanderbilt.