International Postdoc Workshop Series – Spring 2022
English Language Center – International Postdoc Workshop Series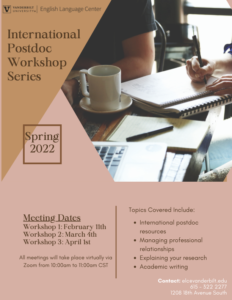 Spring 2022
These three sessions are intended to provide the resources and space for international postdocs to discuss, practice, and ask questions about the postdoc experience in the US. Attendees will have opportunities to meet and interact virtually with other international postdocs, submit materials for individualized feedback, and receive supplementary materials online. Enrollment is open on a rolling basis for Spring 2022. All attendees will be enrolled in a self-guided Brightspace course.
Spring 2022 International Postdoc Workshop Schedule
To register, click here.