Maxime Chevee, Ph.D.
Written by: Maxime Chevee, Ph.D.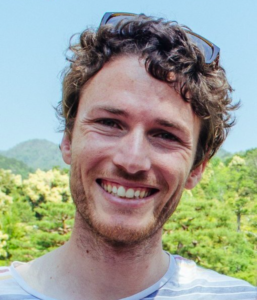 My great-grandma, a Latin teacher in Paris in the 1930's, had a painful tooth so she went to see a dentist. There, she noticed a book on the dentist's desk: Time and Free Will: An Essay on the Immediate Data of Consciousness by Henri Bergson. Impressed, she looked up to notice the dentist.
Growing up in a small town in France, I always found the story of how my great-grandparents met endearing. One summer listening to my grandma retell the story, I couldn't help but wonder: do we have free will? Was it inevitable that they meet on that day? These questions would lead me to many great books and conversations, and to a career in neuroscience focused on decision making and action control research.
Through college, I slowly developed my interests in neurobiology. These interests lead me to work as a research tech at Columbia and then to graduate school at Johns Hopkins where I worked in the Brown lab on sensorimotor processing. These experiences were life changing and I will forever be grateful to the people who took the time and care to train me. In June 2020, I defended my thesis virtually and moved to Nashville to join the lab of Dr. Erin Calipari for my postdoctoral training. As part of the Vanderbilt Center for Addiction Research, the lab focuses on understanding the brain circuits that control our actions and the processes that lead those circuits to malfunction.
My goal is to determine the function of dopamine in the context of habits. Habitual, automatic behaviors allow us to perform routine actions without wasting time and energy on decision-making. However, they also sustain unhealthy behaviors that can degenerate into pathological conditions and ultimately, addiction. The circuit mechanisms that lead us to persevere in our habits despite the absence of rewards are not known and have been the focus of my research for the last 18 months.
Vanderbilt has provided a very welcoming environment in which I feel at home. When I ran into immigration issues caused by pandemic-related delays, my PI, HR and the international office did everything they could to support me through the process. I am also a member of the Vanderbilt Postdoc Association, which I joined as a way to meet fellow postdocs and get involved with the Vanderbilt community. It has been a rewarding experience that I would highly recommend for anyone interested in understanding the inner workings of a university. It made me realize how many dedicated people work tirelessly to support us and allow us to conduct the best research possible.  So, I will take advantage of this platform to say thank you!
In my free time, I like to rock climb with my lab mates, I try and fail to make French baguettes at home, I run, and I explore Nashville with my wife. Moving to a new place during the pandemic was a bit challenging at first but I have slowly gotten to know the city and have enjoyed living here.
I love what I do, from thought-provoking conversations with colleagues, writing grants, mentoring exceptional undergrads or simply staring at a neuron flicker on my computer monitor, postdoc life has been good to me.  I feel incredibly lucky to be able to wake up every day to think about how the brain works and about how habits control (or not) our decisions, our actions and our lives. Although I like to remind myself not everything is as it seems – My great-grandpa never actually read Bergson. A patient had left the book on his desk by mistake.