Neelima Wagley, Ph.D.
Written by: Neelima Wagley, Ph.D.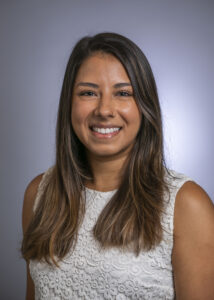 Nepali, English, and Swiss-German were a few of the several languages spoken in my family home in Kathmandu. Growing up, I'd watch Tom and Jerry cartoons dubbed in Hindi. In school, it was strictly English except during Nepali class. On holidays, there was no shortage of Swiss sing-a-longs to go around. In the neighborhood, Newari, the language of the indigenous Newar people, filled the town square and local shops. More than 120 languages are spoken in Nepal, where I was born and raised for the first eight years of my life. Little did I know that this multilingual upbringing would be the foundation to my educational pursuits and inspire me to become a developmental neuroscientist studying language in the brain.
Twenty-two years have passed since my family immigrated to the United States and I continue to be fascinated by the human capacity for language. Currently, I am a third-year postdoctoral research scholar in the Department of Psychology and Human Development in the Peabody College.
My interest in research started at Michigan State University where I learned about the field of cognitive science as a second-year undergraduate student. There, I joined a music cognition lab as a research assistant and was introduced to brain imaging for the first time. During the summer months, I participated in research opportunity programs which gave me the confidence to apply to graduate school. I went on to receive my PhD in Developmental Psychology from the University of Michigan. My work focused on understanding how bilingual language experiences support children's language and reading comprehension skills, using behavioral and brain imaging methodology. One of my dissertation findings provides evidence that bilingual development in the home should be viewed as a resource to be encouraged and used to support children's academic achievements.
I joined the Brain Development Laboratory (BDL) at Vanderbilt led by Dr. James R. Booth in fall of 2019. Expanding on my interests in the neural mechanisms underlying language comprehension, my first project in the BDL took a longitudinal approach to examine the relations between semantic and syntactic skills in children from age 6- to 7.5-years-old. Prior to beginning the data analyses for this project, I pre-registered the study's hypotheses and analytical plan through Open Science Framework. Promoting and contributing to open science practices has been one of the valuable skills I have gained during my postdoc tenure at Vanderbilt. In collaboration with Dr. Booth and a graduate student, I have co-authored the lab's first registered report manuscript and learned about the process of sharing neuroimaging datasets on a public repository.
I find many aspects of my postdoc experience to be highly rewarding. Designing a novel experimental task and collecting my first ever fMRI data at the Vanderbilt University Institute of Imaging Science has been a constructive learning experience. I am a member of the Vanderbilt Postdoc Association symposium planning committee and have helped put together the last two symposiums, one virtual and one in-person. Perhaps the most rewarding experience has been the opportunity to mentor undergraduate research assistants and guide them in developing independent research projects. I am currently mentoring an honors thesis student who I have worked with for the past four semesters. Relatedly, I am a member of the Nepalese in Neuroscience group, an international group of undergraduate, graduate, postdoc, and faculty scholars from Nepal pursuing neuroscience work through mentorship and community engagement.
Access to a variety of Vanderbilt resources has greatly supported my academic and professional accomplishments. The Peabody postdoc writing group allows me to connect with postdocs within my discipline and work towards reaching weekly writing goals in an informal and relaxed setting. This has helped me balance writing with other research demands. I have also participated in a Vanderbilt Edge for Scholars grant writing workshop and since have submitted two grant applications, both of which have been funded. This year, I received the National Institutes of Health Loan Repayment Program (NIHLRP) award to help pay off my undergraduate student loans. In collaboration with my mentor, I was also awarded a Diversity Supplement under the National Institute on Deafness and Other Communication Disorders (NIDCD). This project investigates the neural basis of literacy in deaf and hard of hearing children. Specifically, my project aims to investigate the contributions of American Sign Language (ASL) and English linguistic skills to reading achievement in individuals who acquire both spoken and signed language. I am in the data collection phase of this project. As part of my training award, I have had the opportunity to develop a deeper understanding of language and literacy in children with hearing loss by engaging with scholars in the Hearing and Speech Sciences program and the Vanderbilt Bill Wilkerson Center. I am also taking an introductory ASL course.
Current theoretical models of literacy acquisition are largely based on monolingual and hearing populations and do not adequately represent the variability of different groups of learners. This has direct implications for the education and development of diverse students across this country. Throughout my research career, I am motivated to examine children's cross-linguistic experiences and its influences on brain development for language and reading acquisition.
Outside of the lab, I enjoy spending time with my dog Pooka, watching the GBBO, and trying to teach my husband Nepali while he teaches me Mandarin.