Inga Saknite, Ph.D.
Written by: Inga Saknite, Ph.D.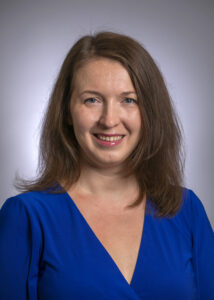 As I write this column on my last official workday at Vanderbilt and in the United States, I am feeling immensely grateful for all the amazing and life-changing experiences that I have had here during my four years as a postdoctoral research fellow. Thanks to the continuous support of my wonderful mentors, colleagues, and access to a wide variety of Vanderbilt resources, I have grown on both professional and personal level beyond what I ever imagined. I also cannot help but feel a bit of sadness – I am leaving a place that I have come to call home, a place where I feel like I belong. I will greatly miss my mentors, mentees, and colleagues at the Vanderbilt Dermatology Translational Research Clinic (VDTRC), the Department of Dermatology, Vanderbilt Biophotonics Center, and the Stem Cell Transplant clinic. I am hoping that many of them will become future collaborators as I transition to a new position back home, at the University of Latvia.
I grew up in Latvia, a beautiful country of 2 million people in Northern Europe. My mom is an MD hospitalist at the largest hospital in the region. Inspired by her kindness, dedication, and genuine care for her patients, early on in my life I developed interest in finding ways to help people. With a formal background is Physics, I have dedicated the first 15 years of my research career to developing and applying light-based technologies for improving patient care. My path to Vanderbilt begun shortly after receiving my PhD from the University of Latvia. I attended a small European networking event in France, where I met Dr. Eric Tkaczyk who had just founded the Vanderbilt Dermatology Translational Research Clinic and was in search of his first research fellow. Little did I know then, almost 5 years ago, that I had just met most inspiring person who would become my mentor, role model, and friend, and change my career trajectory forever.
Among various interesting projects that I have had the chance to work on here at Vanderbilt, starting a new field of bedside confocal videomicroscopy has been the most exciting one. Through a reflectance confocal microscope, I noninvasively studied individual leukocytes moving in the upper microvessels of human skin. It truly is as amazing as it sounds, and I have spent hours "secretly spying" on my own leukocytes. Our report on direct visualization of individual cell motion in skin capillaries culminated in August 2020 cover article in the journal Microcirculation. Unexpectedly and beyond our initial hypothesis, we associated increased leukocyte adhesion and rolling with increased rates of relapse of a hematologic malignancy in patients after a stem cell transplant. In 60 patients, our bedside videomicroscopy biomarker was many-fold more predictive of patient relapse and survival than the best reported clinically available predictors. Working hand-in-hand with Dr. Tkaczyk and our hematology mentor Dr. Michael Byrne in this collaborative and interdisciplinary environment has been an adventure of a lifetime. Even in my wildest dreams I could not have imagined that light-based technologies – my field and passion – could potentially help patients with a systemic non-dermatologic disease. Through this project and local, national, and international collaborations, Dr. Tkaczyk has taught me most of what I know about translational research and how to effectively communicate science with the world including clinicians, patients, and colleagues.
Throughout my training, I was fortunate to have access to exceptional resources that Vanderbilt offers. I learned survival analysis and statistical programming in R thanks to great feedback at weekly Biostatistics Clinics and many discussions with biostatisticians. With the help of VICTR grant writing studios, I learned to deliver my research in a more compelling way and subsequently submitted several grants. To participate at the Annual Symposiums organized by the Vanderbilt Postdoctoral Association, I learned to deliver my results in a 4-minute lightning talk, the final one earning the Best Talk award. In my four years of training, I gave 7 invited talks at international meetings on 3 continents. I am grateful to Dr. Tkaczyk and all my mentees who have taught me how to be a better mentor and leader. I was humbled to receive the inaugural Vanderbilt Postdoctoral Mentor of the Year award in 2021.
Every life-altering moment I have experienced has been propelled by a person. My mom, my mentors, people who believe in me enough to push me out of my comfort zone and beyond what I think I can achieve, and those who genuinely want me to grow as a scientist and as a person. I will always be grateful to Vanderbilt for this incredible journey. Although I look forward to returning home to my own family and country, it is almost unimaginable and bittersweet that I soon have to leave. A part of me will always be here, with my new family at Vanderbilt.