OACS Lyft Program

As a university-sponsored program, the OACS Lyft Program will be suspended through April 30th 2020
How to use ridesharing services safely:
One-Time Concierge Service – Request a One-Time Lyft Ride:
Check the approved community partner list below on on the OACS Lyft for Service form to determine if your community partner is approved for the OACS Lyft Program

If your community partner is not yet approved, send the OACS Lyft Program Community Partner Agreement Form to your main contact at the organization. A representative from the organization must complete this brief form.
After the community partner submits this form, OACS will add the community partner to the OACS Lyft for Service Form

Complete the One Time Lyft Rides Concierge form on Anchorlink
OACS will review your request for rides from Lyft and either approve or deny your request through Anchorlink.
If your request is approved, your ride will be scheduled as requested in the One Time Lyft Rides Concierge form.
How to Request a Wheelchair Accessible Vehicle:
To enable Access Mode:
1. Tap the menu icon in the top left corner
2. Scroll down and tap 'Settings'
3. Find 'Wheelchair access' in the menu
4. Slide the toggle to the right so it's green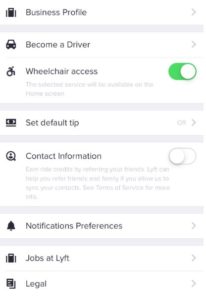 5. Type in your destination, then swipe left to see additional modes
6. Tap "More" then tap "Access" to select wheelchair mode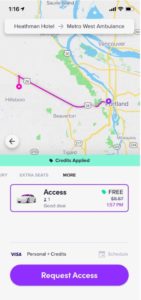 7. Tap "Request Access," confirm your pickup location, and you're all set!