MLK Joint Day of Service 2020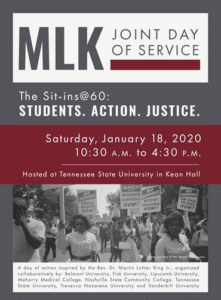 Join students from universities across Nashville in a weekend of action and reflection as we honor the efforts and contributions of Dr. King in challenging the discourse on civil (dis)obedience and justice for all humankind on Saturday, Jan. 18, 2020 hosted at Tennessee State University in Kean Hall.
A number of non-profit organizations in Nashville will be hosting service opportunities during the MLK Joint Day of Service. Students who would still like to participate or have questions about the 2020 MLK Joint Day of Service should contact Meagan Smith.
Student Leadership Opportunities
There will also be a limited number of leadership positions available for students the day of the MLK Joint Weekend of Service event. Please complete the registration form here to indicate your interest in serving as a student site leader at one of the community engagement opportunities.
Student leaders will be responsible for the following:
Attend a brief training at 9:00 AM at Tennessee State University the morning of the event (Saturday, Jan. 18)
Assist with volunteer registration, waiver completion, and site sign-up
Communicate with their partner non-profit the day of the event
Ensure that volunteers board the correct bus for their service site
Motivate and organize volunteers at their service site
Lead volunteers in a safe return trip to Tennessee State University and encourage participation in the closing reflection
Contact staff leaders in the event of an emergency
The Martin Luther King, Jr. Commemorative Series was established in 1985 at Vanderbilt University as a celebration of the life of Rev. Dr. Martin Luther King, Jr. Commemorating Rev. Dr. King's life and legacy, the University community will gather together on this national holiday for a series of programs including: participation in the city-wide march, community service, educational forums and lectures. In honoring Rev. Dr. King, Vanderbilt University affirms its own commitment to the goals of peace and racial justice to which Rev. Dr. King dedicated his life.