Service Organization Fair 2019
The OACS Service Organization Fair brings together student-led service organizations and local non-profits to share their stories of impact with the Vanderbilt community. Participants have the opportunity to meet face to face with the organization leaders who are making a difference in our community and learn how they can join their efforts.
2019 Service Organization Fair – Aug. 28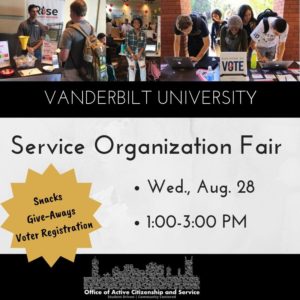 The 2019 Service Organization Fair will be held on Wednesday, Aug. 28, 1:00-3:00 PM in the Student Life Center Ballroom. Participating organizations are grouped by issues areas, such as health and wellness, education and youth, and community development. Fair attendees can connect with student organizations and non-profits that address topics of particular interest and importance to them, and organizations addressing different issue areas can discuss opportunities to collaborate. Find your service home and avenues to explore active citizenship at the OACS Service Organization Fair!
Click here to RSVP and to learn more about the Service Organization Fair