Morocco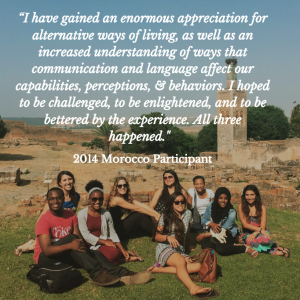 ---
Introduction to the Program
Located on North Africa's western coast, Morocco is an ethnically, culturally, and geographically diverse nation with a rich political and social history. In partnership with the Center for Cross Cultural Learning in Rabat, the OACS Global Service Program in Morocco aims to provide a comprehensive service-learning experience whereby students are immersed in Moroccan culture and society, while serving alongside locally run organizations to build capacity and address salient social injustices. The six-week program's multi-pronged, holistic approach includes 20 hours of preparatory spring seminars, living-learning homestay accommodations with families in the Rabat medina, a peer-supported cohort model, structured group and individual reflection sessions led by a qualified site leader, and skills-based service site placements at local NGOs focused on human rights, immigration, women's rights, and education. Ultimately, through delving into community-identified needs related to inequity and justice at their service sites, students gain a greater understanding of the interconnectedness of humankind and of the vital importance of global citizenship.
Program Model
OACS Global OACS Service Programs challenge students to question their perspectives and roles in the shared human experience through pre-service curriculum, intensive service, post-service skills application, and continuous reflection. Founded upon contemporary service-learning theory, the programs are planned in order to best facilitate students' abilities to connect meaningfully with people different from themselves through humble engagement and reciprocal dialogues within host communities. Through this exposure to firsthand knowledge and lived experiences, students will examine the deeper issues related to equity and justice and identify systematic barriers to equality and inclusivity. Students with a sincere desire to grapple with the complexity of human connectedness, to challenge their known values, and to reconcile academic knowledge with an authentic exploration of social and environmental injustices are encouraged to apply for an OACS Service Program.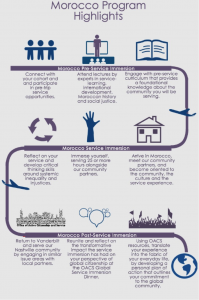 Morocco Program Highlights 
Morocco Pre-Service Immersion
Connect with your cohort and participate in pre-trip service opportunities.
Attend lectures by experts in service-learning, international development, Moroccan history and social justice.
Engage with pre-service curriculum that provides a foundational knowledge about the community you will be serving.
Morocco Service Immersion
Reflect on your service and develop critical thinking skills around systemic inequality and injustices.
Immerse yourself, serving 25 or more hours alongside our community partners.
Arrive in Morocco, meet our community partners, and become oriented to the community, the culture and the service experience.
Morocco Post-Service Immersion
Return to Vanderbilt and serve our Nashville community by engaging in similar issue areas with local partners.
Reunite and reflect on the transformative impact the service immersion has had on your perspective of global citizenship at the OACS Global Service Immersion Dinner.
Using OACS resources, translate your experience into the fabric of your everyday life, by developing a personal plan of action that outlines your commitment to the global community.
Phase 1:  Spring Seminars

In the spring, students participate in a series of eight seminars designed to equip them with the tools to analyze and participate in global service through an informed and impact-oriented lens.  Seminars typically cover the following:
An overview of religion, politics, economics, and culture in Morocco
Training in language skills, cultural sensitivity, and cultural competence
An introduction to Islam
Critical dialogues about power and privilege
Analysis of the intersection of sustainable international development, social justice and global citizenship
Consideration of the ethical issues involved in engaging with communities through service in the Global South
Reflection techniques and team-building skills
Phase 2:  Service-Learning in Morocco

I.

NGO Placements
Partnerships with locally run NGOs in Rabat are central to the Morocco Global Service Program. During the spring semester, the Morocco Global Service program leader meets with students to determine their skills and interests and sends resulting student profiles and resumés to Rabat. Community partners in Morocco then choose the students who they feel will best support their needs.
Once in Morocco, students can expect to serve full days alongside community partners with lectures, reflection, or language training in the early evening. Service with NGOs in Rabat is focused on capacity-building whereby students work with full-time professionals in justice-oriented fields, using their academic knowledge and hard skills to address stated needs and to support improved outcomes for the organization's mission.
Community partners in the Morocco Global Service Program are typically focused on human rights (particularly migrant/refugee rights and women's rights) and education, and students with academic experience or professional interest in these topics are encouraged to apply. NGO partners vary year to year depending on the organization's need for volunteers, however since 2014, Vanderbilt students have served at sites including but not limited to the following:
Espace Associatif is a Moroccan association devoted to strengthening the capacity of CSOs to be a key player in the democratic development, The Associative Space initiates Care International in partnership with Morocco and with the support of the European Union, the project "Local Governance and rights of women. "promote and help other associations' development. Founded in 1996, some of the association's specific objectives include working with other advocates of democracy and helping them to strengthen their resources, strategies, and involvement in their relevant fields.
Orient-Occident is an organization devoted to providing the less fortunate with an institution where they can learn, share information, and receive professional training. Established in 1994, Orient-Occident Rabat also seeks to promote cultures, both those of Morocco and those abroad. Consequently, the organization opened its board of directors to citizens of other countries with the hope of facilitating international dialogue and fostering mutual understanding and respect between different countries. Ultimately, the Orient-Occident strives to serve as a resource for Moroccans as well as a bridge between the two shores of the Mediterranean Sea where identities meet, recognize each other, and prepare for their future together.
Center for Studies and Research on Women in Islam aims to examine and interpret the Quran, Shar'ia Law, and the rights of women in Islam through a tolerant, feminist lens. This organization promotes scientific research in Islamic studies as a means of contributing to the enrichment of Islamic heritage and to the resolution of women's issues. This organization strives to show the diverse cultural, social, and historical development of women in the Muslim world while emphasizing the equality and mutual respect between the sexes embedded in the Quran. The center's other specific goals include the improvement of how women are perceived and treated in the realm of Islamic jurisprudence and the examination of the role and status of women in Islam in light of ongoing, modern social changes.
OMDH (Organisation Marocaine des DroitsHumains; Moroccan Human Rights Organization) was established in 1988. Its objectives include the promotion of human rights, namely the exercising of individual and collective freedoms, and the spreading of the culture surrounding universal standards of human rights in Morocco. This organization denounces human rights violations and works towards the establishment of rule of law, separation of powers, and the independence of the judicial power from the executive power in Morocco. Ultimately, the organization hopes to promote the ratification and realization of international human rights doctrines in Morocco.
REMES (Réseau Marocain d'Economie Sociale et Solidaire) The Network of the Moroccan Social Solidarity Economy ( REMESS ) was established February 25, 2006 from a field of 24 associations active in the field of social and solidarity economy. Moroccan network for Social and Solidarity Economy ( REMESS ) is the first Moroccan network open to different components of the social economy i.e. cooperatives, associations, mutual societies, foundations, economic interest groups and professional unions .It is one of public spaces where you can share a free debate on issues of social and societal responsibilities in development projects. REMESS different offices through Morocco and actively participate in the development of the country through their actions in support of associations, mutuals, cooperatives, enterprises and their national and international networks. The aim is the empowerment of women in social and economic development and human rights in general, youth integration, trainings.
ACDM (Association Chantiers de développent au Maroc) aims at developing programs in the context of sustainable development and awareness-raising in the fields of education and health, including the organization of humanitarian activities, literacy projects, organizing cultural and sports events, camps for children and youth, environmental protection campaigns, and city beautification projects (cleaning / reforestation / murals, etc). The organization in all its components in both urban and rural environments promotes human and cultural exchange between national and international associations. It also opens space for the development of language skills for local Moroccans from underprivileged backgrounds.
Amal Salé Association was founded in 2002 and is located in a popular neighborhood in Salé. Its main projects involve teaching foreign languages (French and English) and organizing trips for disadvantaged children from 5 and 13 years old, as well as adolescents from 13 to 18 years old.Amal Salé also provides literacy classes and English language classes to women of all ages from Salé. Volunteers teach English and will be joining a young and active group of three people who are the founding members of the Amal Salé Association.
Attadamoun Institute is a space located in a popular area in Rabat which aims at promoting youth skills through different workshops including aesthetics, sewing and cooking classes, and language learning. Attadamoun seeks to develop their skills through getting them involved in social practice . The institution also has classes for smaller children who benefit from pre-schooling courses. Strengthening those capacities, the association offers language classes to promote the youth communication skills.
Moroccan Association of Human Rights (AMDH)  was established on 24 June 1979.The Association acts for the preservation of human dignity, the respect for all human rights in their universality and the protection, defense and promotion of these rights. Its principal objectives include:
To raise awareness and spread knowledge about human rights.
To pursue and condemn human rights violations and work to put them to an end.
To provide solidarity and support for the victims of human rights violations.
II.  Homestays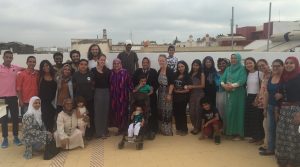 While in Rabat, pairs of students live with Moroccan families in the Old Medina or the old walled city. Though the cohort model is important in providing peer support, over the course of the program's 6-week run students' homestay placements are essential to cross-cultural exchange and immersion in order to build relationships and gain a deeper understanding of Moroccan culture and way of life. Living with families gives students the opportunity to forge strong bonds with Moroccan parents and siblings as well as to develop language skills in French and Arabic.
III.  Reflection

Intentional and structured reflection in Morocco is a vital part of investing fully in the global experiential-learning process. To this end, OACS follows the David Kolb Learning Cycle, which includes four processes that must take place for learning to occur:
Concrete experience (feeling)
Reflective observation (exploring)
Abstract conceptualization (thinking)
Active experimentation (acting)
As part of the Morocco Global Service Program, we ask that students actively reflect as they pass through each stage in this cycle. Active reflection includes participation not only in the group sessions and one on one sessions, but also daily through personal introspection. We encourage students to share openly with their cohort, site leader, and reflection partner and to record their reflections in their OACS journal daily. Checking in frequently with thoughts and feelings adds dimension and depth to the students' experiences and ultimately results in more personal growth and transformation through critical thinking.
IV.   Lectures and Language Training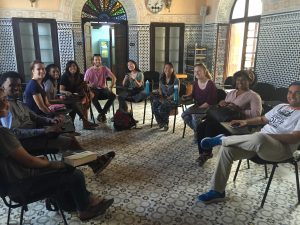 Over the course of the 6-week program, students participate in topic-specific lectures led by experts in various fields. Guest lecturers have included leading professionals from such renowned organizations and institutions as Amnesty International, the US Embassy, and the Equity and Reconciliation Commission. Lecture topics have included (but are not limited to) the following:
Exploring Daily Life in Rabat: Medina, Hassan Tower, and the Oudaya fortress
Exploring Daily Life in Morocco: Family Life
Introduction to Ramadan
Introduction to Civil Society and NGOs in Morocco with special focus on women
Women's Issues in Morocco
Amazighen in the Middle Atlas Mountains and Eastern Desert
Amnesty International: Advocacy and Justice in Morocco
In addition to weekly lectures, students are given the opportunity to take an introductory course in Moroccan Arabic or Darija taught by a specialist at the Center for Cross Cultural Learning.
V.  

Weekend Learning & Enrichment Excursions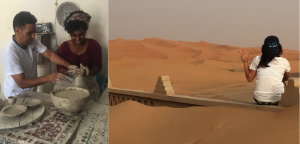 To deepen students' understanding of Morocco's diverse cultural landscape, the cohort takes weekend enrichment excursions around the country, visiting rural NGOs and participating in lectures and service projects along with hands-on learning activities. Weekend excursions historically have included: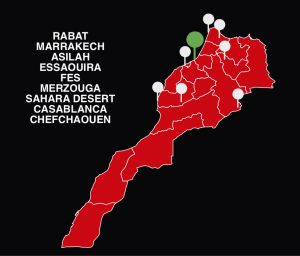 Phase 3:  Think Globally, Act Locally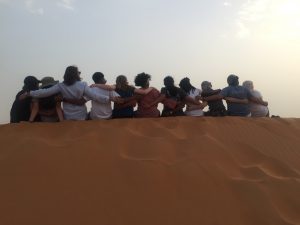 As part of a commitment to continued service and reflective learning post-trip, students are required to prepare a Global Capstone Project (GCP) for the Morocco Global Service Program to be presented at the OACS Global Symposium in the fall following their summer of service. For the GCP, students are grouped with fellow cohort members by service site such that, through their service and group reflection, they contextualize the service experience, explore the root causes of the issues with which they worked at their sites, and create plans of action for local engagement.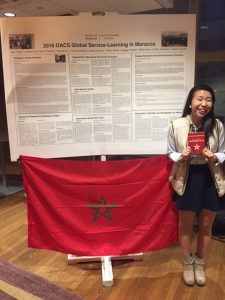 To learn more from participants about the OACS Global Service Program in Morocco, we encourage potential applicants to read and watch the following: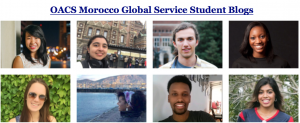 *Click here or on the photo above for Morocco student blogs.
*Click here or on the image above for Week 2 video of the 2015 Global Service Program in Morocco.
Center for Cross Cultural Learning

The OACS Global Service Program in Morocco would not be possible without our trusted and longstanding partnership with the Center for Cross Cultural Learning (CCCL) based in Rabat. The CCCL was founded by a group of Moroccan, cross-cultural education experts in 1995 and is one of Morocco's leading institutions for study abroad education. Their mission is to enhance mutual respect and appreciation of the "other" through the empowerment and celebration of heritage and culture. The CCCL is committed to cross-cultural learning and to fostering dialogue and peaceful exchanges between peoples and cultures. The partnership between the CCCL and OACS enables students to deeply engage with community needs while enjoying on-the-ground support, including lectures, language instruction, and homestay and NGO partners.
 Questions?
For more information about the OACS Global Service Program in Morocco contact Tandra Martin or Meagan Smith, the program leaders, at tandra.martin@vanderbilt.edu or  meagan.smith@vanderbilt.edu.