Local OACS DIVE
Local OACS DIVE Programs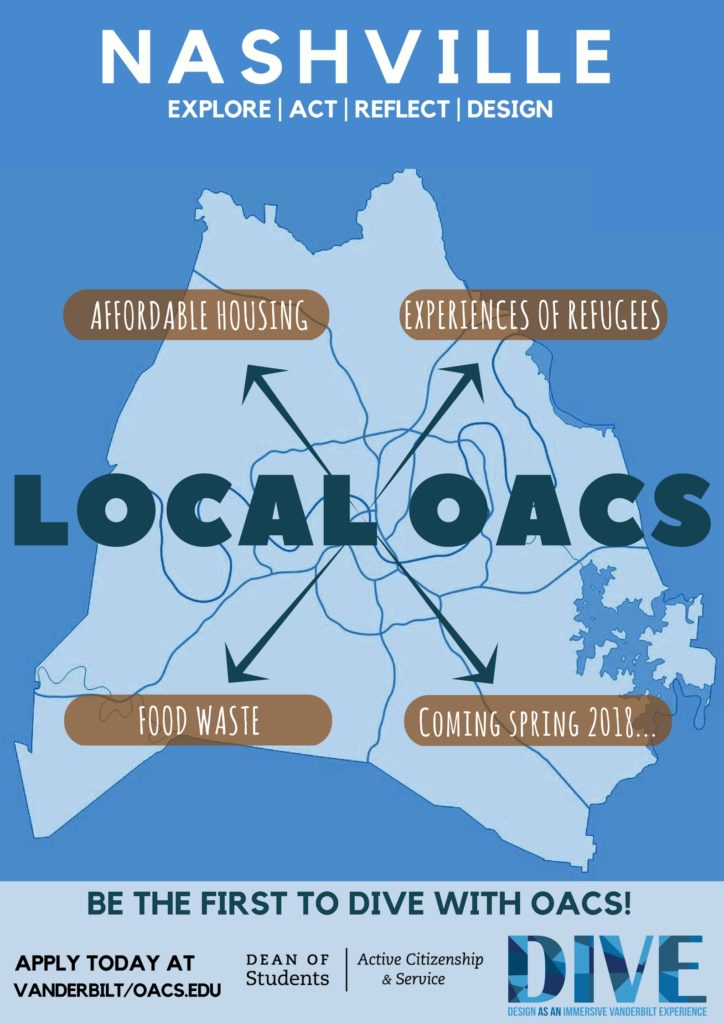 Local OACS DIVE (Design as an Immersive Vanderbilt Experience) cohorts was formed, beginning Fall 2017, around the themes of affordable housing, the experience of displaced persons living in Nashville, and food waste. Local OACS DIVE programs provide students a unique opportunity to work together with local non-profit organizations to address community-identified challenges in innovative ways using the processes of Human-Centered Design.
Throughout the semester-long experience, Local OACS DIVE programs will include a theme-focused seminar series, service with a non-profit organization addressing the cohort theme, and hands-on experience applying human-centered design to address community-identified need.
Applicants accepted to a Local OACS DIVE program will be invited to join a specific theme-based cohort. Selection will be based on a review of applicant theme interest, major, and skills to strengthen cohort diversity and the learning experience.
The Local OACS DIVE Experience
Local OACS DIVE programs are built upon a foundation of three key component: human-centered design, service-learning theory and critical reflection, and the expertise of key faculty and community leaders.
Students selected to participate in a Local OACS DIVE cohort will:
Attend a DIVE boot camp to learn the fundamentals of human-centered design
Participate in the OACS Service Institute to deepen their understanding of service-learning, identity, power and privilege, and ethical community engagement
Meet bi-weekly as a cohort to hear from key faculty and community leaders actively addressing the cohort theme
Reflect on assigned readings and personal experiences in both written and oral formats
Serve with a non-profit organization related to the cohort theme for approximately 3-5 hours per week (hours determined by the needs of the community partner)
In small groups, apply the human-centered design process to address a challenge, question, or need identified by their community partner
Share final prototypes at the end-of-year DIVE showcase
About DIVE
DIVE is an exciting new program with both curricular and co-curricular components that will teach human-centered design thinking to students so that they may solve complex, real-world problems, develop critical thinking skills, and work in multidisciplinary teams during an immersive, mentored project. DIVE is not just for undergraduate students; through the DIVE Boot Camps, students, faculty and staff may explore human-centered design and learn the five steps of design thinking, including: empathize, define, ideate, prototype, and test. DIVE launched in Fall 2017 and will continue Spring 2018.
Why DIVE?
DIVE is the project chosen as the university's Quality Enhancement Plan (QEP). The QEP is a critical element of Vanderbilt's SACS-COC reaffirmation of accreditation; its purpose is to advance student learning through a clearly defined plan of action. In 2007, Vanderbilt's QEP was the first-year Vanderbilt Visions curriculum. Beginning in 2017, Vanderbilt's QEP will be the DIVE program.
What is OACS Doing to Support DIVE?
OACS is currently preparing a portfolio of co-curricular projects to be launched at the end of the semester, so be on the lookout for that. The OACS co-curricular DIVE process will look something like the following:
Undergraduate students will complete a DIVE Boot Camp early during the co-curricular project of their choice. This will enable them to understand and apply human-centered design methodology.
In OACS, it is envisaged that students will work in multidisciplinary project teams over the course of the fall semester, to attack and develop real-world policy and other solutions to pressing local needs identified by the mayor's office. The themes OACS has chosen include:
The lived experiences of displaced persons living in Nashville;
Affordable housing; and
Food waste
At the end of the academic year, students will participate in a university-wide showcase to present their work.
Want to Know More?
Spread the word about DIVE far and wide! It's critical that the Vanderbilt community know that DIVE is the university's new QEP!