Meet the Staff
The OACS Team!
Vacant | Director
Meagan Smith, M.S. | Assistant Director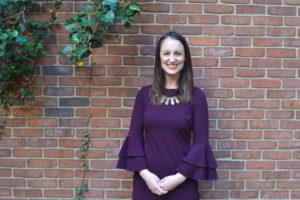 Pronouns: She/Her/Hers
Meagan Smith received her Master of Science degree in College Counseling and Student Development at Azusa Pacific University, where she focused her graduate studies on the development and impact of academic service-learning. Meagan leads the OACS Community Engagement Strategy,  facilitates the Local OACS DIVE: Affordable Housing, advises student-led service organizations, and provides administrative leadership for the OACS team. In previous roles she worked closely with faculty and community partners to integrate service engagement with academic coursework, oversaw voter engagement initiatives, led division-wide program assessment review efforts, managed the university's web-based service involvement tracking platform, supported development of service-learning faculty fellows programs, and advised student organizations. Meagan has also has experience as a residence hall director, and learned and served with a community in Ranchi, Jharkhand, India for four months to develop an internship program for the organization. She is a member of the Nashville Organized for Action and Hope (NOAH) Affordable Housing Task Force Steering Committee, the Hands On Nashville Volunteer Action Network (VAN) Council, and The Nations 615 Neighborhood Association, and volunteers with Room in the Inn as a winter mobile shelter coordinator. Meagan is passionate about inspiring students to become active members of their communities who are committed to creating a more just society. She also loves a good hike at Radnor Lake, teaching knitting classes with Nashville Community Education, spending time with her husband and her family, and discovering new podcasts.
Contact Meagan: meagan.smith@vanderbilt.edu or (615) 322-7822
Melissa Looby, M.Ed. | Senior Program Coordinator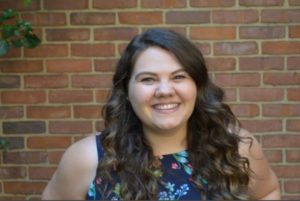 Pronouns: She/Her/Hers
Melissa Looby earned her Masters of Education at the Peabody College of Vanderbilt University in Higher Education Administration – Student Affairs. Melissa joined the OACS team in 2017 after serving as the Graduate Assistant since 2015. Melissa came to Vanderbilt following the pursuit of her B.A. in Music, Spanish, and Secondary Education from Rollins College in Winter Park, FL. By combining each of these areas of study, Melissa found her passion for working with diverse populations and sustainable community development. Through these experiences, Melissa gained experience in both domestic and international community development and non-profit consulting, specifically interested in Spanish-speaking countries.
In her work through OACS and guided by critical service-learning theory, Melissa seeks to challenge students to think critically about their role in sustainable community engagement work, make critical connections between social injustices locally and globally, and develop leadership skills that enable students to be active citizens in their own communities. Melissa oversees the OACS Global Service Programs and facilitates the OACS Global Service Program in Ecuador and the Local OACS DIVE: Refugee Resettlement cohort. She is a member of the Social Enterprise Alliance and regularly volunteers with tnAchieves , Credo Catholic Young Adults and Alive! Hospice.
In her free time, Melissa enjoys camping, hiking, playing volleyball, going to concerts and hockey games, dog-sitting, and trying out new recipes in her home kitchen.
Contact Melissa: melissa.v.looby@vanderbilt.edu or (615) 343-4856
Meagen Crawford | Administrative Assistant II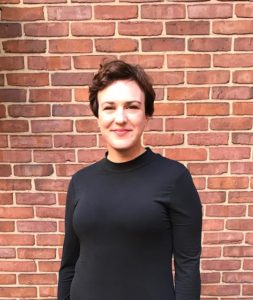 Pronouns: She/Her/Hers
Meagen Crawford has worked in many different departments within Vanderbilt, experiencing the University from a variety of perspectives, before joining the OACS team in October 2018. Originally from California where she earned her BA in Literature and Poetry, Meagen has lived in Nashville for seven years. She spends her spare time painting, reading, writing, walking with her dog Hank, and going to art events around town.
Vacant | Program Coordinator
Alexis Coulter | Graduate Assistant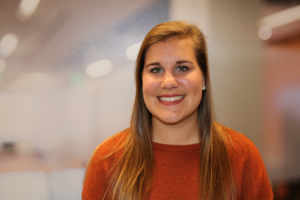 Pronouns: She/Her/Hers
Alexis Coulter received her Bachelor of Science degree in Biology at Iowa State University, where she was actively involved in the University Honors Program. After college, she moved to Minnesota to serve two years as an AmeriCorps volunteer at a college access nonprofit. Upon completion of her term of service as a virtual college advisor, she transitioned into a Program Coordinator role for the organization. Inspired by her work in the college access space, Alexis is passionate about social justice and educational equity, and is currently pursuing her Master of Education in Higher Education Administration at Peabody College. She is excited to continue learning from her community, the OACS staff, and supporting students as they discover and engage in meaningful service opportunities. In her spare time Alexis enjoys the outdoors, reading, reality television, podcasts, traveling, and playing board games.
Contact Alexis:alexis.m.coulter@vanderbilt.edu