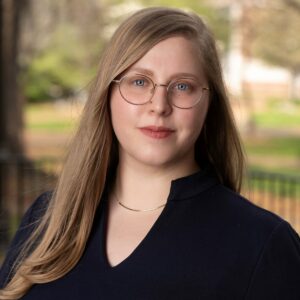 Panka Bencsik
Assistant Professor of Medicine, Health, and Society and of Public Policy

---
Office Hours
Thursdays, 10.45 to 11.45 am
Education
PhD, University of Sussex
Panka Bencsik is an Assistant Professor of Medicine, Health, and Society and of Public Policy at Vanderbilt University. Additionally, she is a faculty affiliate at the Vanderbilt Center for Research on Inequality and Health.
Professor Bencsik is an applied microeconomist whose research covers the fields of health economics, crime economics, and public economics. She has worked extensively on topics related to the opioid crisis, mental health, alternatives to prosecution, and gun violence. Her research has been covered by major media outlets, including The Economist and the Chicago Tribune, and by policymakers, such as the Mayor's Office of Chicago. Professor Bencsik also served as the founding leader of the world's largest research hub on mental health economics.
Before joining Vanderbilt University, Professor Bencsik was a Postdoctoral Research Fellow at the University of Chicago, Urban Labs. Prior, she received her PhD in economics from the University of Sussex and was a Fulbright Fellow at the Brookings Institution in Washington, DC.
---
Specializations
Opioid crisis
Mental health
US criminal justice system
Gun violence
---
Representative Publications
Pinto, S., Bencsik, P., Chuluun, T., Graham, C. (2021). Presidential Elections, Divided Politics, and Happiness in the U.S. Economica. 88, no. 349 : 189-207.
Bencsik, P., Chuluun, T. (2021). Comparative well-being of the self-employed and paid employees in the USA. Small Business Economics. 56, 355-384.
Bencsik, P. (2018). The non-financial costs of violent public disturbances: Emotional responses to the 2011 riots in England. Journal of Housing Economics. 40, 73-82.
---