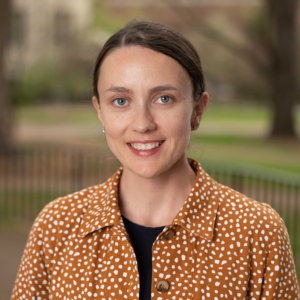 Kirsty A. Clark
Assistant Professor of Medicine, Health, and Society
Assistant Professor of Public Policy Studies
Assistant Professor of Psychology and Human Development

---
Office Hours
---
Education
PhD, University of California, Los Angeles
MPH, Yale School of Public Health
BA, University of Virginia
Dr. Kirsty A. Clark (she/her/hers) is a social and psychiatric epidemiologist. She serves as an Assistant Professor of Medicine, Health & Society with secondary appointments in Public Policy Studies and Psychology and Human Development. Dr. Clark also serves as an Associate Director of the Vanderbilt LGBTQ+ Policy Lab and as Director of the Clark Lab. Dr. Clark's program of research focuses on examining mental health disparities, especially suicide, impacting lesbian, gay, bisexual, transgender, and queer (LGBTQ+) populations and developing evidence-based interventions to disrupt the course of such disparities. Dr. Clark's training background spans interdisciplinary fields of psychology, public health, and epidemiology, and her research profile reflects this interdisciplinary nature through robust qualitative, quantitative, and mixed-methods health disparities research projects. Dr. Clark is the PI of a National Institute of Mental Health Mentored Research Scientist Development Award (K01) which aims to use novel real-time assessment methods to capture associations between stigma-related stressors and suicidal ideation among LGBTQ+ adolescents in Tennessee.
Dr. Clark's first-authored research has been published in high-impact journals such as JAMA Pediatrics, Social Science & Medicine, Pediatrics, Annals of Epidemiology, and Psychology of Sexual Orientation and Gender Diversity. Her research has been reported on by CNN, US News & World Report, Newsweek, and many other national and international outlets. Dr. Clark completed a PhD in Epidemiology at the UCLA Fielding School of Public Health, a Master of Public Health at Yale University, and a BA in Psychology at the University of Virginia. Additionally, she completed a Postdoctoral Fellowship at the Yale LGBTQ Mental Health Initiative.
---
Specializations
LGBTQ health
Health disparities
Mental health
Epidemiology
Public health
---
Representative Publications
Clark, K., Salway, T., McConocha, E. & Pachankis, J. How do sexual and gender minority people acquire the capability for suicide?: Voices from survivors of near-fatal suicide attempts. Social Science & Medicine – Qualitative Research in Health. doi: 10.1016/j.ssmqr.2022.100044. Online first ahead of print.
Clark, K. A., Hatzenbuehler, M. L., Bränström, R., & Pachankis, J. E. (2022). Sexual orientation-related patterns of 12-month course and severity of suicidality in a longitudinal, population-based cohort of young adults in Sweden. Social Psychiatry and Psychiatric Epidemiology, 57(9), 1931-1934.
Clark, K. A., Harvey, T. D., Hughto, J. M., & Meyer, I. H. (2022). Mental health among sexual and gender minority youth incarcerated in juvenile corrections. Pediatrics, 150(6).
Clark, K. A., Mays, V. M., Arah, O. A., Kheifets, L. I., & Cochran, S. D. (2022). Sexual orientation differences in lethal methods used in suicide: Findings from the National Violent Death Reporting System. Archives of suicide research, 26(2), 548-564.
Clark, K., Björkenstam, C., Kosidou, K. & Björkenstam, E. (2021) Psychological distress, suicidal ideation, and suicide attempt among lesbian, gay and bisexual immigrants: Population-based findings from the Stockholm Public Health Cohort. Archives of Sexual Behavior. 50(8), 3563-3574.
Clark, K. A., Cochran, S. D., Maiolatesi, A. J., & Pachankis, J. E. (2020). Prevalence of bullying among youth classified as LGBTQ who died by suicide as reported in the National Violent Death Reporting System, 2003-2017. JAMA Pediatrics, 174(12), 1211-1213.
Clark, K. A., Mennies, R. J., Olino, T. M., Dougherty, L. R., & Pachankis, J. E. (2020). Parent versus child report of children's sexual orientation: associations with psychiatric morbidity in the Adolescent Brain Cognitive Development study. Annals of Epidemiology, 45, 1-4.
---