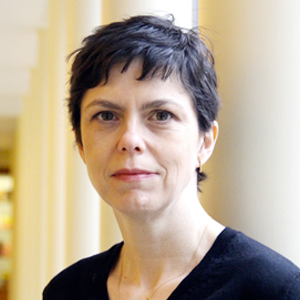 JuLeigh Petty
Director of Graduate Studies
Assistant Director, Department of Medicine, Health, and Society
Director of Evaluation
Principal Senior Lecturer of Medicine, Health, and Society

---
Virtual Office Hours
Mondays, 12:00pm-2:00pm (319 Calhoun Hall), Thursdays, 12:00pm-1:00pm via Zoom, or by appointment.
To schedule an appointment, please visit https://calendly.com/juleigh-petty.
For Zoom link, please visit the Current Student Forms and Resources page and click on the "Fall 2022 MHS Faculty Office Hours" link.
---
Education
PhD, Northwestern University
---
JuLeigh Petty is assistant director and senior lecturer at Vanderbilt University's Center for Medicine, Health and Society as well as director of graduate studies. Her research explores the regulation of research ethics, the organizational and institutional effects of medical research on HIV clinics, and the interaction of race, stress and premedical education. She received her PhD from Northwestern University in 2008.
---
Specializations
Sociology of medicine
Law and Society
Research ethics
HIV
---
Current Projects
"The Path Less Taken: Understanding the Experience of Black Pre-Medical Students" University of Delaware Research Foundation Award, Co-Investigator with Barret Michaelec
Consultant, Vanderbilt Evidence-based Practice Center project to identify areas for comparative effectiveness research (CER) for Individuals with Intellectual Disabilities. Funded by Agency of Healthcare Research and Quality
"Research Integrity in the Education of International Science Trainees," National Science Foundation, Awards # 0551837, Co-investigator with Elizabeth Heitman.
Research Assistant, "Clinic-Level Law: The 'Legalization' of Medicine in AIDS Treatment and Research" (Principal Investigator: Carol A. Heimer).  Project funded by National Science Foundation, American Bar Foundation, and Russell Sage Foundation.
Research Assistant, "Consequences of Law Breaking in Young People's Lives" (Principal Investigator: John Hagan).  American Bar Foundation, Chicago, IL
MacArthur Foundation, grant to support summer student-faculty research collaboration at Northwestern University
---
Representative Publications
Petty, JuLeigh and Heimer, C. 2011. "Extending the Rails: How Research Reshapes the Clinic."  Social Studies of Science.
Heitman, E. and Petty, J.  2011. "Preparing Students to Navigate Cross-National differences in the Research Environment," International Research Collaborations: Much to Gain, Many ways to Get in Trouble, Melissa S. Anderson and Nicholas H. Steneck, eds. Routledge.
Heimer, C. and Petty, J. 2010. "Bureaucratic Ethics: Institutional Review Boards and the Legal Regulation of Human Subjects Research," Annual Review of Law and Social Science.
Heimer, C., Petty, J. and Culyba, R.  2005. "Risk and Rules: The Legalization of Medicine," in Hutter and Powers, eds., Organizational Encounters with Risk, New York: Cambridge University Press.  Earlier version presented at the Centre for Analysis of Risk and Regulation of the London School of Economics.
Culyba, R, Heimer, C., and Petty, J.  2004. "The Ethnographic Turn in Sociology: Fact, Form or Fiction?"  Qualitative Sociology, 27(4):365-389.  Earlier versions presented at the 2003 American Sociological Association meeting and the 2001 Chicago Ethnography Conference.
Hagan, J. and Petty, J.  2001. "Returning Captives of the American War on Drugs," Crime and Delinquency, 47 (3):352-367.  Paper presented at the 2000 Re-entry Roundtable Conference at the Urban Institute in Washington DC.
---