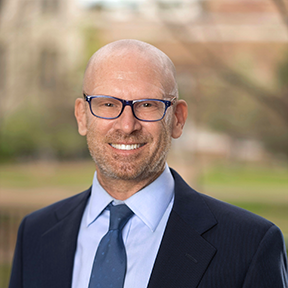 Jonathan M. Metzl
Director, Department of Medicine, Health, and Society
Frederick B. Rentschler II Professor of Sociology and Medicine, Health, and Society
Professor of Psychiatry

---
Office Hours
Available Tuesdays from 3-4 and by appointment only. Please email Dr. Metzl to set up an appointment.
---
Education
PhD, University of Michigan
Jonathan Metzl is the Frederick B. Rentschler II Professor of Sociology and Psychiatry, and the director of the Department of Medicine, Health, and Society, at Vanderbilt University in Nashville, Tennessee. He received his MD from the University of Missouri, MA in humanities/poetics and psychiatric internship/residency from Stanford University, and PhD in American culture from University of Michigan. Winner of the 2020 Robert F. Kennedy Human Rights Book Award, the 2020 APA Benjamin Rush Award for Scholarship, and a 2008 Guggenheim fellowship, Dr. Metzl has written extensively for medical, psychiatric, and popular publications about some of the most urgent hot-button issues facing America and the world. His books include The Protest Psychosis, Prozac on the Couch, Against Health: How Health Became the New Morality, and Dying of Whiteness: How the Politics of Racial Resentment is Killing America's Heartland.
---
Specializations
Psychiatry
Race and Health
History of Mental Health
Gender
Politics
---
Current Projects
**History of medical boundary violations
**Structural Competency
**RWJ men and masculinity project
**Guns and mental illness
---
Representative publications
Metzl, JM. "Mainstream Anxieties about Race in Antipsychotic Drug Ads." American Medical Association Journal of Ethics 2012, 14 (6):494-502.
Metzl, JM.. "Structural Competency." American Quarterly 2012, 64 (2): 213-18.
Metzl, JM and MacLeish, K. "Triggering the Debate: Faulty Associations Between Violence and Mental Illness Underlie U.S. Gun Control Efforts." Risk and Regulation.
Metzl, JM. "Structural Health, and the Politics of African American Masculinity." American Journal of Men's Health [forthcoming].
Metzl, JM and Hansen, HH. "Structural Competency: theorizing a new medical engagement with stigma and inequality." Social Science & Medicine [forthcoming].
---
MEDIA
Commentator, MSNBC, Melissa Harris Perry Show. Recent appearances include,
**http://www.nbcnews.com/id/46979745/vp/51114780#51114780
**http://www.nbcnews.com/id/46979745/vp/51124323#51124323
**http://www.nbcnews.com/id/46979745/vp/51114838#51114838
**http://www.nbcnews.com/id/46979745/vp/51124049#51124049
**http://www.nbcnews.com/id/46979745/vp/46419672%20-%2046843434#46419672
**http://www.nbcnews.com/id/46979745/vp/46419672%20-%2046843621#46419672
**http://www.nbcnews.com/id/46979745/vp/46419672%20-%2046843779#46419672
Film Critic, The Lancet. . Recent reviews include,
**A Bitter Pill: Review of Steven Soderbergh's Side Effects (Metzl JM, 2013, 381 (9873): 1174:
http://www.thelancet.com/journals/lancet/article/PIIS0140-6736(13)60786-2/fulltext
Columnist, NBC.COM. Recent articles include,
*Let's talk about guns, but stop stereotyping the mentally ill (msnbc.com):
http://tv.msnbc.com/2013/04/24/lets-talk-about-guns-but-stop-stereotyping-the-mentally-ill/
*The NRA and race (the grio.com):
http://thegrio.com/2013/03/06/colion-noir-the-nras-urban-gun-enthusiast-is-off-target/#51050433
Metzl, JM. "Sequester This! The Perils of Masculinity and the Truth About Sex." Public Books, April, 2013: http://www.publicbooks.org/nonfiction/sequester-this-the-perils-of-masculinity-and-the-truth-about-sex
NPR: States of Mind—Mental Illness in America, May 2013: http://backstoryradio.org/shows/states-of-mind/
---