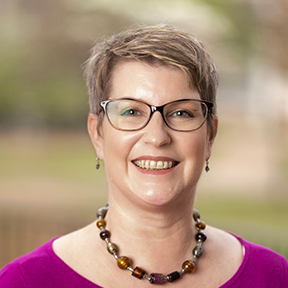 Heidi Bludau
Senior Lecturer of Medicine, Health, and Society
Assistant Director of Graduate Studies of Medicine, Health, and Society

---
Office Hours
Thursday, 1:30-3:30pm or by appointment
(please use https://calendly.com/hbludau to schedule in-person or virtual appointments)
---
Education
PhD, Indiana University
Heidi Bludau earned her PhD in Anthropology at Indiana University in 2012. From 2012 to 2022, she taught as a lecturer in Applied Anthropology at Monmouth University.
Dr. Bludau's research program centers on the professional identity of healthcare workers, primarily nurses. The project that served as the basis of her dissertation was an examination of global healthcare migration through the recruitment and migration of Czech nurses; Saudi Arabia is their primary destination site. She used a critical and applied approach to medical anthropology in order to examine the Czech and Saudi national healthcare systems and policies in relation to individual motivations for migration. A key element is the position of healthcare labor recruiters as a node in the migration chain. A large part of her research consisted of an organizational analysis of a Czech recruitment firm in which she was embedded for almost a year.
---
Specializations:
Medical and Applied anthropology
Globalization
Professional Identity
Healthcare worker migration
Organizational culture
---
Representative publications:
H. Bludau. 2021."Global Healthcare Worker Migration." In Oxford Research Encyclopedia of Anthropology. 
H. Bludau. 2017. "Hindered Care:Institutional Obstructions to Carework and Professionalism in CzechNursing." Anthropology of Work Review. 
H. Bludau. 2015. "Creating a Transnational Labor Chain between Eastern Europe and the Middle East: A case study in healthcare." InterDisciplines. 
H. Bludau.2014.The Power of Protocol: Professional identity development and governmentality in post-socialist healthcare. Special issue, "Health and Medicine: Post-socialist perspectives," Czech Sociological Review. 
H. Bludau and P. Ezzeddine. 2013. Seeing Gender in Migration: An Introduction. Special Issue, "Gender and Family in Migration," Lidé Města/Urban People. 15(2):179-184. *special co-edited by Petra Ezzeddine and Heidi Bludau 
H. Bludau. 2011. Producing Transnational Nurses: Agency and Subjectivity in Global Health Care Labor Migration Recruitment Practices. Special issue, "Health and Care Work in Postsocialist Eastern Europe and the former Soviet Union," Anthropology of East Europe Review. 
---