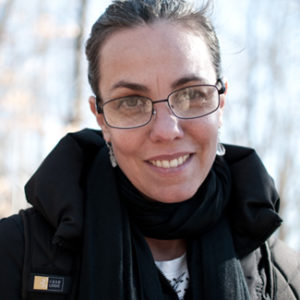 Dominique P. Béhague
Director of Undergraduate Studies
Associate Professor of Medicine, Health, and Society
Affiliated Associate Professor of Anthropology

---
Office Hours
Tuesdays, 11 am – 1 pm, Please visit Calendly to schedule a virtual appointment.
---
Education
PhD, McGill University
Dominique P. Béhague is Associate Professor of Medicine, Health and Society and affiliated faculty in the Anthropology Department and at the Center for Latin American Studies at Vanderbilt University.
With grants from the US National Science Foundation, the Fulbright Foundation, the World Health Organization, the UK Economic and Social Research Council (ESRC), and The Wellcome Trust, amongst others, Dominique has guest-edited two Special Issues and published over 30 articles in prominent journals such as Social Science & Medicine, Culture Medicine and Psychiatry, Medical Anthropology Quarterly, The American Journal of Public Health and The British Medical Journal. Her long-term ethnographic research in Southern Brazil investigates the concurrent emergence of new forms of community-based psychiatric practice and different typologies of adolescent psychopathology and developmental transformation. A collaborative project with the Department of Social Medicine at the Federal University of Pelotas, this research followed the lives of a core group of 90 young people, participants of an ongoing 1982 Pelotas birth cohort study, from their 15thto their 25th birthdays (1997-2007). She is currently completing a book manuscript based on this research entitled Troubled Teens: Psychiatry and the Shaping of Adolescence in the Wake of Brazil's New Democracy. A second more recent project funded by the ESRC and conducted together with Katerini Storeng, centers on the politics of evidence-based medicine, particularly as it relates to expertise, advocacy and policy in the global health. Publications from this research have influenced policy-making at key institutions such as the World Health Organization, the Wellcome Trust, and the Population Council. Currently, Dominique is developing a new project to explore the intersection of psychiatry, politics and global knowledge-flows together with colleagues at Vanderbilt, the LSHTM, and King's College London, where she also holds a yearly summer appointment as Senior Lecturer. For information on publications: http://scholar.google.co.uk/citations?user=3KfdGhcAAAAJ&hl=en.
---
Specializations
Anthropology of psychiatry
Reproductive health and adolescent mental health in Brazil and the embodiment of conflicting styles of reasoning
Politics of epistemic shifts in global health evidence-based movement
---
Representative Publications
Béhague, DP (2017) "Psychiatry, Sex and Science: The Making of Adolescent Motherhood in Southern Brazil" Medical Anthropology, 1-16.
Storeng, KT and Behague, DP (2017) "'Guilty until proven innocent': The contested use of maternal mortality indicators in global health governance" Critical Public Health, (27) 2
Béhague, DP (2016) "Psychiatry, bioepistemes and the making of adolescence in Southern Brazil." História, Ciencias, Saúde. Manguinhos v. 23 n. 1, p. 131-153. (Part of Special Issue edited by Ilana Lowy and Emilia Sanabria entitled The biomedicalization of Brazilian bodies: anthropological perspectives).
Storeng, KT, DP Behague (2016) "'Lives in the Balance': the Safe Motherhood Initiative and the Partnership for Maternal, Newborn and Child Health" Health Policy and Planning 31 (8): 992-1000.
Béhague, DP and Lézé, S Guest Editors. (2015) "Shaping the modern child: genealogies and ethnographies of developmental science" Social Science and Medicine 143, 249-254. Editorial for Special Issue, "The rise of developmental science: Debates on health and humanity."
Béhague, DP (2015) "Taking pills for developmental ails in Southern Brazil: The biologization of adolescence?" Social Science and Medicine 143, 320-329.
Béhague DP and KT Storeng (2014) "Reflexive relations: The contested creation of epistemological diversity in the Safe Motherhood Initiative" in 'Research in International Development: a critical review' Edited by Laura Camfield and Richard Palmer-Jones. Palgrave. p. 283-308.
Storeng, KT and Béhague, DB (2014) "Playing the "Numbers Game": Evidence-Based Advocacy for Safe Motherhood and the eclipsing of social justice" Medical Anthropology Quarterly 29 (2) 260-279.
Béhague DP and KT Storeng (2013) "Pragmatic politics and epistemological diversity: the contested and authoritative uses of historical evidence in the Safe Motherhood Initiative." Evidence and Policy, 9 (1): 65-85 Part of Special Issue edited by Helen Lambert entitled Plural forms of evidence in public health: tolerating epistemological and methodological diversity.
Béhague, DP (2013) "Unconventional Psychiatric Medico-Politicization: The Making and Unmaking of Behavioural Disorders in Pelotas, Brazil" In Troubling Natural Categories: Engaging the Medical Anthropology of Margaret Lock. Naomi Adelson and Pam Wakewich, McGill-Queen's University Press.
Béhague, DP Gonçalves, H Gigante, D, Kirkwood, BR (2012) "Taming troubled teens: the social production of mental morbidity amongst young mothers in Pelotas, Brazil" Social Science & Medicine 74 (3) 434-443.
Gonçalves, H Souza, A Tavares, S Cruza, D and Béhague, D (2011) "Contraceptive medicalization, fear of infertility and teenage pregnancy in Brazil." Culture, Health and Sexuality 13(2): 201–215.
Béhague, DP, C Tawiah, M Rosato, T Some, J Morrison. (2009) "Evidence-based policy-making: The implications of globally applicable research for context-specific problem-solving in developing countries" Social Science and Medicine 69(10): 1539- 1546.
Béhague, DP (2009) "Psychiatry and the politicization of youth in Pelotas, Brazil: the equivocal uses of "conduct disorder" and related diagnoses" Medical Anthropology Quarterly 23(4): 455- 482.
Béhague, DP, Gonçalves, H and Victora CG (2008) "Anthropology and Epidemiology: Learning epistemological lessons through a collaborative venture" Ciência & Saúde Coletiva Volume 13, Number 6, September/October: 1701-10. (With three invited commentaries (p.1711-1714) and authors' responses (p.1715-1717)).
Béhague, DP (2008) "Psychiatry and military conscription: the search for opportunity and institutionalized therapy in Pelotas, Brazil" Culture, Medicine and Psychiatry Jun; 32(2):194-218.
Behague, DB and Storeng, KT (2008) "Collapsing the vertical-horizontal divide in public health: lessons from an ethnographic study of evidence-based policy making in maternal health" American Journal of Public Health Apr; 98(4):644-9. (With letters to the editor and authors' response in AJPH, Nov; 98(11):1930; author reply 1930-1.)
---