M.A. in Medicine, Health, and Society

Program Overview
Earn a master's degree in this innovative, accelerated program of study. Medicine, Health, and Society is an interdisciplinary field of research that critically examines the social foundations of health. Graduate students learn about health-related beliefs and practices in their political, social, and cultural contexts. The department integrates scholarship in the humanities, social sciences, and sciences in order to teach students how to approach questions from multiple perspectives. Graduates combine theory, research, and practice to explore health disparities, health justice, and the connections between the biological and social foundations of health.
MHS offers an M.A. in the Social Foundations of Health through two on-campus graduate programs:
For prospective students outside of Vanderbilt: MHS offers a one-year M.A. degree to prospective students who have earned bachelor's degrees from an accredited institution.
For current Vanderbilt undergraduates: MHS offers students the opportunity to earn both a bachelor's and master's degree in just five years of study through Vanderbilt's 4+1 BA/MA program. Accepted students receive registration priority in their senior year in order to complete their BA and begin MA requirements. The MA requires 30 credit hours including up to 6 hours of thesis research. Typically, MHS 4+1 students take 3 to 6 hours of graduate coursework in their senior year. 4+1 students complete the same requirements as students in the 1-year MA program.
Both programs are aimed at students who want to gain research experience, enhance their interdisciplinary training, and strengthen their applications before entering medical or professional school or seeking entry to doctoral programs. The department also offers a Certificate in Medicine, Health, and Society for graduate and professional students at Vanderbilt.
Explore the Social Foundations of Health
The M.A. in the Social Foundations of Health provides students with the interdisciplinary knowledge and skills that future healthcare professionals require. The field of contemporary health care is increasingly shaped by the realization that social, environmental, personal, and structural factors are as essential as basic biological processes to understanding patient's illness and suffering. Social and cultural aspects of illness and health are a growing component of pre-health education.
Our broad curriculum allows students the unique opportunity to take classes in the Vanderbilt Graduate School as well as the Schools of Medicine, Nursing, and Law, and the Master of Public Health Program. Through interdisciplinary course work, faculty mentorship, and research collaborations, students learn skills now emphasized on the MCAT and essential to success in health care. Many of our students go on to professional degree programs in medicine, law, and public health. Other recent graduates have accepted positions in research, the healthcare technology sector, healthcare consulting, and nonprofit work.
MHS draws on a variety of fields in the social sciences and humanities—anthropology, economics, history, literature, psychology, sociology, philosophy/ethics, political science, and religious studies. It should be of particular interest to students preparing for careers in a health-related profession, but also has much to offer any graduate or professional student interested in examining an important part of human experience from multiple perspectives and developing a critical understanding of contemporary society.
Detailed MHS program and course descriptions are available in the Graduate Catalog.
---
Program at a Glance
Master of Arts (M.A.) in Social Foundations of Health
Department of Medicine, Health, and Society
Director of Graduate Studies: JuLeigh Petty, Ph.D.
Assistant Director of Graduate Studies: Heidi Bludau, Ph.D.
Graduate Administrative Specialist: Denise Malone
Admission Term: Fall
Credit Hours: 30
Application Deadline: February 1st for Fall 2024 entrance – the Vanderbilt Graduate Admissions application process opens for the 2023-2024 academic year in August 2023.
Vanderbilt Graduate School's online application form
Three academic letters of recommendation
Statement of purpose (2-3 pages) describing your likely research interests and how the MA in MHS will further your career and educational goals. Applicants are encouraged to state their research interests, research experience, and the names of 1-3 primary MHS faculty members with whom they would most like to work based on shared research interests.
Writing sample – Writing samples should demonstrate an applicant's ability to do research, make scholarly arguments, and/or apply key concepts to health. Most applicants select a course essay, term paper, journal article, white paper, or short undergraduate thesis, but other documents that reflect your research and writing abilities are accepted.
Transcript(s)
Optional: Official GRE or MCAT scores
We evaluate applications holistically. The writing sample and personal statement are especially important in our ability to assess an applicant's quality of work, research experiences, research interests, creativity, and potential match with the department's strengths.
Individuals who
Are passionate about health disparities, health justice, and the connections between the biological and social foundations of health
Are interested in science communication, bioethics, and health policy
Are interested in broadening their knowledge and skill base before pursuing medical school or other advanced degree programs
Want to approach contemporary healthcare from an interdisciplinary perspective
Are driven to understand the social and cultural aspects of illness and health
The 4+1 program is available to current Vanderbilt undergraduate students majoring in MHS or related disciplines. Accepted students receive registration priority in their senior year in order to complete their BA and begin MA requirements. The MA requires 30 credit hours including up to 6 hours of thesis research. Typically, MHS 4+1 students take 3 to 6 hours of graduate coursework in their senior year. 4+1 students complete the same requirements as students in the MA program.
Most 4+1 students engage in research, service learning or internships in the summer between their 4th and 5th year. Students are eligible for the summer research grants and tuition scholarships for MA thesis research.
See more information about the application requirements for the 4+1 program here. NOTE: There are different deadlines for 4+1 applications.
---
Program Curriculum
Earn your degree in as little as one calendar year (3 semesters, full time, 30 credit hours). Most students complete the program over the course of three semesters  when enrolled full-time (typically, fall, spring, and summer). However, the length of the program will be flexible to accommodate the needs of different constituencies.
Craft an individualized curriculum designed to seek interdisciplinary answers to complex problems: Students partner with a faculty mentor to craft an interdisciplinary curriculum best suited to their career and educational interests. Students are eligible to take courses in the MHS department, the College of Arts and Sciences, and other schools at Vanderbilt, including the School of Nursing and the School of Public Health. Required courses include:

An MHS theory course (options include Critical Bioethics; Foundations in Global Health; Mutual Aid, Activism, and Sustainability; and others),
An interdisciplinary writing course,
Either an interdisciplinary research methods or a quantitative research methods course,
One additional methods course.

Complete a capstone project (thesis or practicum) that investigates real-world problem in the social foundations of health and structural competency.
For Vanderbilt undergraduates applying to the 4+1 Program: Requirements are the same for both the one-year MA degree and the 4+1 combined BA/MA program. Students in the BA/MA (4+1) program must satisfy all requirements for both the BA degree and the MA degree. There is no double-counting of credits. In order to complete the program in five years, students should be in a position to complete most of the requirements for their undergraduate degree by the end of the first semester of the senior year.
Current Graduate Course Offerings
---
Comprehensive Exam
The MA requires a written examination, tailored to the student's specific course of study, requiring the student to integrate material from the different disciplines. The MHS Director, in consultation with the MHS Curricular Committee, will appoint an examination committee consisting of the student's adviser and two other faculty members, at least one of whom must be from a field different from the adviser's. The examination committee will write up the exam, which the student will take during his or her last semester of study (or last summer session) and no later than the week of final exams.
---
Capstone Project: Demonstrate and Apply your Knowledge
Each student will complete a capstone project as a culmination of their master's degree. The project provides students with the opportunity to put the knowledge and research skills they have gained into practice on a topic of interest to them. The capstone project will either take the form of a thesis or a practicum (non-thesis) project. Students may choose to do a practicum or thesis project but not both.
Thesis Option
The thesis provides students with the opportunity to put the knowledge and research skills they have gained into practice on a topic of interest to them. Students who elect to complete a thesis may enroll in up to 6 hours of thesis research (24 hours of coursework + 6 hours of thesis research = 30 credit hours total). The thesis should draw on at least two disciplines and follow Vanderbilt Graduate School's thesis guidelines. For students in the thesis track, the comprehensive examination committee will also constitute the thesis committee and will administer an oral thesis defense.
To read our past MA students' theses, visit the Vanderbilt University library's Electronic Theses and Dissertations page and browse by department.
Practicum (Non-Thesis) Option
The research-based practicum gives students the opportunity to integrate classroom learning with professional experience. Under the guidance of faculty and site supervisors, students develop practical skills, engage with real-world challenges, and contribute to community resources. Students in the practicum track may enroll in up to 6 hours of independent research that culminates in a written report (24 hours of coursework + 6 hours of independent research = 30 credit hours total).
---
Our Alumni
Our students go on to medical school, law school, and graduate school, and to successful careers in a wide array of health-related fields, including health policy, health care administration, and the nonprofit sector.
---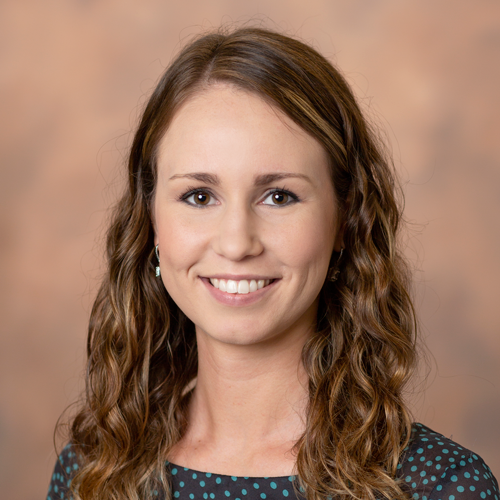 Lauren Taylor, MA 2019
Clinical Trial Specialist, Sarah Cannon Research Institute
Lauren Taylor, a graduate of Clemson University, was drawn to the MHS Program because she could take courses in sociology, statistics, and public health while preparing for future graduate study in Health Policy. It allowed her to merge her interests in medicine and social sciences to study medicine from a unique perspective. For her capstone project, Lauren researched the effects of exorbitantly high price of cancer drugs that cause patients to skip treatments and experience financial turmoil.
Her thesis aimed to better understand the financial toxicity that chronic blood cancer patients experience and how that impacts their quality of life.
"I have gained an invaluable skill set in viewing health issues from a social perspective, as well as practical skills in statistical analysis for future research."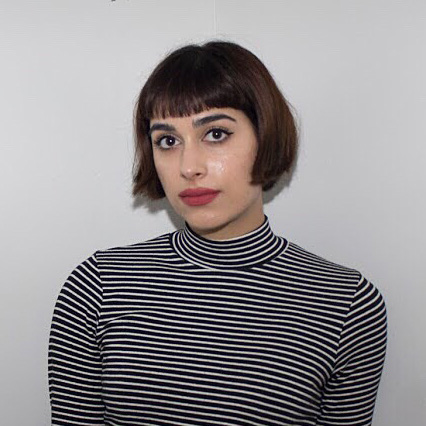 Rebecca Rahimi, MA 2019
Rebecca Rahimi enrolled in the MA program because it encouraged interdisciplinary thinking and research. She worked with faculty in multiple disciplines in her roles as a teaching assistant, member of the Critical Design Lab, and research assistant for the Disarmed exhibit.
Rebecca drew on her English training from CSU Northridge to examine the roles of storytelling, intergenerational memory, and nostalgia in forming the identities of Iranian Revolutionary migrants and first-generation Persian-Americans. Her thesis weaved together ethnographies, memoir, and art to explore the complexities of culture, assimilation, and the hybridization of identity. In the future, she hopes to bridge at and the humanities with therapy and processes of healing in underserved populations
"I appreciated being welcomed into a community where my humanities-based background was seen as an asset to the types of work the program pursues."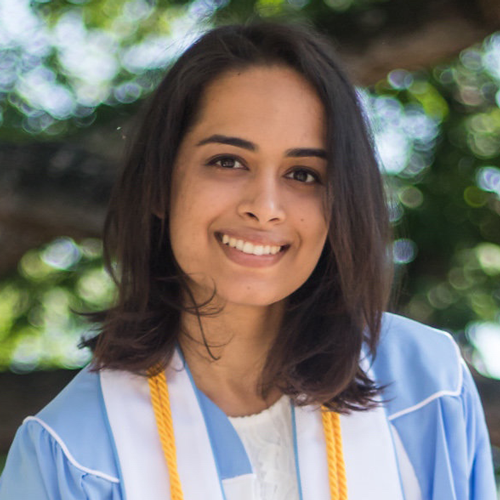 Manisha Mishra, MA 2019
Research Coordinator at NYU Langone Health
As a graduate of UNC-Chapel Hill, Manisha Mishra chose the MHS MA Program because she could tailor the program to advance her interdisciplinary training before applying to medical school. Her thesis combined methodologies from MHS coursework to examine how clinical empathy is integrated into modern clinical practice. She interviewed physicians to better understand their perspective regarding clinical empathy and the practice of compassionate care.
Manisha's project highlighted systematic barriers and hierarchies that can exist in the doctor-patient relationship. Eventually, her research will inform her own clinical practice as she plans to pursue a career in academic medicine.
"Through this program, and especially in the core classes and working on my thesis, I have learned how to be a successful scholar and researcher."
Graduate Certificate in Medicine, Health, and Society
Requirements include the 3-hour core colloquium (MHS 6100) and an additional four courses drawn from the list of approved courses. Students are required to submit a paper to the MHS curricular committee for evaluation. For more information, please visit the Graduate Certificate in MHS webpage.
---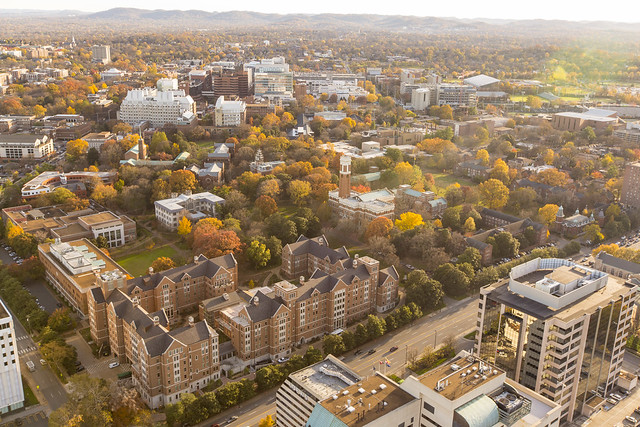 Nashville, Tennessee
Vanderbilt's hometown of Nashville is a vibrant, engaging city known proudly as "Music City, U.S.A." Located a little more than a mile from downtown, the university's students, faculty, staff and visitors frequently cite Nashville as one of the perks of Vanderbilt. Nashville is home to a diverse health care industry that impacts the health care landscape locally, nationally and internationally.
Vanderbilt is committed to transdisciplinary health education and research across its various schools and colleges. Having a medical center contiguous to the main campus facilitates collaboration of faculty and students. Medicine, Health, and Society is just a short walk away from the Vanderbilt University Medical Center with a number of other health care facilities in close proximity to campus.