Myra Konte, Class of 2021: Soccer star builds future on the field and in medicine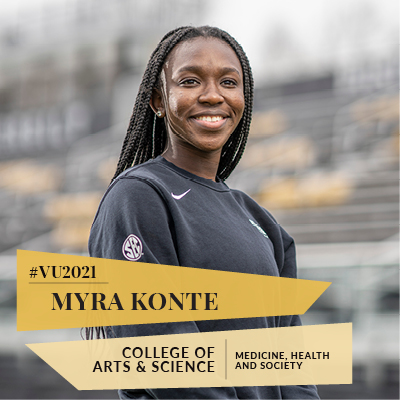 MHS graduating senior, Myra Konte, had her story featured in the Class of 2021 profiles.
The North Carolina Courage, back-to-back champions, selected Myra Konte in the third draft round, 30th overall. She is the first Vanderbilt player ever drafted by an NWSL team. However, instead of the NWSL, Konte is playing for the Commodores this spring as the SEC champions prepare for the rescheduled NCAA tournament. She also will also play for Vanderbilt in the fall, using additional eligibility the NCAA granted to all seniors as a result of the COVID-19 pandemic, as she begins work on her master's degree in medicine, health and society.
Myra Konte

Vanderbilt University Senior, 2021: Medicine, Health, and Society