October 20th: "Why Should Students Vote?: Democracy, Protest, and the #2020 Election"
"Why Should Students Vote?: Democracy, Protest, and the #2020 Election"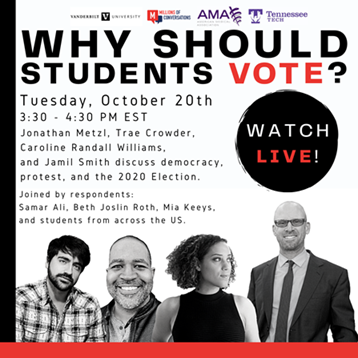 Tuesday, October 20th, 2:30-3:30pm CST
Stream URL:  https://www.facebook.com/amillionconvos/live/.
The Vanderbilt Department of Medicine, Health, and Society, Tennessee Tech University, and Millions of Conversations invite students to a public discussion of "Why Should Students Vote?: Democracy, Protest, and the #2020 Election" on Tuesday, October 20, 2020, 2:30-3:30pm CST.
What's the point of voting? Pre-pandemic surveys suggested that young people had begun to question "democratic governance in the U.S."  Pundits now wonder: will gen Z vote?  But is that even real?  Have a pandemic and a summer of protests altered these trajectories?  Are students showing new forms or engagement?  What can we learn from the 'youts?