November 5th: MHS Colloquium with Dr. Stéphanie Pache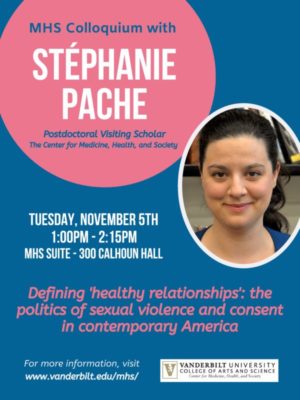 Defining 'healthy relationships': the politics of sexual violence and consent in contemporary America
Tuesday, November 5th, 1:00-2:15pm, MHS Suite – 300 Calhoun Hall
Please join us for a MHS colloquium with our postdoctoral visiting scholar, Dr. Stéphanie Pache, PhD, MD.
Abstract:
One of the aims of second wave feminism in the 1960s and the 1970s was to gain recognition of the intimate character of violence against women. Inequality and power relations needed to be exposed at the heart of relationships, particularly sexual relationships. Feminists worked to characterize as violence some behaviors that were not considered as such. Because of the intimate nature of gender violence, the psychological disciplines have been used as the main interpretative force in understanding how such violence occurs. They shaped the discourse concerning such violence. Health professionals developed studies, statistics and guidelines about this violence against women 'epidemic'. This talk presents and questions how violence, sexuality and health were tied together in this history.
Stéphanie Pache is a medical doctor and a feminist scholar who works on the social and political issues of mental health. After a dissertation on the history of North American feminist psychology, her research focuses on the reframing of interpersonal violence as a public health problem (United States, 1980-2010). She is currently a visiting researcher at the Center for Medicine, Health, and Society at Vanderbilt University and will join the Department of Sociology at the Université du Québec à Montréal as Professor of Gender and Sexuality Studies in 2020.