Our Team
William H. Robinson, Vice Provost for Academic Advancement &
Executive Director of the Provost's Office for Inclusive Excellence
Provost Leadership Team
Critical Incident Response Team
Identity Centers
Dean's Diversity Designates
Faculty Searches
University Diversity Council
WILLIAM.H.ROBINSON@VANDERBILT.EDU
PRONOUNS: HE/HIM/HIS
William H. Robinson is the Vice Provost for Academic Advancement and Executive Director of the Provost's Office for Inclusive Excellence, and is a professor of electrical and computer engineering at Vanderbilt University. In this role, he oversees the Office for Inclusive Excellence. He also works to advance the Provost's priorities focusing on faculty recruitment, retention, and development; student success; curriculum; and a culture of respect, dignity, and care.
Robinson served on the Chancellor's Committee on Diversity, Inclusion and Community, and he was the recipient of a Chancellor's Award for Research on Equity, Diversity and Inclusion in 2016 for his work to broaden minorities' participation in engineering, which has significantly informed the understanding of factors that often discourage Black scholars from pursuing academic careers.
Robinson joined the Vanderbilt University faculty as an assistant professor after earning a Ph.D. in Electrical and Computer Engineering and an M.S. in Electrical Engineering from the Georgia Institute of Technology. He earned his bachelor's degree in Electrical Engineering from Florida Agricultural and Mechanical University.
Robinson's research explores the hardware and software tradeoffs to improve system performance, system reliability, and system security. He leads the Security and Fault Tolerance Research Group at Vanderbilt, whose mission is to design, model, verify and implement robust computing systems that positively benefit stakeholders with consumer, defense, industrial and medical applications. He also co-leads the Explorations in Diversifying Engineering Faculty Initiative (EDEFI) (pronounced "edify"). EDEFI investigates the institutional, technical, social, and cultural factors that affect the decision-making, career choices, and career satisfaction for doctoral students, postdoctoral scholars, and faculty who have been marginalized by race and/or gender.
Franklin Ellis, Jr., Director for the Provost's Office for Inclusive Excellence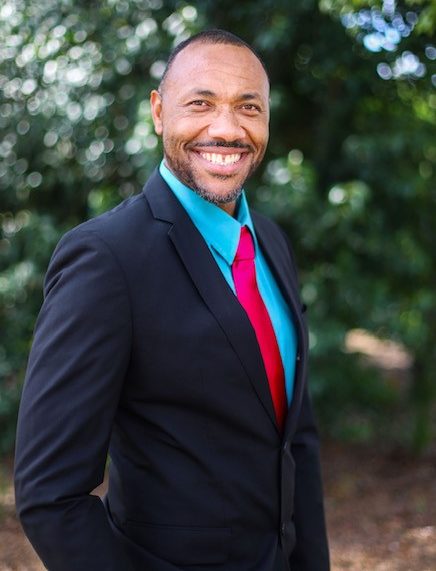 Academic Strategic Planning
Training & Workshops
E-Mail: franklin.w.ellis@vanderbilt.edu 
PRONOUNS: HE/HIM/HIS
Dr. Franklin William Ellis, Jr. is from Florence, SC. He is a proud graduate of Coastal Carolina University where he earned his bachelor's degree in psychology and Philosophy. He earned his master's in mental health counseling from Wright State University in Dayton Ohio as well as a licensure as a clinical counselor and his doctorate in marriage and family therapy from the Chicago School of Professional Psychology in Westwood California.
He is a relationship expert able to work with couples, singles, families, and any entities such as teams that have relational aspects. Dr. Ellis is a specialist in multicultural counseling with a concentration in demonstrating to non-Black/African Americans on how to serve Black/African Americans within the mental health system to aid in making the process more familiar and familial to encourage higher numbers of Blacks/African Americans to utilize mental health services. Inclusion and social justice work are Dr. Ellis' passion, he works diligently advocating for equality and equity for all individuals with systemically non-dominant identities through creating spaces that affirm those with systemically non-dominant identities while aiding in the learning of people with systemically dominant identities.
Dr. Ellis' career has span over 20 years in higher education beginning in residence life where he later transitioned into multicultural services although, diversity and inclusion work has always been at the core of all of his endeavors. Dr. Ellis is a thought innovator and positive change agent that describes himself as a synergist, scholar-practitioner and educator, as his creativity and dynamic presentation style has earned him the reputation for being an energetic intellectual visionary with impeccable communication capabilities that have positively affected various universities, institutions and businesses nationwide.
Jermaine Soto, Director of Faculty Development
Faculty Development
Faculty Searches
JERMAINE.A.SOTO@VANDERBILT.EDU
615.343.6980
PRONOUNS: HE/HIM/HIS
Jermaine Soto holds a B.A. in English from Cornell University, an M.S. in Cultural Foundations of Education from Syracuse University and is a Ph.D. Candidate at Syracuse University.
In addition, Jermaine recently received a Diversity and Inclusion Certificate from Cornell University. His research interests include: the use of Intergroup Dialogue practices and pedagogy to critically engage social issues and the role of counter-narratives and 'testimonios' in creating culturally relevant educational spaces. Soto has spent much of his career in Education engaging topics of equity, diversity and inclusion. At Syracuse University, he was a Lecturer, researcher, and facilitator for the Intergroup Dialogue Program and directed the Conversations about Race/Ethnicity (C.A.R.E) program for the Office of Multicultural Affairs. Upon his arrival to Tennessee, Soto was awarded a Dissertation Fellowship in the Sociology department at Middle Tennessee State University and has been a featured panelist and speaker focusing on issues of race and ethnicity at various events throughout Tennessee.
Soto came to Vanderbilt University to serve as Director of Operations for the Vanderbilt University's Office for Equity, Diversity, and Inclusion where he developed and facilitated diversity education training for university staff and consulted with various divisions and areas on their diversity initiatives. Jermaine Soto's current responsibilities as Director of Faculty Development for the Office of Faculty Affairs include: developing faculty engagement experiences that supplement the faculty life cycle from recruitment to retirement; leading inclusive excellence training in collaboration with the Office for Inclusive Excellence; representing the Office of Faculty Affairs on various committees and initiatives; leading Vanderbilt's participation in the SEC Academic Leadership Development Program and other duties as necessary in supporting faculty success.
Jermaine is also a certified Cook Ross trainer of Unconscious Bias for the Vanderbilt University campus as well as an experienced Intergroup Dialogue facilitator.
Alyssa Aloyo, Program Coordinator
SomosVU
Training & Workshops
Scheduling
Identity Centers
PRONOUNS: SHE/HER/HERS
Originally from New Jersey, Alyssa moved to Nashville in 2012 to study Business Management and Music Business at Belmont University. During her experience as an involved student leader at Belmont, her focus shifted toward an unveiled passion for higher education, leadership, and equity, diversity, and inclusion work.
Aloyo continued to earn her Bachelor of Business Administration, and after graduation in 2016, she joined Lipscomb University's College of Leadership and Public Service as a Program Coordinator. Shortly after, she enrolled in the Master of Arts Conflict Management program in efforts to strengthen her skills in negotiation, dispute resolution, and mediation – a toolset she has found not only useful but necessary for approaching complex and nuanced problems and conversations.
Through her work as an employee and student at two of Nashville's universities, she has, does, and will continue to dedicate herself to work that fuels her passions for leadership; equity, diversity, and inclusion work; and civic engagement.
Aloyo is now a part of the Office for Inclusive Excellence team as a Program Coordinator at Vanderbilt, where she is looking forward to building sustainable practices that promote thriving communities across campus.
Alyssa loves to travel and eat great food. If you are looking for her though, you can probably find her somewhere around Nashville with her Labrador Retriever puppy, Apollo!
Oscar Guzmán, Graduate Assistant
Program Initiatives
Anchor Link
Procurement
Social Media: Twitter, Instagram
PRONOUNS: HE/HIM/HIS
Oscar Guzmán joined the Office for Inclusive Excellence in August 2019.
He is currently pursuing his Masters of Education in Human Development Counseling, with a specialization in School Counseling at Vanderbilt's Peabody College.
Prior to his graduate studies, Oscar received his Bachelor's of Science in Education from Marquette University in Milwaukee, WI, where he majored in Educational Studies and English Language Arts. Although his appreciation for English literature and rhetoric is tenacious, after serving as an academic counselor in an urban all-boys high school, Oscar now welcomes the intersectionality between various disciplines and how curriculum integration manifests onto the well-being of diverse students as it relates to race, ethnicity, gender, sexuality, and socioeconomic status. Alongside his graduate studies and work in the Office for Inclusive Excellence, Oscar is also actively engaged in a research assistantship in the Department of Teaching & Learning, more specifically, math education and race studies.
In his spare time, Oscar enjoys reading, biking, spending time with friends, FaceTime-ing with his family from Chicago, and going on aimless drives throughout Nashville and its surrounding communities – you may occasionally catch him Sunday mornings enjoying brunch at Tavern on Broadway.
Sonya Hubbard, Senior Assistant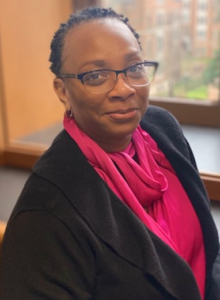 Calendar Scheduling
Event Planning
Office Management
Procurement
The Posse Foundation
Academic Pathways
PRONOUNS: SHE/HER/HERS
Sonya Hubbard is the Senior Assistant for the Office for Inclusive Excellence. She moved here from Michigan for family and has been at Vanderbilt since 2017. Sonya holds a BS in Financial Markets and Investments from Wayne State University in Detroit, MI, and in her spare time, she loves to read, draw, take nature walks, and organize.