Students Investigate Societal Implications of Technology in Germany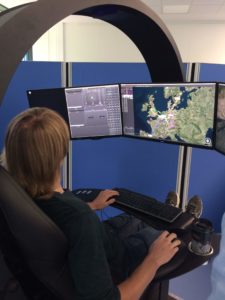 Like many Vanderbilt students, Eric Yeats and Josh Petrin spent last summer at an internship provided through a distinctive trans-institutional program available to Vanderbilt students.  The program focuses on investigating Science of Design for Societal-Scale Cyber-Physical Systems (CPS) and facilitates a summer internship opportunity in which Vanderbilt students spend part of their summer conducting research in Germany.  Eric worked at the Oldenburg Institute for Information Technology examining traffic criticality metrics which consider measures of danger in different situations and how that technology could be applied to self-driving vehicles.   Josh worked at the DLR which is a German equivalent of NASA where he worked on implementing existing research on human-machine interface schemes to self-driving cars.   Both students were able to work with cutting-edge technology and world-class experts in the field.
A collaboration between Vanderbilt University, University of California- Berkeley, TU Munich and Oldenburg, the CPS program focuses on developing perspectives on the large-scale societal implications of technology including unmanned aerial vehicles, transactive energy, and autonomous vehicles.  The focus on societal implications of technology is what sets this program apart.  Eric reflected, "this work has helped me consider aspects of design rather than the purely technical…I have a much more well-rounded view of the implications of developing emerging technologies."
Professor Janos Sztipanovits and Professor David Hess, both principal investigators for the CPS project, offered insight into the program, its goals, and opportunities for students.  Professor Szitpanovits shared that the project is "highly student centered" and that all participating universities "encourage students to consider the most controversial problems with new technology".  Professor Hess highlighted how the program promotes creative problem solving.  He stated, "By adopting an interdisciplinary design perspective on both social and technical problems, it is sometimes possible to come up with creative new ideas about how to think about engineering and software design problems."
In addition to the technical work offered by the CPS internship, students have an opportunity to have a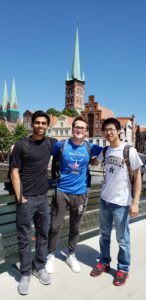 unique cultural experience as well.  Both Eric and Josh had the opportunity to be immersed in German culture and Josh reported "being a skilled cyclist" by the end of the summer.  Ease and accessibility of travel in Europe were also cited as highlights of the program as they were able to frequently travel to other parts of the continent on the weekends.
The CPS internship program consists of preparatory seminars in the spring semester and eight weeks of research in Germany with travel and subsistence costs covered.  There is also an option to extend the research into the Fall 2019 semester, if the student desires. The program is open to sophomores and juniors in the School of Engineering and College of Arts and Science.  Preference is given to students with skills in areas such as embedded systems development, modeling and simulation, artificial intelligence and design, and/or to students with demonstrated interest in technology and societal aspects of technological progress.
Interested students should submit their curriculum vita or resume, up-to-date transcripts, and a statement of interest of up to 300 words through the project website: https://cps-vo.org/sdss-cps/apply. The application deadline is December 14, 2019.  A detailed description of the program can be found on the website.