February is Full of Events
#BeYouAtVU
Dear community, 
First and foremost, Happy Black Heritage & History Month! For tips on how to celebrate this month as well as to check out our upcoming programming– keep reading.
We hope your semester is going well. LGBTQI Life has several upcoming events throughout February to celebrate the many identities LGBTQIA+ people hold and we hope you can attend.
Join us for a panel about Aging with Pride featuring Olivia Hill, Marisa Richmond, and Melinda Brown, who have all made an impact on LGBTQI lives across Vanderbilt and Nashville, this Friday, February 3rd in the Alumni Hall Reading Room. Continuing our Banned Book Initiative from last semester, February's group is reading Gender Queer: A Memoir by Maia Kobabe and will meet in-person on February 7th at 12pm at the KCPC (lunch provided) and online on February 8th at 5pm. Contact our office or the Library to access the book. Join us and Vanderbilt Athletics for PRIDE WEEKEND and get a free shirt on February 9th at 8pm at the Women's Basketball's "Pizza + Pronouns" Pride Night and get a pride flag and bracelet on February 10th at 11am for Track and Field and at 1pm for Lacrosse's Pride events.
We will host our first drop-in P.R.I.D.E. training on Friday, February 10th  from 10am-1pm at the KCPC but you can also request any LGBTQI Life training here.
Co-hosted with the Black Cultural Center for Black History Month, we will be showing a limited-rights screening of A Litany for Survival: The Life and Work of Audre Lorde from 2-4pm on Monday, February 13th at the BCC Auditorium. Find out more about this Documentary and Discussion in AnchorLink and Instagram. Check out BCC's other Black History Month events throughout the month.
Our OUT in Front LGBTQI and Ally Student Leadership Conference returns to Vanderbilt this year from 8am-5pm Thursday, February 23rd in the SLC Ballroom and BoT rooms focusing on the theme of Roots of Resilience: Community Care in the Queer South. With workshops, presentations, caucuses, and more, we encourage you and your students to attend! RSVP will remain open but register by February 10th to confirm your food and tee shirt!
Check out our Instagram stories for ways to honor Black History Month, action items surrounding proposed legislation, and resources to take care of your mental health. 
Have a fabulous February,
–Office of LGBTQI Life
---
LGBTQI LIFE EVENTS
---
2/3 Aging with Pride Panel
Jo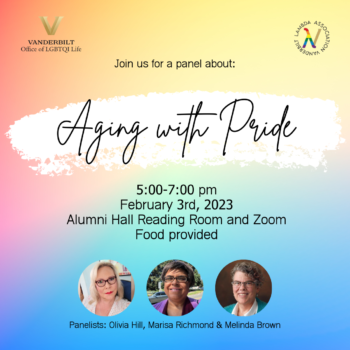 in us Friday, February 3rd from 5-7pm at the Reading Room in Alumni Hall for a rich conversation about Aging with Pride featuring Olivia Hill, Marisa Richmond, and Melinda Brown. Food provided. RSVP here and submit questions here.
---
2/10 Drop-in P.R.I.D.E. Training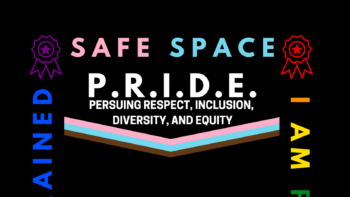 Join us for a drop-in P.R.I.D.E. Training on Friday, 2/10 from 10am-1pm and receive a display placard. RSVP here.
---
Spring 2023 Banned Book Initiative Reading Groups
Join us for any Spring 2023 Reading Groups. Facilitators will reach out closer to the group's start with information about accessing the books and the logistics of the meetings. If you have questions, feel free to reach out to lgbtqi@vandebilt.edu or any of the other participating offices. Find out more and sign up here.
---
2/7 and 2/8 February Reading Groups: Gender Queer: A Memoir

Join us for the reading group for Gender Queer: A Memoir by Maia Kobabe on February 7th at 12pm in-person with lunch provided and February 8th at 5pm online. Facilitated by LGBTQI Life. Contact: katja.tetzlaff@vanderbilt.edu or signup here.
---
2/9 & 2/10 Women's Basketball Pride Weekend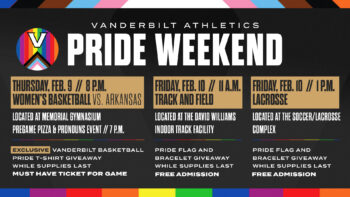 Join us 2/9 at 8pm for Women's Basketball's "Pizza + Pronouns" Pride Night and get a free tee shirt as well as 2/10 at 11am Track and Field, and 2/10 at 1pm Lacrosse and get a pride flag and bracelet. Vanderbilt students have free downloadable tickets for Basketball in their student ticketing account, but others can purchase a ticket here. Track and Field and Lacrosse are free admission. Need help on how to access and download your tickets? Click here. All proceeds from WBB Pride Night will be donated to support unhoused queer youth throughout Davidson County.
---
2/13 Audre Lorde Documentary & Discussion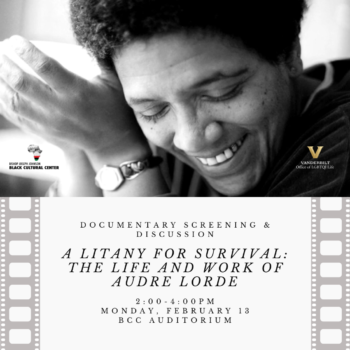 Join us Monday, February 13th from 2-4pm at the BCC Auditorium for a limited rights screening of A Litany for Survival: The Life and Work of Audre Lorde co-hosted by the Black Cultural Center. RSVP here.
---
2/23 LGBTQI Life OUT In Front Conference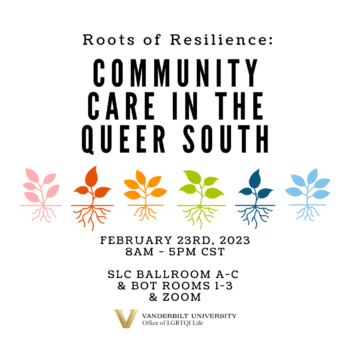 Vanderbilt's LGBTQI Life 2023 OUT in Front Conference themed Roots of Resilience: Community Care in the Queer South will be an all-day hybrid event 8am-5pm Thursday, Feb 23. More information can be found here. Breakfast and lunch provided. RSVP by February 10 for food accommodations and tee shirt.
---
LGBTQI Life Programming Survey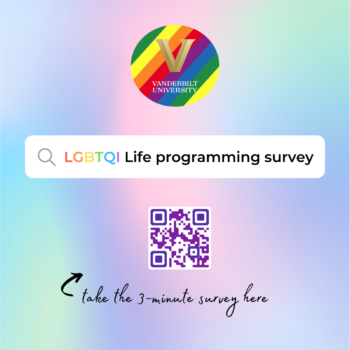 What do you need from us? Complete our short 3-minute survey to provide input on our LGBTQI Life events and programming.
---
Open Call: Lavender Graduation Planning Committee
Interested in helping us plan our annual Lavender Graduation ceremony on May 4th? Contact Steph Mahnke to join our planning committee! We are introducing a new Student Organization award, so stay tuned!
---
CAMPUS EVENTS AND OPPORTUNITIES
---
The Inclusive Connector

To learn about news, events, and happenings related to Equity, Diversity, and Inclusion, sign up for the Inclusive Connector. Please sign up here.
---
2/2 RPW Gender and Sexuality Seminar
The RPW Gender and Sexuality Seminar will recommence Thursday, February 2 from 12-1 pm at the Robert Penn Warren Center. For the first meeting, we will read the Bostock v. Clayton County Supreme Court opinion. The case established LGBTQI persons as a semi-protected class by making it illegal for employers to fire employees for being gay or transgender. This reading leads from our emphasis in the fall on reproductive justice as we explore other rights that may be, as Clarence Thomas suggests, reconsidered by the Supreme Court. Register here.
---
2/3 Phi Psi's Pancakeria Free Pancake Night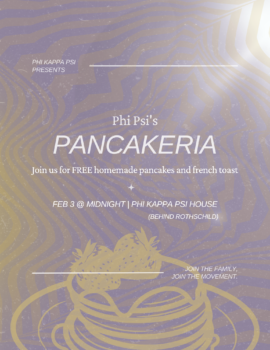 Join Phi Psi's free homemade pancakes and French toast night, Pancakeria, at the Phi Kappa Psi house behind Rothschild on Friday, February 3rd at midnight. See flier for more information. 
---
2/7 James Lawson Institute Fellows Grant Application Deadline
The "James Lawson Institute Fellows Grant " gives students an opportunity to enhance their knowledge of nonviolent movement strategies and philosophies, generate research beneficial to communities and organizations seeking to bring about social justice, and to integrate their learnings into their education at Vanderbilt University. Awardees (apply here by 2/7) will participate and support one another as members of the cohort of grantees. Two dimensions of the James Lawson Institute initiative are addressed in the grant program: 1) to prepare the next generation for the practice of nonviolent direct action; 2) to engage the broader in the practice and philosophies of nonviolent movements. Find out more here.
---
2/9 Vanderbilt oSTEM Interest Meeting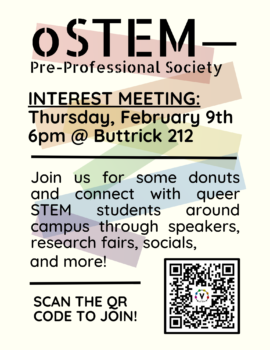 Are you a member or ally of the LGBTQ+ community? Are you studying STEM? Stop by Buttrick 212 on Thursday, February 9 at 6pm for the very first meeting of Out in STEM at Vanderbilt! oSTEM is a pre-professional society designed to empower queer students and professionals in STEM fields. We will introduce this year's board, share more about the mission and goals of our chapter, get feedback from all of you, and enjoy some donuts! See you there!
---
2/13-2/19 Sex Ed and Healthy Relationships Week

The countdown to this year's Sex Ed & Healthy Relationships week has begun! Each year, the Women's Center and Vandy Sex Ed host Sex Ed and Healthy Relationships Week, a week-long set of programs that highlight relevant issues pertaining to sexuality, gender equity, and healthy relationships from Monday, February 13th to Sunday, February 19th. Not only will these events be informative and fun, but they will also provide free food, GME credit, a create-your-own-platter pottery session, and an opportunity to win a group prize at Pub Trivia Night! Register here.
---
Women's Center Annual Award Nominations Due 2/28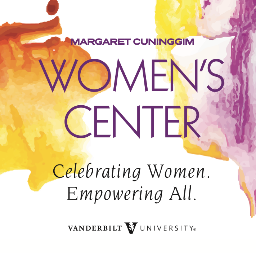 People can nominate others for the Mary Jane Werthan Award, Mentoring Award, and Margaret Cuninggim Women's Center Leadership Award through their Anchor Link page (links located at bottom of the Anchor Link page are listed under Forms). You can see a listing of previous award recipients here.
---
Vanderbilt's PRISM Queer Students of Color in STEM (QSOC-STEM) paid research study

PRISM (Power, Resistance & Identity in STEM Education) research lab is recruiting for a paid research opportunity. Undergraduate Black, Latinx, and Asian LGBTQ+ students pursuing STEM majors at Vanderbilt can express their interest as a participant by going the recruitment form. Student participants will be paid $20/hour in online Amazon gift cards.
---
UPCOMING COMMUNITY EVENTS
---
Nashville Launch Pad Volunteer Opportunities
Nashville Launch Pad's Emergency Shelter needs MANY volunteers to make it run smoothly, such as evening shift, laundry service, meals and one-time projects. On-site volunteering in the shelter requires attending a 2 hour training. Please feel free to contact NLP with questions.
---
1/30-2/3 Tennessee Equality Project's Week of Action
Participate in TNEP's Week of Action in regards to anti-LGBTQI bills are starting to move in the Tennessee General Assembly. Take action with these campaigns the week of January 30. More specific information will be added as the week progresses.
---
2/7 Report & Support: International Students Mental Health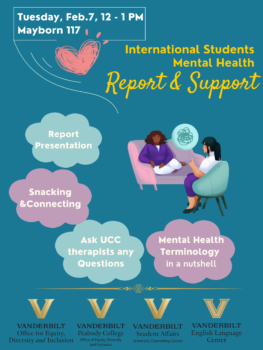 There will be a "report and support" event on Tuesday, February 7 from 12:00–1:00 p.m. in Mayborn 117. As part of this event, ELC representatives will be sharing the glossary for student feedback. The other part of the team will be sharing the results of the recent survey for international students about mental health services. The UCC will also be on hand for questions.
---
2/3-4/23 Frist Art Museum Exhibition of Jeffrey Gibson: The Body Electric
2/3-4/23 Jeffrey Gibson: The Body Electric at Frist. This major exhibition is devoted to one of today's leading artists, whose multidisciplinary practice combines aspects of traditional Indigenous art and culture with a modernist visual vocabulary. Born in Colorado in 1972, Jeffrey Gibson is of Cherokee heritage and a member of the Mississippi Band of Choctaw. His vibrant work, which is represented in more than twenty permanent collections across the United States, is a call for Indigenous empowerment as well as queer visibility and environmental sustainability. Check out the exhibition between Feb 3 – April 23 at Frist Art Museum.
---
2/16 The National Book Critics Circle: Trans Literature Now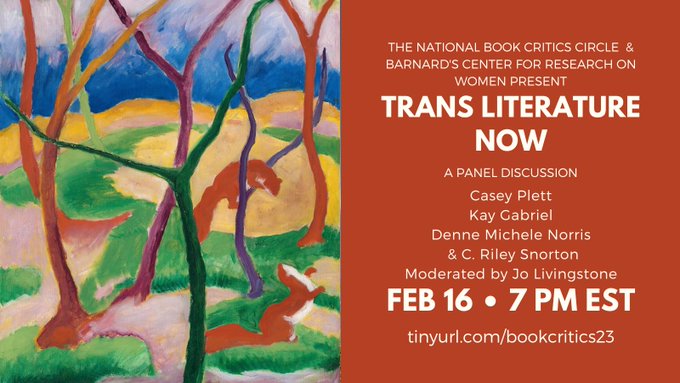 Be part of a conversation between Kay Gabriel (author of A Queen in Bucks County), Denne Michele Norris (author of When the Harvest Comes), Casey Plett (author of Dream of a Woman), and C. Riley Snorton (author of Black on Both Sides: A Racial History of Trans Identity), moderated by Jo Livingstone (National Book Critics Circle) on Thursday, February 16, 7-8:30 p.m. RSVP online.
---
2/24 Pride in the Pews
In partnership with Union Theological Seminary's Center for Community Engagement & Social Justice, Pride in the Pews will host The State of the Black Church: Reconciling Communities and Reimagining Inclusion one-day, in-person symposium in New York, New York on 2/24. This convening will gather Black faith-leaders, churchgoers, activists, and academics to enumerate effective tools, strategies, and frameworks to bridge the gapping gap between the Black Church and LGBTQ+ Community.