Gay and Grateful
#BeYouAtVU
November is a time of community and thankfulness, so we look back with much gratitude on October's LGBTQI History Month celebrated with Vanderbilt's students, faculty, and staff and our community partners across Nashville. In line with our theme of Digital Advocacy and Activism, this year's keynote address by Olivia Julianna, a political strategist for Gen Z For Change, discussed how social media provides more opportunities for marginalized voices to connect, amplifies attention and awareness to issues, and engages more people through greater accessibility. After the address, our National Coming Out Day Celebration brought the VU community together with campus and community advocacy organizations to find out more about local causes and campus resources. Other events included a video game premier of Trans Folks Walking and a discussion about digital community storytelling, a two-part Wiki-edit-a-thon where we learned how to edit and create Wikipedia pages to be more inclusive of LGBTQIA+ histories, a collaborative event called For The Culture with Fisk University, a Spoken Word event about Resiliency, and panel discussions ranging in topics such as Intersex awareness, queer transnational adoptee identities, and LGBTQIA+ southern literature.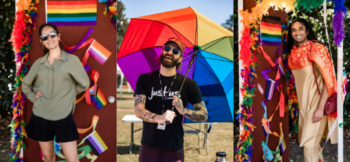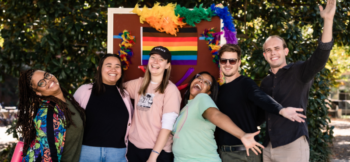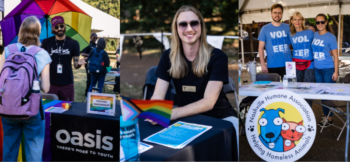 During October, the Vanderbilt LGBTQI and allied community, especially those who are transgender, felt much fear and anger surrounding the ongoing anti-trans attacks, including a tense rally and counterdemonstration on behalf of trans rights that took place on October 21st at War Memorial Plaza. The last week of October was focused on physical, emotional, spiritual, and other kinds of wellness to give our community space away from these issues and to remind us all that we can't pour from an empty cup. The Office of LGBTQI Life acknowledges the hurt our community is experiencing, and we are here to help you and connect you with resources, from a cup of tea to drop-in services and everything in between.
November is honored as Native American Heritage Month and to celebrate, we are hosting a catered Gratitude Dinner on November 24th and collaborating with Student Center for Social Justice and Inclusion on a virtual panel of queer Indigenous American artists engaging in conversations about their art and activism on November 29th. November is also election month so we encourage all eligible voters to be aware that early voting in Tennessee ends November 3rd and Election Day is November 8th. 
Always grateful, 
–Office of LGBTQI Life
---
LGBTQI LIFE EVENTS
---
11/8 Rise & Chai Morning Meditation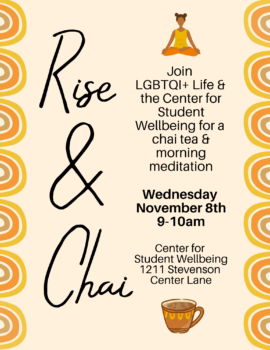 Join LGBTQI+ Life and the Center for Student Wellbeing for chai tea and morning meditation on Wednesday, November 8th from 9-10am at the CSW 1211 Stevenson Center Lane.
---
11/14 & 12/5 UCC + LGBTQI Life Pre-Holiday Planning & Processing Sessions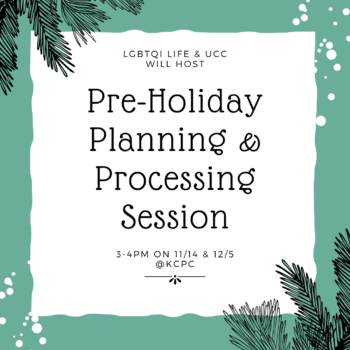 In partnership with the University Counseling Center, we will hold an in-person processing spaces from 3-4pm on Monday, November 14 and Monday, December 5 so folks can receive support and plan for surviving their holiday break at home with their families. Click here to RSVP.
---
11/16 Nashville Transgender Day of Remembrance & Resilience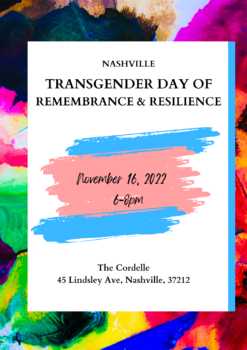 Vanderbilt University's Office of LGBTQI Life is partnering with Inclusion Tennessee, Human Rights Campaign, and numerous other community partners on this year's Nashville Transgender Day of Remembrance & Resilience, which will be held on Wednesday, November 16 from 6-8pm CST at the Cordelle. Find out more information and RSVP here. Free parking available. 
---
11/24 LGBTQI Life Gratitude Dinner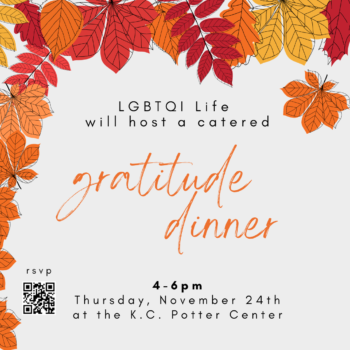 Vanderbilt students, faculty, and staff are invited to a catered Gratitude Dinner hosted by LGBTQI Life on Thursday, November 24th from 4:00-6:00pm at the K.C. Potter Center.  We welcome all LGBTQIA+ folx who would like to be in community and to reflect on joy and gratitude together. RSVP with QR code or here.
---
OUT In Front Conference: Call for Papers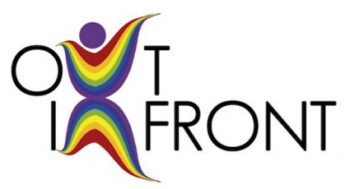 Vanderbilt's LGBTQI Life OUT in Front Conference will be a hybrid event on Thursday, February 23, 8-5 p.m. in the SLC Ballroom and on Zoom. A Call For Papers will be released mid-November.
---
11/30 Virtual P.R.I.D.E. Training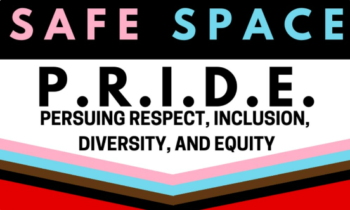 Sign up for our 3-hour P.R.I.D.E. Training online from 5:30-8:30 November 30th. All attendees who complete the training will be given a Safe Space placard to display. RSVP here.
---
CAMPUS EVENTS AND OPPORTUNITIES
---
The Inclusive Connector

To learn about news, events, and happenings related to Equity, Diversity, and Inclusion, sign up for the Inclusive Connector. Please sign up here.
---
11/1-11/29 Native American Heritage Month #BuildingCommunity Virtual Events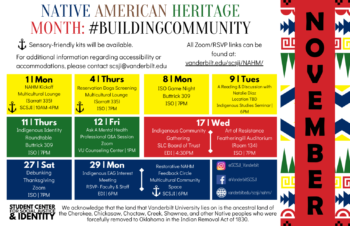 Throughout November, the Student Center for Social Justice & Identity has a series of virtual events to intentionally celebrate the unique, rich, and diverse cultures, traditions, and histories of Native peoples while acknowledging the important contributions of Native people. LGBTQI Life and SCSJI will host a panel of queer Indigenous American artists engaging in conversations about their art and activism on November 29th.
---
11/1 Researching Politics With TV News Archive Workshop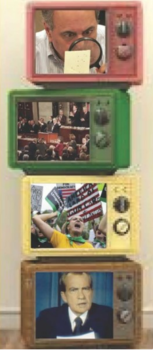 This workshop will offer tips and strategies for using the Vanderbilt Television News Archive in your next research project on American politics. The Archive can be used to develop assignments requiring students to research relevant topics and develop critical thinking skills and using evidence to support arguments, which are useful across disciplines. The Archive includes hundreds of hours of news coverage of every major political campaign since 1968. Moderated by Jim Duran, Director of the Vanderbilt Television News Archive and Curator of Born-Digital Collections. Register here.
---
11/9-11/18 International Education Week

International Education Week (IEW) is a joint initiative of the U.S. Departments of State and the U.S. Departments of State, with the goal of celebrating international education and exchange worldwide and is s co-sponsored by the Office for Equity, Diversity, and Inclusion (EDI) and International Student & Scholar Services (ISSS). This year, IEW 2022 on the Vanderbilt campus is taking place from November 9-18, with an overarching theme of Global Citizen. Please participate in many of our campus events to celebrate, to reflect on what it means to be a global citizen, and how each and every one of us is (or can become) a global citizen. Any questions or concerns? Contact Wendy/EDI or Andrea/ISSS.
---
11/3-11/11 First Gen Celebration Week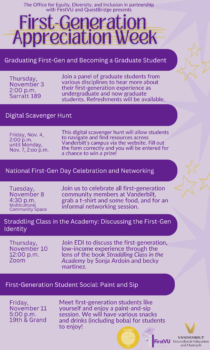 Office for Equity, Diversity and Inclusion, in collaboration with the FirstVU and QuestBridge Vanderbilt student organizations, invites all to the nationwide First Gen Celebration Week to honor the resilience, motivation, and accomplishments of first-generation students and graduates at colleges and universities across the country. This year has five virtual and in-person events to commemorate and celebrate our first-generation college students and allies in the first-gen community.
---
11/7 One to Watch Out For: An Afternoon with Alison Bechdel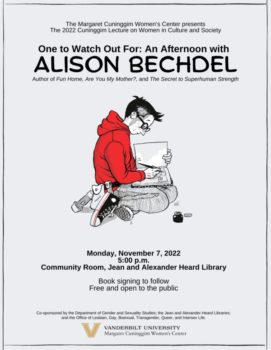 For the Margaret Cuninggim Women's Center's 2022 Cuninggim Lecture on Women in Culture and Society. Cartoonist and graphic memoirist Alison Bechdel will be on campus to speak about her work and her artistic practice. Bechdel is the author of Fun Home, Are You My Mother, and The Secret to Superhuman Strength. Join us November 7th at 5pm in the Community Room, Jean and Alexander Heard Library. Book signing to follow. RSVP here.
---
11/7 Vanderbilt University Divinity School 2022 Harrod Lecture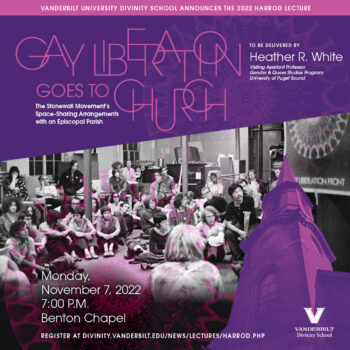 Vanderbilt University Divinity School's 2022 Harrod Lecture will be delivered by Heather R. White, Visiting Assistant Professor, Gender and Queer Studies Program at University of Puget Sound. Register here.
---
11/16 Divinity School Transgender Day of Remembrance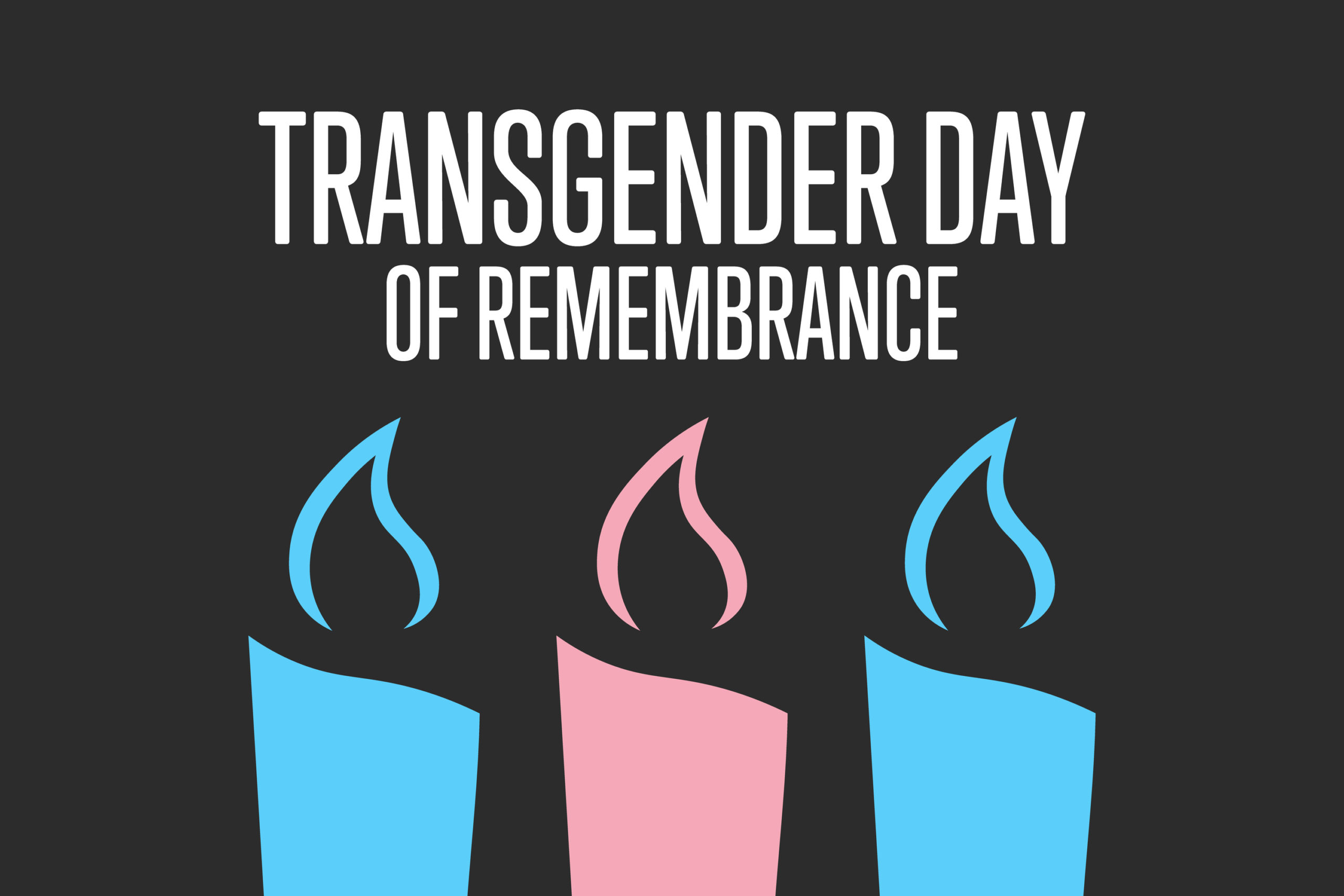 Join the Vanderbilt Divinity school on November 16th for a Transgender Day of Remembrance service 11:00-12:15 at the The Space in the Divinity school. 
---
Paid Research Opportunity: Queer Students of Color In Stem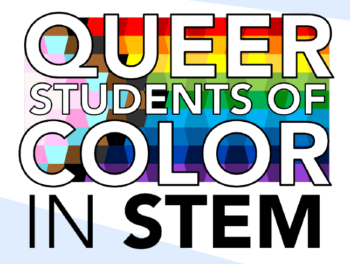 A new study by PRISM Research Lab is focused on learning from the experiences of Black, Latinx, and Asian LGBTQ+ students in and outside of undergraduate STEM classrooms. Participation is voluntary and confidential. Learn more here. Questions? Contact Luis A. Leyva, Ph.D.
---
11/29 Vandy Sex Ed x AASA Advocacy Dialogue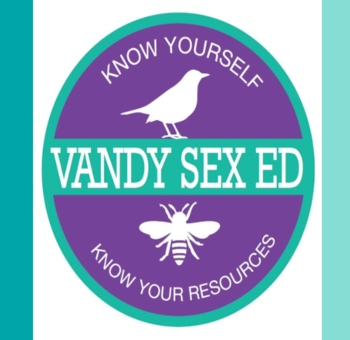 Hosted by Asian American Student Association, the Vandy Sex Ed x AASA Advocacy Dialogue will be on Tuesday, November 29, 2022 at 7:00pm at the Multicultural Community Space. RSVP here.
---
Let's Talk About Sex, Vandy: Vandy Sex Ed Interns Available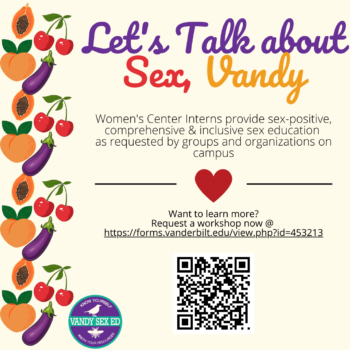 Interns from the Margaret Cuninggim Women's Center Vandy Sex Ed program are now available to provide sex-positive, comprehensive & inclusive sex education to campus groups, organizations, and residence halls. Request a workshop here!
---
The 28th Annual Lambda Drag Show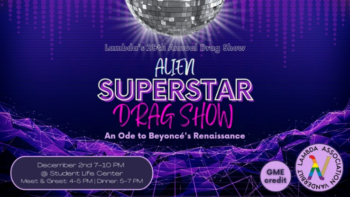 Come out to the 28th annual Lambda drag show themed Alien superstar: An ode to Beyonce's Renaissance on December 2nd 4-10pm at the Student Life Center! Student performer tips will go to a local charity supporting those with HIV/AIDS in the Nashville area. Sign up before midnight 11/1! RSVP to attend here.
---
UPCOMING COMMUNITY EVENTS
---
11/4 Day of Hope & Healing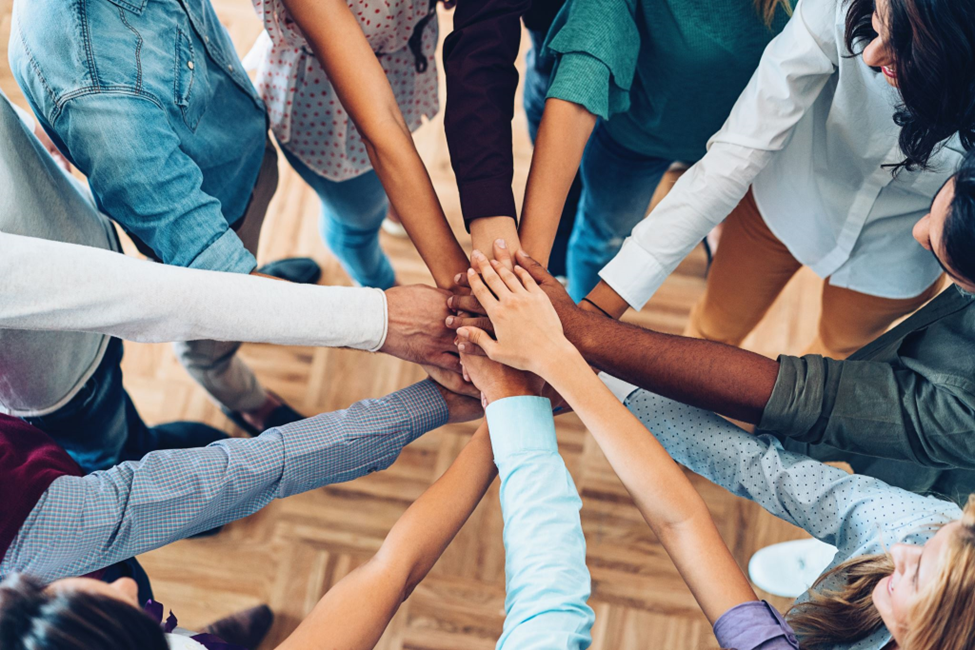 This Day of Hope & Healing Explores Race, Education, Healthcare & Mental Health, Housing, and Workforce Development from the very people who make up our entire Nashville community. This in-person event is Friday, November 4, 2022, 9am-3pm at 3310 Ezell Rd, Nashville, Tennessee, US, 37211, Tennessee Immigrant & Refugee Rights Coalition. Please arrive by 8:45 AM. Masks are encouraged but not required.
---
11/6 Memoirs: An Afternoon of Spoken Word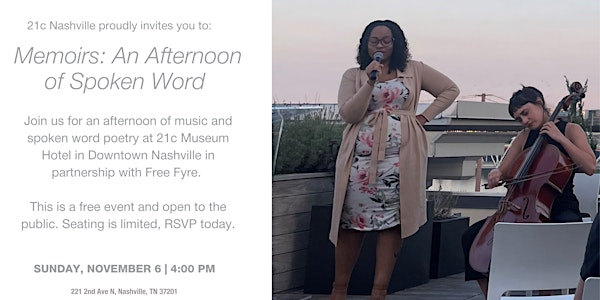 Join us for an afternoon of music and spoken word poetry at 21c Museum Hotel in Downtown Nashville in partnership with Free Fyre. Enjoy a drink from the cash bar while listening to the artists offer up poignant and inspirational words based on this month's theme – Memoirs. Featured artists are Taria Person, Lem "AU", and Cameron L. Mitchell. Learn more about the event and the artists as well as register here.
---
Early Voting for the 11/8 Election Has Begun In Nashville
Make sure you are registered to vote and are aware of state/local deadlines. And of course, don't forget to vote on or before 11/8!
---
11/17 Nashville LGBT Chamber of Commerce Network Connect: November Brewing Up Business
Join us for appetizers and drinks co-hosted by the Café Thistle Farms, whose every meal helps a woman survivor heal and thrive, and Premiere Transportation.
---
U.S. Trans Survey open now and until 11/21
The U.S. Trans Survey is now open and will be open until November 21st! This anonymous survey is open to people of all trans identities (binary and nonbinary), ages 16 and older, living in the United States and U.S. territories, regardless of citizenship status.
---
Women with Multi-Gender Attraction Study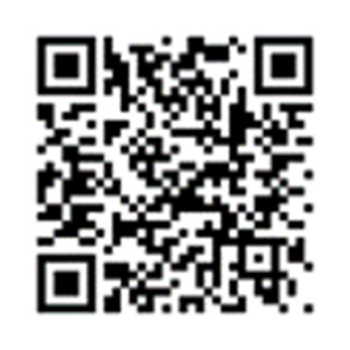 Are you a woman who experiences attraction to multiple genders? If so, the Women with Multi-Gender Attraction Study invites you to participate in an online research study using this QR code! If you have questions, please contact the principal investigator Allison Cipriano by email at allison.cipriano@huskers.unl.edu