The Editor's Note
Hello,
It's Mental Health Awareness Month and it is rather timely that we get to end this month with a long weekend due to the holiday. After an eventful past few weeks, I hope each of you will use the long weekend to be intentional about getting some rest and relaxation. We know that mental health is something we have to be mindful about beyond the month of May, so I have included the EAP's contact information for anyone who might need it.
On another note, ELE summer experiences and additional opportunities are available below. We look forward to having you join us for continued growth and development.
Enjoy!
---
Weekly Work Gem
"When we create workplaces where it's not too expensive for employees to be themselves, innovation abounds and everyone wins." – Love Odih Kumuyi
---
Employee Learning and Engagement Events 
ELE PRESENTS: #IAMREMARKABLE WITH CHANCE RYON AND KRISTA VAUGHT
#IamRemarkable is a Google initiative empowering women and other underrepresented groups to celebrate their achievements in the workplace and beyond.
Date: Monday, June 13, 2022   |   Time: 1:30pm – 3pm CST
CONVERSATION CIRCLES: A SERIES FOR MANAGERS AND LEADERS

Topic: Managing Employees at Different Career Stages
Join HR Employee Learning and Engagement and HR Consulting in a discussion on managing employees at different stages of their career. Come and share your experience and expertise and learn best practices from peers.
Date: Tuesday, June 14, 2022   |  Time: 1pm – 2pm CST
HR ELE TO OFFER SUMMER LEARNING SERIES – PSYCHOLOGICAL SAFETY BEYOND THE BUZZWORD: A PRACTICAL 4-PART LEARNING SERIES FOR TEAMS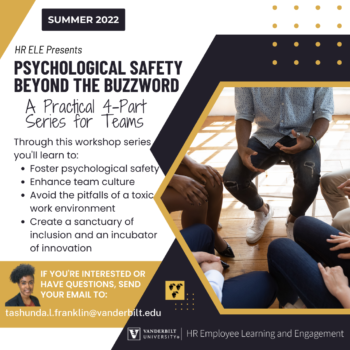 Looking for a summer professional development opportunity for your team? HR Employee Learning and Engagement is offering a new learning series for teams titled, Psychological Safety Beyond the Buzzword: A Practical 4-Part Series for Teams.  
Based on the book, The 4 Stages of Psychological Safety: Defining the Path to Inclusion and Innovation by Dr. Timothy Clark, this learning experience offers an inside look at how managers, leaders, and their teams can enhance team culture. When your team experiences "an environment of rewarded vulnerability" it means each member feels included, safe to learn, safe to contribute, and safe to challenge the status quo. The absence of these things can lead to losing talent, lack of innovation, poor customer service, and an overall hostile work environment. Put theory to practice and take your team to the next level with this 4-part series designed as a virtual or in-person learning experience.
Through this workshop series you'll learn to:
Foster psychological safety
Enhance team culture
Avoid the pitfalls of a toxic work environment
Create a sanctuary of inclusion and an incubator of innovation 
Facilitator: TaShunda Franklin 
Date/Time/Location: To Be Determined 
Offering Availability: June 20 – August 4, 2022 
Participation Level: Level 3 – Collaborate & Create 
*This experience requires a minimum of 5 participants, not to exceed 30. 
Please note: There is no set date for this series. Simply reach out to the facilitator to establish a time, date, and location that works best for you and your team. All requests for this experience must be made prior to July 29th. Email tashunda.l.franklin@vanderbilt.edu for details. 
HR ELE INVITES INTEREST FOR SMALL GROUP LIFE DESIGN SERIES FOR EMPLOYEES, BASED ON DESIGNING YOUR LIFE METHODOLOGY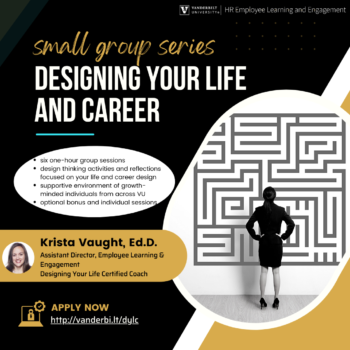 Based on the bestseller, Designing Your Life: How to Build a Well-Lived and Joyful Life by Bill Burnett and Dave Evans of Stanford University, this small group program is a deeply expanded, in-depth version of HR Employee Learning & Engagement's popular Design Thinking, Upskilling, and Career Growth learning experience.
As a participant in this program, you will:
explore and practice design thinking mindsets
engage in design thinking activities during and between group sessions to get curious, talk to people, try stuff, and tell your story
contribute to creating a supportive environment of growth-minded individuals across Vanderbilt, both within your group session and within a collaborative virtual space
leverage opportunities to collaborate, create accountability, and gain fresh insights
participate in group experiences (synchronous) over two months and (optional) individual coaching sessions
Each group session will involve discussions, coaching, reflections, and activities. Between sessions, you will read relevant chapters of Designing Your Life – it's a light and interesting read!
More information and interest form: If you are interested in participating in this small group series for a future semester, please visit the Designing Your Life and Career page and complete the interest form and we'll be in touch.
This series is designed and led by Krista Vaught, Ed.D., assistant director of employee learning and engagement on the human resources team.
---
Back To School With Vanderbilt's Employee Education Assistance Program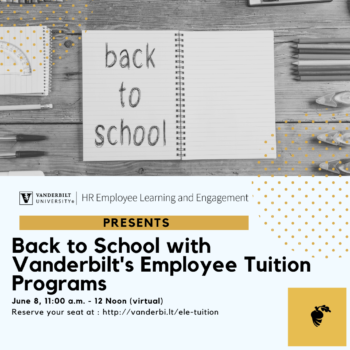 There have been recent updates to expedite tuition reimbursement for Vanderbilt employees (https://news.vanderbilt.edu/2022/05/02/employee-education-assistance-program-to-expedite-tuition-reimbursements/).
To ensure that you have current and clear information about the Employee Education Assistance Program, we invite you to attend this session with a member of the Total Rewards Team who will demystify Vanderbilt's Employee Tuition Programs, provide updates on the recent changes to tuition reimbursement, and offer tips to navigate the EDAssist Portal.
We know that a lot of thought goes into making the decision to further your education. A panel of Vanderbilt staff members who have completed or are in the process of completing a degree will join us to share their back-to-school testimony and provide tips for navigating life as they work, study, and live out other important roles.
Our panelists include:
Dr. Jamye Hardy, Assistant Director, Office of Student Care Coordination
Dr. Anna Thomas, Director of Events and Communications, The Graduate School
Dr. Sarah Jordan Welch-Moore, Therapist, University Counseling Center
Join us on Wednesday, June 8th from 11am-12pm on Zoom.
Once you register for the program, please send any questions about tuition benefits or going "back to school" that you would like to be addressed during this session to ele@vanderbilt.edu.
Please also note that if you have highly specific and personal questions about your tuition benefits that team members of Total Rewards are always available to help you at tuitionbenefit@vanderbilt.edu.
This session will focus on Vanderbilt University staff members ONLY. We will not address the dependent/spousal tuition benefit or the faculty tuition benefit.
Register for this session here.
---
HR to Offer Compliance Fundamentals: Manager Responsibilities at Vanderbilt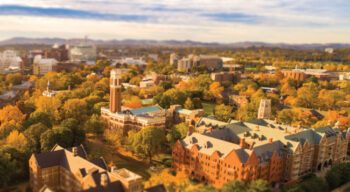 Human Resources is offering another round of "Compliance Fundamentals" for university leaders. These modules are intended for leaders who have staff reporting to them as well as for administrative officers and administrative managers.
Those new to Vanderbilt, newly hired or promoted as leaders, or those who have worked at the university for a while and need a refresher course should consider registering for this learning opportunity.
All sessions are virtual. The Office of General Counsel also will be present to assist with questions.
Module 3: Wednesday, June 29, 8:30am – 11:45am
Topics include:
Protection of minors
Wage and hour, independent contractors and working out of state
Conflict of interest
Labor relations
Register here.
Please note that you may attend any number of the modules depending on your learning needs. Modules 1–3 do not have to be completed in sequence.
To register, visit Oracle Learning and use the links provided to register for each module. For questions, contact the Employee Learning and Engagement team at ele@vanderbilt.edu.
---
Register for New Leader Orientation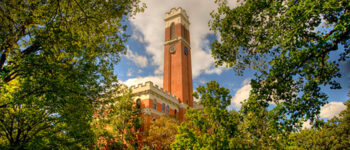 Employees recently hired or promoted to the role of supervisor or manager are invited to participate in New Leader Orientation.
The program, conducted by the Vanderbilt University Human Resources Employee Learning and Engagement team, will be held virtually on Thursday, June 30th from 9am to 3pm. The session will include a one-hour lunch break. Employees only need to sign up for one of the sessions offered.
The topics covered in New Leader Orientation include the following:
HR consulting and employee and labor relations
Leave management and workers compensation
Leadership and recognition
Oracle finance functions
Emergency preparedness and workplace safety
Diversity, equity and inclusion
Please register here to attend New Leader Orientation. For questions, email ele@vanderbilt.edu.
---
Campus Partner Opportunities
THE VANDERBILT COLLABORATIVE FOR STEM EDUCATION AND RESEARCH IN PARTNERSHIP WITH HR EMPLOYEE LEARNING AND ENGAGEMENT PRESENTS: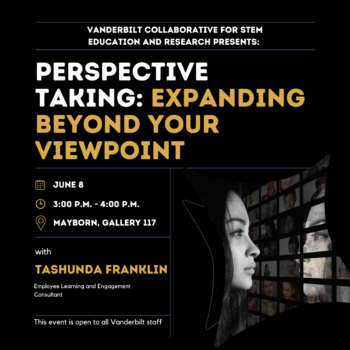 What is perspective taking? How does it differ from empathy? From mitigating implicit bias to enhancing team performance, perspective taking can have a positive impact in the workplace and beyond. Learn more about its benefits and put this powerful tool to use through hands-on practice in this engaging workshop.
Facilitator: TaShunda Franklin
Date: Wednesday, June 8, 2022   |   Time: 3pm – 4pm
Location: Mayborn, Gallery 117
*No registration is required. This event is open to all Vanderbilt staff.
---
The Hybrid Hub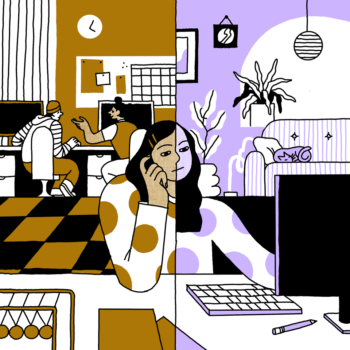 VU Hybrid Work Resources:
Vanderbilt University's Hybrid and Remote Work Policy for Staff
Vanderbilt University's Hybrid and Remote Work Toolkit
Additional Resources:
Want Hybrid Work to Succeed? Trust, Don't Track, Employees
American Psychological Association | The Future of Work: 5 Questions for Tsedal Neeley
How To Successfully Make A Hybrid Work Setup Work For You And Your Boss: Life Kit
Reimaging Higher Education for the Age of Flexible Work
HBR: Managing Introverts and Extroverts in the Hybrid Workplace
Deloitte's Return to Campus: Perspectives from Higher Education Leaders
---
CliftonStrengths-Based Coaching Opportunity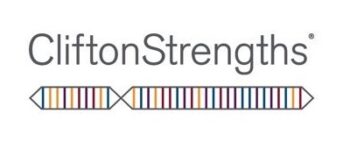 Over the last couple of years the HR ELE team has facilitated CliftonStrengths assessments and exploration of talent themes for more than 700 Vanderbilt employees. That is no surprise given that the value of the talent assessment is in unlocking your top strengths and maximizing your potential at work and beyond.
If you have completed the CliftonStrengths assessment and would like to receive coaching around talent discovery and development, don't miss this opportunity! There are currently six openings available for CliftonStrengths-based coaching. For questions or to secure your spot, send an email to: tashunda.l.franklin@vanderbilt.edu.
---
Did You Know…?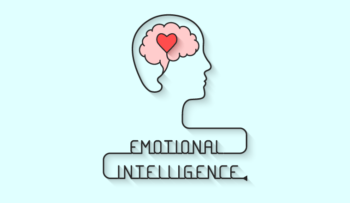 Did you know that having a strategic mindset plays a key role in succeeding at your goals? According to researchers, "[Success] requires less routine deployment of well-learned skills and more thinking through and figuring out of challenging new problems. Indeed, the pursuit of any challenging goal often involves actively analyzing tasks and then planning, self-monitoring, and revising strategies."
Click here to learn six essential questions emotionally intelligent people ask themselves to increase their chances of success.
---
Additional Learning Resources
FEATURED PODCAST
Culture by Design | Delighting in Diversity with Love with Odih Kumuyi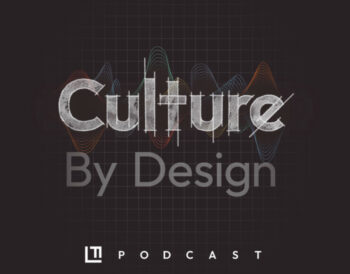 Timothy R. Clark invites Love Odih Kumuyi to discuss Diversity and Cultural Transformation. Love is the Founder and Culture Engineering Officer at Unsiloed with 15 years of interdisciplinary experience utilizing law, policy, education, and research to help organizations engineer inclusion. Here are a few key take aways from the conversation.
About Love Odih Kumuyi
Love is the Founder and Culture Engineering Officer at Unsiloed
As an attorney and Equity, Inclusion and Justice scholar-practitioner, Love founded Unsiloed with a singular mission: To help organizations make psychological safety and human-rights part of everyday culture, for everyone. As a two-time immigrant she understands first hand the challenges of being 'othered' and is keen on using creating spaces that feel accessible. With 15 years of interdisciplinary experience utilizing law, policy, education, and research to help organizations engineer inclusion, she believes with 100% certainty: When we create workplaces where it's not too expensive for employees to be themselves, innovation abounds and everyone wins.
SUGGESTED READING
Has Your Motivation to Work Declined? Maybe Your Values Have Shifted
(Art Markman, FastCompany)
The Loneliness of the Hybrid Worker
(Caroline Knight, Doina Olaru, Julie Anne Lee, and Sharon K. Parker, MIT Sloan Management Review)
Why Workers Should Go Take a Hike
(Anthony C. Klotz, Wall Street Journal)
RECOMMENDED LEARNING
Achieve Your Learning Goals– Tap Into Skillsoft Books and Videos!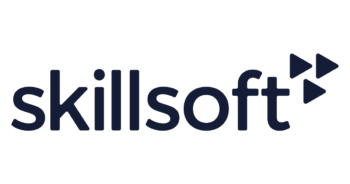 Skillsoft Books and Videos offers you access to a library of more than 40,000 audiobooks, videos, live events, and related content. You can locate this wealthy resource under Learning Item Number OLC930045 in Oracle, or simply visit Oracle Learning to enroll.
NOTE: You must use Mozilla Firefox to access the library. 
---
Making Summer plans? Maximize your savings by using your ABENITY Employee Perks.

The new Vanderbilt University Perks Program gives employees access to over 302,000 local and national discounts, which can add up to more than $4,500 in savings per employee. Exclusive discounts available to staff and faculty include savings at Colonial Williamsburg, Sea World, Dollywood, Avis Car Rental and more, plus thousands of hotels, restaurants, movie theaters, theme parks, museums and other attractions nationwide. All previous employee discounts can now be found in the new Vanderbilt University Perks Program under the "Vanderbilt Exclusives" tab.
For more information on how to create your free account, please visit https://hr.vanderbilt.edu/employee-appreciation/employee-perks.php.
---
NEW HR|Anchored Newsletter – Sign up today!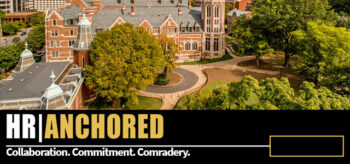 To subscribe, please complete our form.
---
Communicate & Share Your Ideas
Got content suggestions? We'd love to hear from you. Email us your questions, thoughts, suggestions or requests for the newsletter or workshops and trainings at ele@vanderbilt.edu. Continue to encourage your teams and colleagues to opt-in to Rooted in Learning. Also, please note that a Vanderbilt email address is required to subscribe.
Happy Learning!
The Employee Learning and Engagement Team