The Editor's Note
Hello,
Happy Monday afternoon! As you may know, last week we celebrated employees with an in-person Fall Staff Assembly. Chancellor Diermeier praised staff for selflessly, boldly and innovatively approaching their work during these challenging times. Due to technical issues, many of us who attempted to join the event virtually were unable to do so. However, there is still an opportunity to catch up on what was missed. Check out the full recording at your leisure and learn more about the event and award recipients here.
Be sure to take a look at upcoming events and resources.
Enjoy!
---
Weekly Work Gem
"When there is no consequence for poor work ethic, and no reward for good work ethic, there is no motivation." – JD Roberts
---
Compliance Fundamentals: Manager Responsibilities at Vanderbilt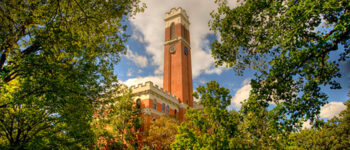 Compliance Fundamentals is intended for leaders who have staff reporting into them as well as Administrative Officers & Administrative Managers.
Whether you're new to Vanderbilt, a newly hired or promoted leader or worked here for a while and need a refresher, please consider registering for this learning opportunity.
All sessions are virtual.
Module 1: Tuesday, November 16 – 8:30 a.m. to 2:00 p.m. A 1-hour lunch break is provided.
Topics include:
EDI
Discrimination, harassment, and retaliation
Internal Audit
Handling complaints & investigations
Title IX
Module 2: Monday, December 6- 8:30 a.m.- noon
Topics include:
Workplace accommodations
FMLA
Workers' Compensation
Module 3: January 2022, Date TBD- 8:30 a.m. – noon
Topics include:
Protection of Minors
Wage & Hour, independent contractors, and working out of state
Conflict of Interest
Labor Relations
Leaders and subject matter experts from Equal Opportunity and Access, the Office of Audit, Risk, & Compliance, Title IX, Equity, Diversity, and Inclusion, HR Consulting, Employee and Labor Relations, Office of Conflict of Interest and Commitment Management, and Protection of Minors will deliver the program's content.
Please note that you can attend all three modules or just one or two depending on your learning needs. Also, you do not have to complete Modules 1–3 in sequence. We will begin another round of the modules in Spring 2022.
To register, visit Oracle Learning and search "HRVU Compliance Fundamentals." All sessions will be virtual.
---
Employee Learning and Engagement Events 
EMPLOYEE MOTIVATION: FROM THEORY TO PRACTICE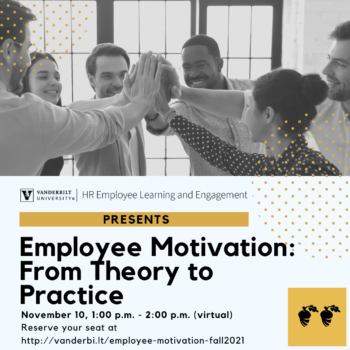 Date: Wednesday, November 10, 2021   |   Time: 1pm – 2pm CST
Registration Closed
BACK TO SCHOOL WITH VANDERBILT'S EMPLOYEE TUITION PROGRAMS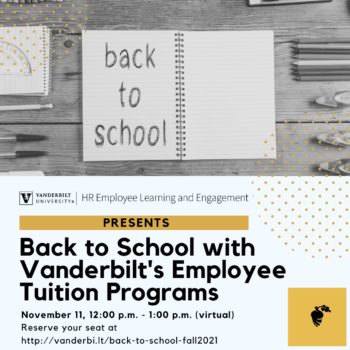 Date: Thursday, November 11, 2021   |   Time: 12pm – 1pm CST
DIGITAL BODY LANGUAGE: IS THAT WHAT THEY MEANT?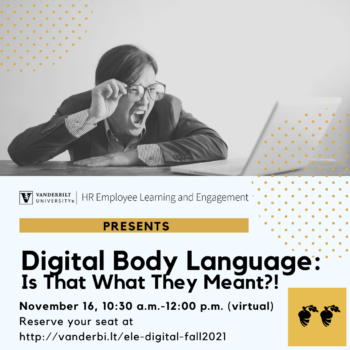 Date: Tuesday, November 16, 2021   |   Time: 10:30am – 12pm CST
CLIFTON STRENGTHS FOR EMPLOYEES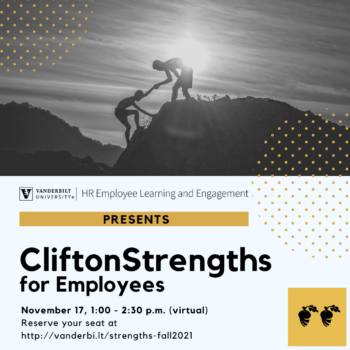 Date: Wednesday, November 17, 2021   |   Time: 1pm – 2:30pm CST
FIVE LANGUAGES OF APPRECIATION IN THE WORKPLACE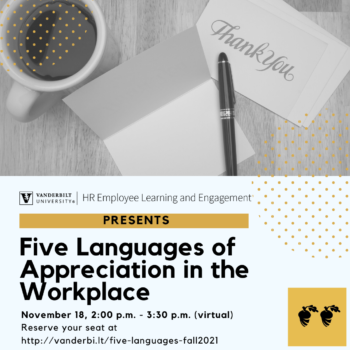 Date: Thursday, November 18, 2021   |   Time: 2pm – 3:30pm CST
****To learn more about upcoming workshops, please visit our website. 
---
The Hybrid Hub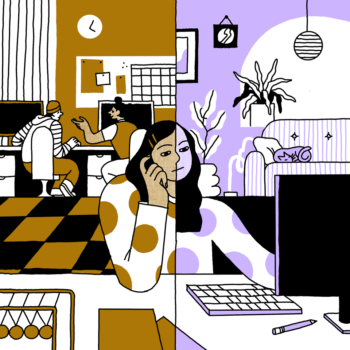 VU Hybrid Work Resources:
Vanderbilt University's Hybrid and Remote Work Policy for Staff
Vanderbilt University's Hybrid and Remote Work Toolkit
Additional Resources:
Want Hybrid Work to Succeed? Trust, Don't Track, Employees
American Psychological Association | The Future of Work: 5 Questions for Tsedal Neeley
How To Successfully Make A Hybrid Work Setup Work For You And Your Boss: Life Kit
Reimaging Higher Education for the Age of Flexible Work
HBR: Managing Introverts and Extroverts in the Hybrid Workplace
Deloitte's Return to Campus: Perspectives from Higher Education Leaders
---
Did You Know…?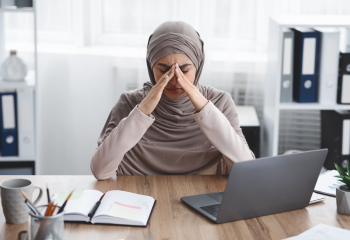 While burnout can be attributed to a number of factors, six main causes are: workload, perceived lack of control, lack of reward or recognition, poor relationships, lack of fairness, and values mismatch. Learn more on the six causes of burnout from Berkeley's Greater Good Magazine.
---
Virtual & Community Events 
CliftonStrengths (via LinkedIn) Presents: How to Improve Teamwork in the Hybrid Workplace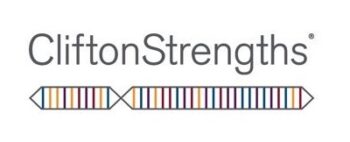 How can you foster trust in the hybrid workplace? What are some practical tips and best practices to make sure everyone's voices are heard as we get used to this new normal? Join Jim Collison and Danny Lee as they discuss this topic.
Date: Friday, November 19, 2021   |   Time: 12:30pm – 1pm CST
---
Additional Learning Resources
FEATURED TALK
TED  | 3 Rules for Better Work-Life Balance
Listen in less than 5 minutes!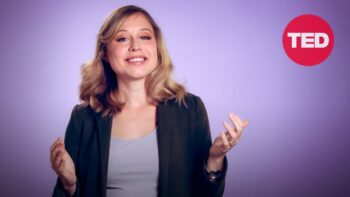 Have you answered a work email during an important family event? Or taken a call from your boss while on vacation? According to behavioral scientist and Harvard Business School professor Ashley Whillans, "always-on" work culture is not only ruining our personal well-being — but our work, as well. She shares which bad habits are stopping us from getting what we need out of our free time and three practical steps for setting boundaries that stick.
SUGGESTED READING
If You Constantly Build Up Situations in Your Head, Here's How to Stop Catastrophizing
(Thrive Global)
7 Tips for Managing Younger Workers
(Brian O'Connell, Society for Human Resource Management – SHRM)
Zoom Fatigue Is Real. But There Are Upsides to Platforms, Too.
(Ted Bauer, The NeuroLeadership Institute)
RECOMMENDED LEARNING
Achieve Your Learning Goals– Tap Into Skillsoft Books and Videos!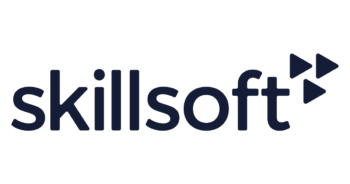 Skillsoft Books and Videos offers you access to a library of more than 40,000 audiobooks, videos, live events, and related content. You can locate this wealthy resource under Learning Item Number OLC930045 in Oracle, or simply visit Oracle Learning to enroll.
NOTE: You must use Mozilla Firefox to access the library. 
---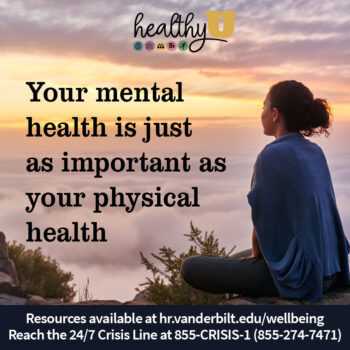 ---
Communicate & Share Your Ideas
Got content suggestions? We'd love to hear from you. Email us your questions, thoughts, suggestions or requests for the newsletter or workshops and trainings at ele@vanderbilt.edu. Continue to encourage your teams and colleagues to opt-in to Rooted in Learning. Also, please note that a Vanderbilt email address is required to subscribe.
Happy Learning!
The Employee Learning and Engagement Team