The Editor's Note
Hello,
Welcome to November! For some of us that means it's officially time to add layers to our attire and warm up our dinner menus with soups and savory things.
We are hitting the ground running this month, kicking it off with Fall Staff Assembly tomorrow at 4pm CST to celebrate university staff and their contributions. If you haven't already, you can learn more and register to attend in-person or virtual. Also, be sure to check out the section below on Compliance Fundamentals for leaders. And as usual, we have plenty of learning opportunities to explore that you won't want to miss.
Enjoy!
---
Weekly Work Gem
"Fear has a very concrete power of keeping us from doing and saying the things that are our purpose." – Luvvie Ajayi Jones
---
Compliance Fundamentals: Manager Responsibilities at Vanderbilt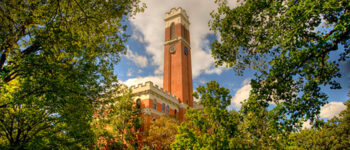 Compliance Fundamentals is intended for leaders who have staff reporting into them as well as Administrative Officers & Administrative Managers.
Whether you're new to Vanderbilt, a newly hired or promoted leader or worked here for a while and need a refresher, please consider registering for this learning opportunity.
All sessions are virtual.
Module 1: Tuesday, November 16 – 8:30 a.m. to 2:00 p.m. A 1-hour lunch break is provided.
Topics include:
EDI
Discrimination, harassment, and retaliation
Internal Audit
Handling complaints & investigations
Title IX
Module 2: Monday, December 6- 8:30 a.m.- noon
Topics include:
Workplace accommodations
FMLA
Workers' Compensation
Module 3: January 2022, Date TBD- 8:30 a.m. – noon
Topics include:
Protection of Minors
Wage & Hour, independent contractors, and working out of state
Conflict of Interest
Labor Relations
Leaders and subject matter experts from Equal Opportunity and Access, the Office of Audit, Risk, & Compliance, Title IX, Equity, Diversity, and Inclusion, HR Consulting, Employee and Labor Relations, Office of Conflict of Interest and Commitment Management, and Protection of Minors will deliver the program's content.
Please note that you can attend all three modules or just one or two depending on your learning needs. Also, you do not have to complete Modules 1–3 in sequence. We will begin another round of the modules in Spring 2022.
To register, visit Oracle Learning and search "HRVU Compliance Fundamentals." All sessions will be virtual.
---
Employee Learning and Engagement Events 
EMPLOYEE MOTIVATION: FROM THEORY TO PRACTICE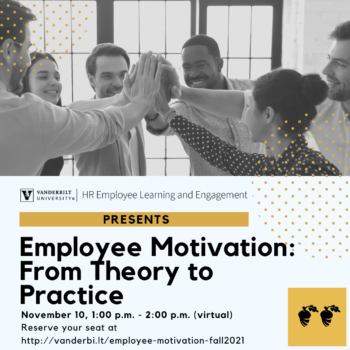 Date: Wednesday, November 10, 2021   |   Time: 1pm – 2pm CST
BACK TO SCHOOL WITH VANDERBILT'S EMPLOYEE TUITION PROGRAMS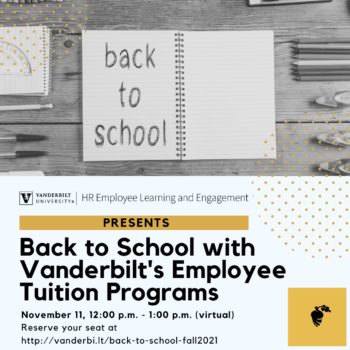 Date: Thursday, November 11, 2021   |   Time: 12pm – 1pm CST
DIGITAL BODY LANGUAGE: IS THAT WHAT THEY MEANT?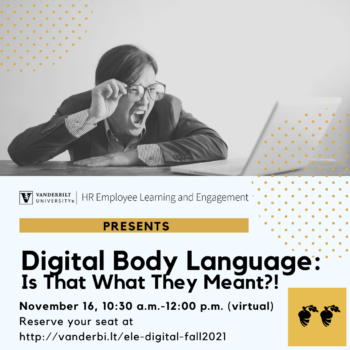 Date: Tuesday, November 16, 2021   |   Time: 10:30am – 12pm CST
CLIFTON STRENGTHS FOR EMPLOYEES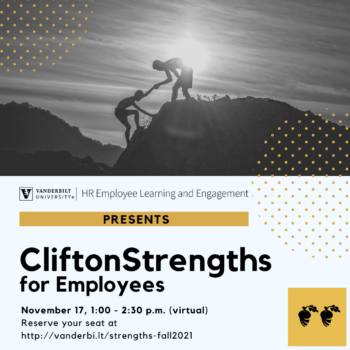 Date: Wednesday, November 17, 2021   |   Time: 1pm – 2:30pm CST
FIVE LANGUAGES OF APPRECIATION IN THE WORKPLACE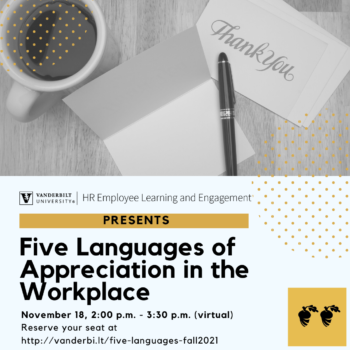 Date: Thursday, November 18, 2021   |   Time: 2pm – 3:30pm CST
****To learn more about upcoming workshops, please visit our website. 
---
The Hybrid Hub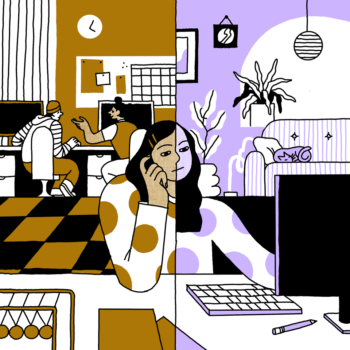 VU Hybrid Work Resources:
Vanderbilt University's Hybrid and Remote Work Policy for Staff
Vanderbilt University's Hybrid and Remote Work Toolkit
Additional Resources:
*NEW* Want Hybrid Work to Succeed? Trust, Don't Track, Employees
American Psychological Association | The Future of Work: 5 Questions for Tsedal Neeley
How To Successfully Make A Hybrid Work Setup Work For You And Your Boss: Life Kit
Reimaging Higher Education for the Age of Flexible Work
HBR: Managing Introverts and Extroverts in the Hybrid Workplace
Deloitte's Return to Campus: Perspectives from Higher Education Leaders
---
Campus Partner Opportunities
The Margaret Cuninggim Women's Center Work-Life Workshops for Fall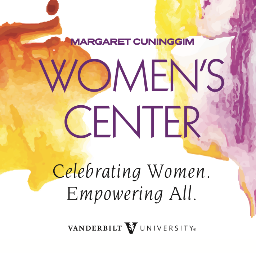 Calling in the Calling-Out Culture, Loretta J. Ross, Visiting Associate Professor of the Study of Women & Gender at Smith College
Date: Wednesday, November 3rd   |   Time: 5pm CST
Register Here  (Zoom webinar)
Gaslighting in the Workplace, Heather Kamper, LCSW, EAP Clinical Counselor and Coordinator of the VUMC SHARE Center
Date: Thursday, November 4th   |   Time: 12pm CST
---
Did You Know…?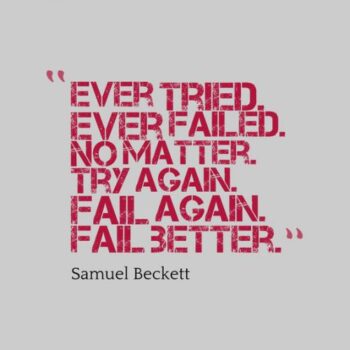 "I frequently ask managers, scientists, salespeople, and technologists around the world the following question: What percent of the failures in your organizations should be considered blameworthy? Their answers are usually in the single digits—perhaps 1% to 4%. I then ask what percent are treated as blameworthy. Now, they say (after a pause or a laugh) 70% to 90%!" – Amy Edmondson
The Notre Dame Deloitte Center for Ethical Leadership offers insight on how to fail better by exploring why we fail to learn from failure and how to consider the value failure brings. To learn more, click here.
---
Virtual & Community Events 
Lean In and momentive Present: Equity at Work – Practical Tools for Building an Inclusive Workplace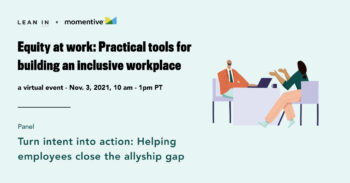 Join this fireside chat to learn how senior leaders set the stage for inclusive workplaces.
Date: Wednesday, November 3, 2021   |   Time: 12pm – 3pm CST
The NeuroLeadership Institute Presents: Your Brain at Work LIVE – Power and Expectations: The Neuroscience of Group Dynamics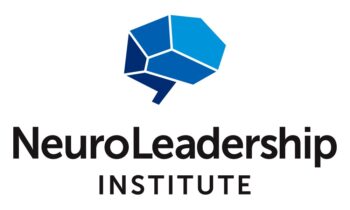 This webinar will:
Explore the science of group dynamics
Examine the differences between status and power
Analyze how leadership, group composition, expectations, and participation inequities can impact decision-making and work outcomes
Date: Friday, November 5, 2021   |   Time: 11am – 12pm CST
---
Additional Learning Resources
FEATURED PODCAST
HBR IdeaCast  | Find Focus in a Chaotic World
Listen in less than 30 minutes!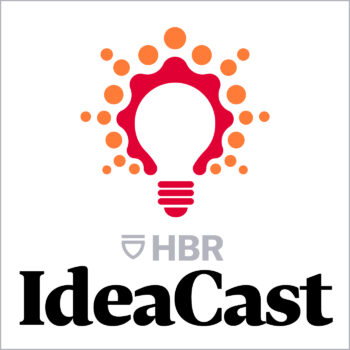 If you're feeling distracted, mentally fogged, and unable to pay attention to the task at hand, you're not alone. The human brain is highly susceptible to often unproductive mind-wandering, and modern technology has only made the problem worse. But we all know that the best work comes when you're able to really zero in on an idea or problem for a sustained period of time. So we need better strategies for blocking out the external and internal noise. Dr. Amishi Jha, a neuroscientist and professor of psychology at the University of Miami and the author of "Peak Mind," offers recommendations based on studies of people in some of the most high-pressure jobs in the world.
SUGGESTED READING
How to Navigate Politically Charged Work Conversations Through Brain Science
(Anouare Abdou, Hive)
Forming, Storming, and Norming: Making Online Teams Work
(Russell Thacker, PhD, HigherEdJobs)
How to be Vulnerable at Work Without Spilling Everything, from Brene Brown
(Adam Grant and Brene Brown, IDEAS.TED.COM)
RECOMMENDED LEARNING
Achieve Your Learning Goals– Tap Into Skillsoft Books and Videos!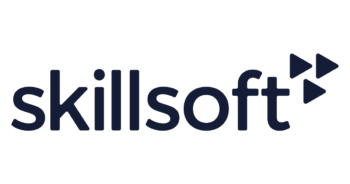 Skillsoft Books and Videos offers you access to a library of more than 40,000 audiobooks, videos, live events, and related content. You can locate this wealthy resource under Learning Item Number OLC930045 in Oracle, or simply visit Oracle Learning to enroll.
NOTE: You must use Mozilla Firefox to access the library. 
---
Communicate & Share Your Ideas
Got content suggestions? We'd love to hear from you. Email us your questions, thoughts, suggestions or requests for the newsletter or workshops and trainings at ele@vanderbilt.edu. Continue to encourage your teams and colleagues to opt-in to Rooted in Learning. Also, please note that a Vanderbilt email address is required to subscribe.
Happy Learning!
The Employee Learning and Engagement Team